Christmas traditions are such a fun and easy way to make Christmas special. Here are 11 different traditions that can help make Christmas special for your family.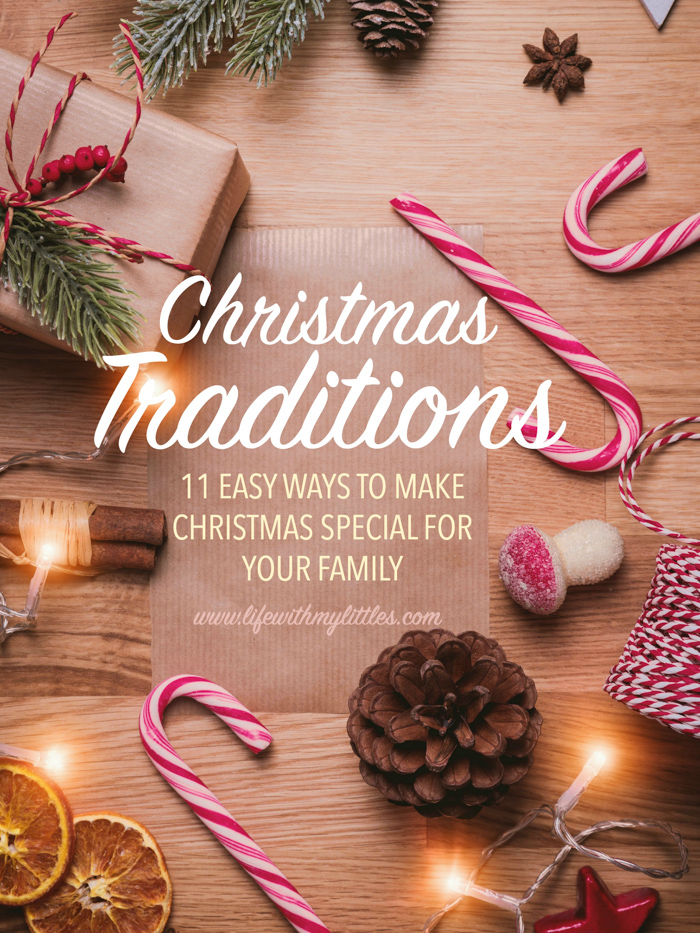 One of the best parts about Christmas are all of the traditions.
You can have traditions for Easter and the Fourth of July, for Thanksgiving and and for birthdays, but I think Christmas is the holiday with the most tradition associated.
My husband and I have been married for three-and-a-half years, so we have had Christmas with both of our families, and I have noticed that a few of our family traditions are the same.
Now that we have a baby, we want to start establishing the traditions that we are going to do each year. So here are some traditions that we currently have, and some that I want to start!
Easy Christmas Traditions
Christmas Eve Pajamas
Every Christmas Eve growing up my parents would get us new Christmas pajamas to wear that night and on Christmas morning. It was a really fun thing that I looked forward to and something that my husband's family did when he was growing up, too.
I'm always excited to wear new matching pajamas on Christmas Eve and when I'm opening presents in the morning. I can't wait to see what pajamas Little J will get this year!
Read The Night Before Christmas on Christmas Eve
My family did this every year growing up, and the year after we got married my sister actually got us our own copy of the book. Now we will get to read it to Little J every Christmas Eve!
Cookie Day
My family would always take one day before Christmas to bake and decorate a bunch of different kinds of cookies, and then we would put them all on different plates and deliver them to friends, neighbors, and church members.
You could go caroling while you deliver them if you want, but I am not someone who enjoys caroling, so it really depends on you. This is one of my favorite traditions that I fully anticipate continuing!
Every year my parents would let us go to Hallmark and pick out a new ornament. Growing up in the 90s, I now have quite the collection of Disney ornaments, including a Little Mermaid one, a 101 Dalmations one, a Lion King one, and a Pocahontas one. I have them all here in Iowa and love getting to take them out and reminisce each year.
I hope that one day my kids will all have their own impressive collections, too!
Kid Christmas Trees
My sister and I both had our own small Christmas trees that we got to decorate however we wanted when we were growing up. They were about three feet tall, and while we did have regular ornaments, we also had our keepsake ornaments, handmade ornaments, and whatever we wanted could go on them, too.
I want to keep this tradition going in the future because I think it's fun for kids to get to decorate their own tree and have something Christmasy in their room.
I also made my son his own felt Christmas tree this year, since he's not quite big enough to have his own artificial tree yet!
Reading the Christmas Story in the Scriptures
Sometimes the true meaning of Christmas gets lost in the craziness, and I think it is important that we keep our Christmas centered on Christ. We can't forget the true meaning of Christmas!
You could read a few scriptures each night leading up to Christmas, or read the whole nativity story on Christmas Even or Christmas day.
Drive Around and Look at Christmas Lights
As a kid, I loved getting into pajamas and driving around before Christmas to look at everyone's lights. There's always one or two in town that synchronize their Christmas lights to blink with different Christmas songs, and you can usually find them by searching on a local website!
Advent Candle
I learned about these in a Religion in the Home class at BYU, and I thought they were such a fun idea! Every night you read a scripture about Christ (the prophesies, his birth, the miracles he performed in his life), and each night, you light a candle while you read them. You burn a little bit of the candle each night and by Christmas, it's all gone! I think it's such a fun way to bring the true spirit of Christmas into your home, and also a great way to get family scripture study in!
Advent Calendar
There are so many fun unique advent calendars out there now, and you could do either one for the whole family with different ornaments or treats or activities to do, or you could get one for each kid that had socks, toys, or candies inside.
I mean honestly, even if you went with the boring old chocolate advent calendars, your kids are still going to be thrilled and look forward to opening each door every night!
Elf on the Shelf
Elf on the Shelf is such a fun tradition, a pretty simple one you can incorporate into your family's traditions! You can either hide the elf in funny positions or places each night, or if you're not in a creative mood, you can follow this really easy trick for making the Elf on the Shelf simple.
It's another fun way to make the Christmas season special, and I love that you can get so creative with it!
Act out the Nativity
There was a family in my home ward (church congregation) growing up who does this every year (with costumes and everything) and I thought it was such a sweet activity to do as a family! Even if it's just Mom, Dad, and one child, you can get the basic nativity scene in. I'm sure you can find a cute script or even just use a scripture to act it out. Just another great way to put the true meaning back into Christmas.
Write a Letter to Jesus
I know lots of kids write letters to Santa telling him what they want for Christmas, but what if we had kids write letters to Jesus thanking him for what he has given us? That is a much more important (and hopefully longer) letter! And you could bring them to church or put them in balloons and let them float off to heaven. Cute!
Aren't these all so fun? I can't wait until I start implementing more of them, and for Little J to get bigger and watch him be excited for these traditions!