This DIY Christmas wreath ornament is so cute! What a great keepsake ornament craft to make with your kids! And so easy!
This is a sponsored post written by me on behalf of The Gorilla Glue Company.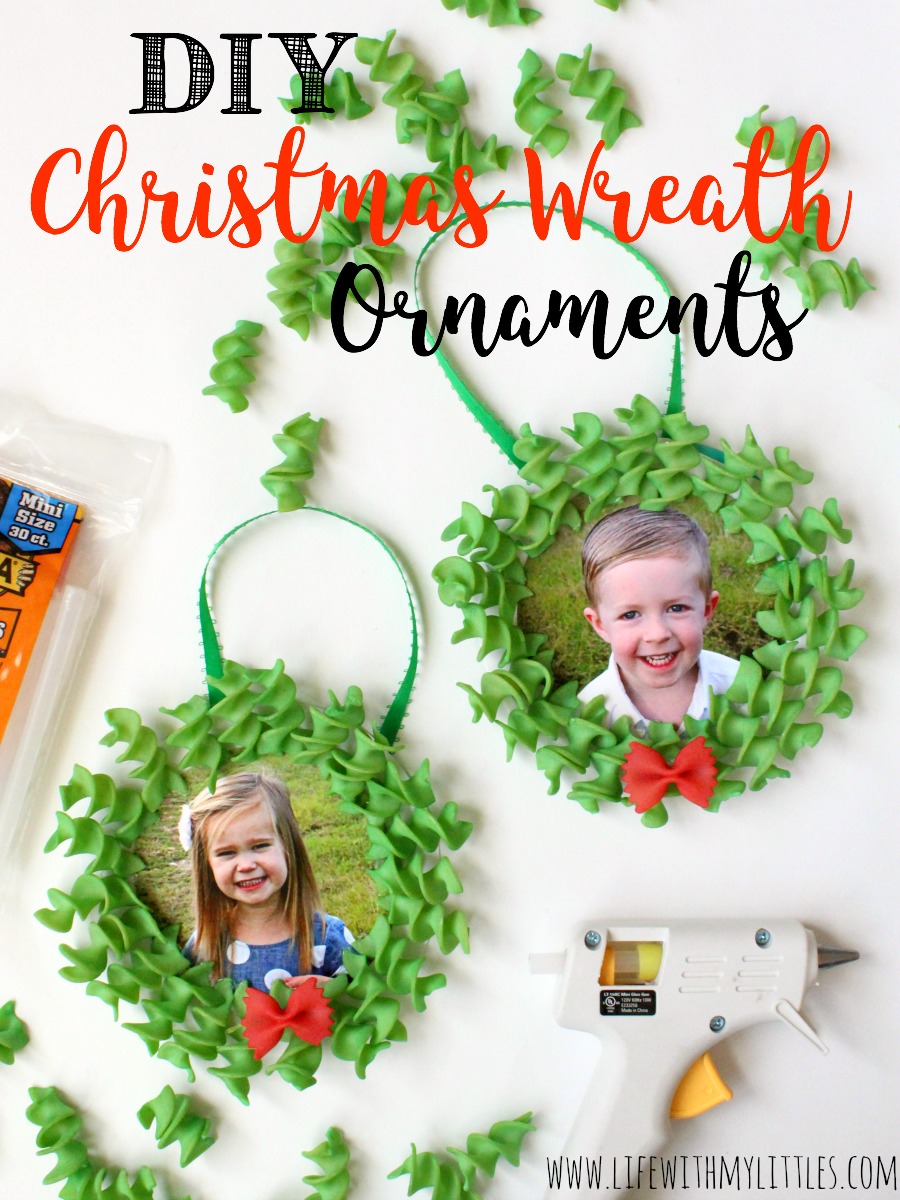 Growing up, my mom did a really good job of saving the things my sister and I would make at school.
One thing that we still have (and that's probably hanging on my parents' Christmas tree right now) is this little Christmas wreath ornament I made in preschool or kindergarten. That was a long time ago, but somehow, it has survived. Probably because we only take it out once a year and it's not really a toy to play with.
Anyway, I've been really wanting to make them with my toddler and preschooler, but I wanted to make sure that they were going to be durable and not fall apart before we even get through Christmas. We buy yearly ornaments, but I also wanted to try making some more personalized ones, too!
I did some research on types of glues, and decided to go with hot glue to make sure they'll last. Our ornaments turned out adorable, and I can't wait to hang them on our tree every year!
DIY Christmas Wreath Ornament Tutorial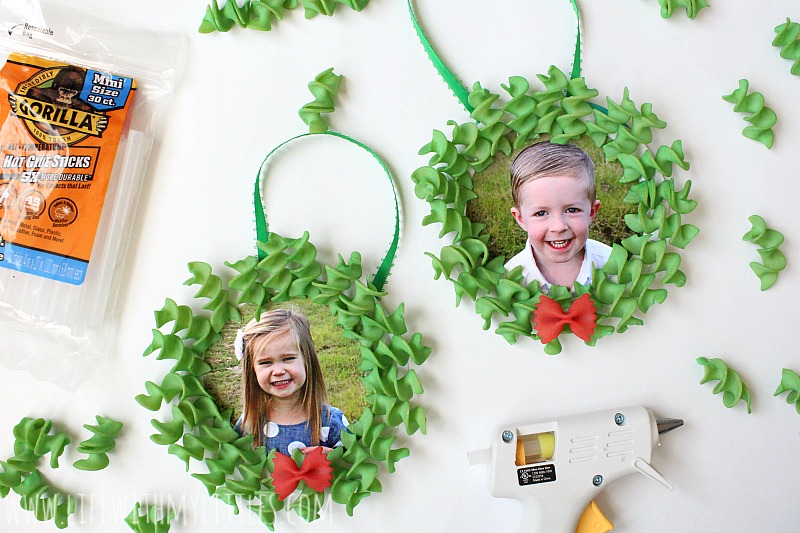 DIY Christmas Wreath Ornament
This DIY Christmas wreath ornament is so cute! What a great keepsake ornament craft to make with your kids! And so easy!
Materials
4x6 photograph of your child
Curly noodles
One bowtie noodle
Rubbing alcohol
Red and green food coloring
Cardstock
Green ribbon
Glue gun
Glue sticks
Instructions
Dye the pasta red and green using this tutorial from this tutorial from Really Good Teachers. Use the non-edible rainbow pasta instructions to dye your curly noodles green and your bowtie noodles red. Then let them dry completely.

While your noodles are drying, you can get the rest of the ornament prepped. Find something round (like a cup or a candle) with a diameter of about 3 1/3 inches and trace it around your child's picture. Then cut the picture out.




Now lay your picture on a piece of cardstock or something the equivalent thickness (a cereal box would work great). Now cut an even bigger circle around your picture, about 1/2″ bigger. It doesn't have to be perfect because it's going to get covered anyway.



Glue the picture to the center of the circle. Press firmly and make sure it lies flat.



Now you are ready for your noodles! For each noodle, put hot glue on the end and then glue it down to the edge of your picture, sticking out. Continue doing this all the way around until you have a noodle wreath!





Now place a little glue in the center of your red bowtie noodle and glue it to the bottom of the wreath.



At this point, I let my wreaths dry for a few minutes, just to make 100% sure everything was stuck on there. Then I took a few inches of green ribbon and hot glued it to the top in a loop so it made the wreath into an ornament!



And voila! You have a Christmas wreath ornament!


I love how these turned out and I am excited to show them off for years to come. It will be fun to see how the kids change over the years!!