Baby's first Christmas? Here are 12 fun things to do with your baby to make their first Christmas special and memorable!
This post contains affiliate links.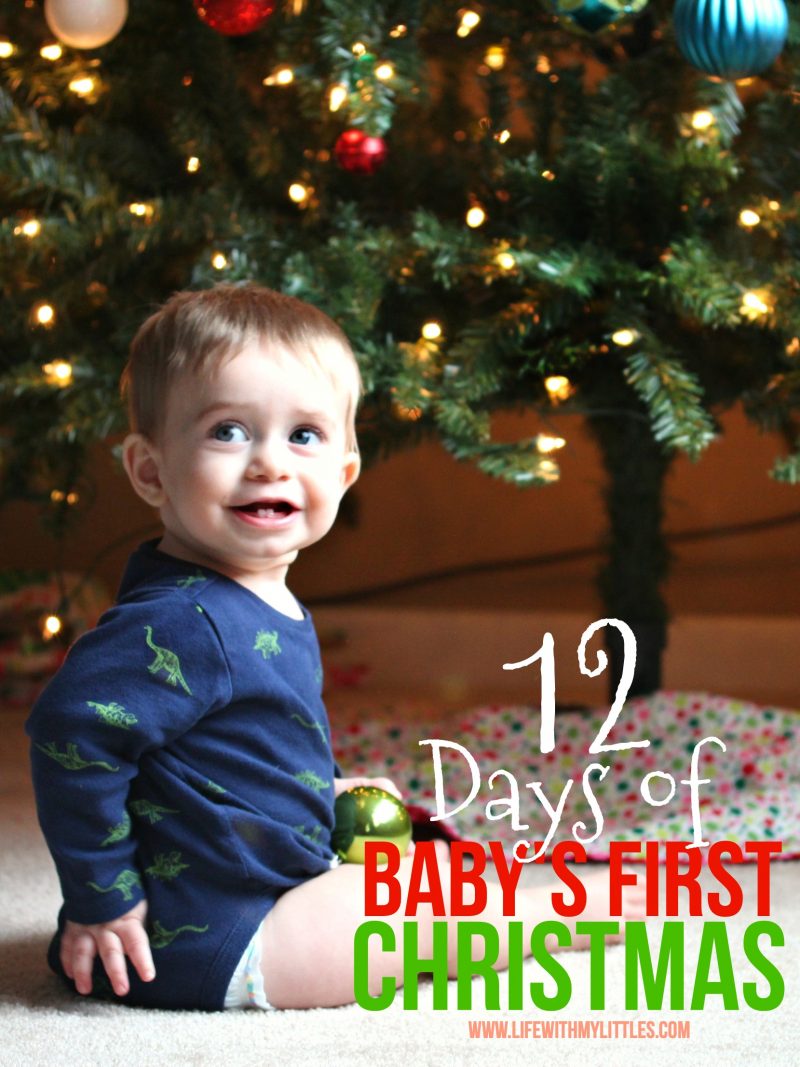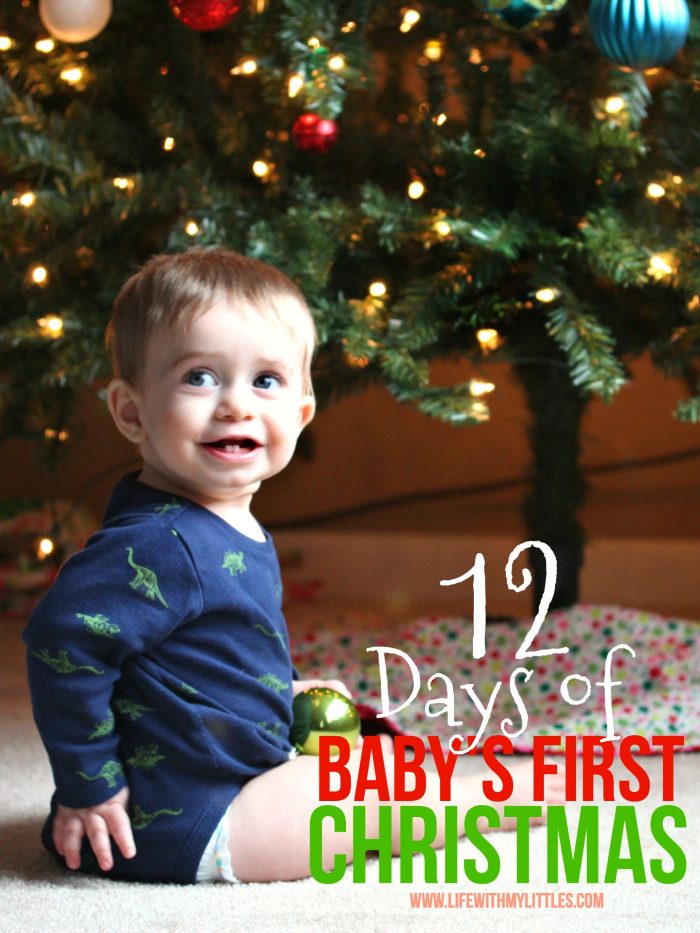 When our oldest was a baby, I was so excited about his first Christmas! I wanted to start our family traditions while he was young, but it was hard because babies can't really do things like have a snowball fight or bake cookies!
So instead of trying to get my 9-month-old to build a snowman, I came up with 12 things you can do with your baby on their first Christmas to make it special.
All 12 of these work for babies who are newborns all the way up to one year, so they actually can be done for your baby's first Christmas (unlike other lists of things I have seen).
And no, you don't necessarily have to do them all the 12 days before Christmas, but it's a catchy title, am I right!?
The 12 Days of Baby's First Christmas
Make a special ornament
There are so many cute ways to commemorate your baby's first Christmas in an ornament. You can put your baby's hospital bracelet and hat in a clear ornament, dip your baby's hand in paint and make a handprint on a round ornament, press their foot into clay and hang that up, or even take a picture of them and mod-podge it into a flat wooden ornament.
The list of baby's first Christmas ornaments are endless.
When my oldest was a baby, I chose to do a handprint on a clear ornament for his first Christmas ornament. I even have my first Christmas ornament! The key here is to try and do something that they participate in (even if it is just contributing a hospital bracelet or a handprint).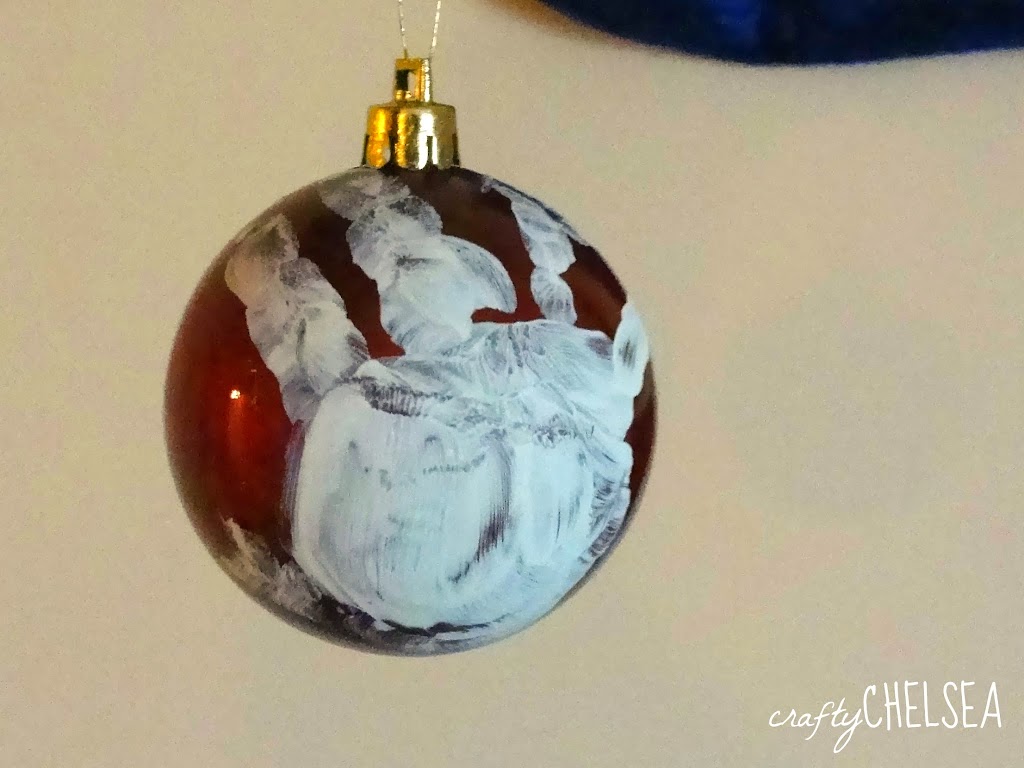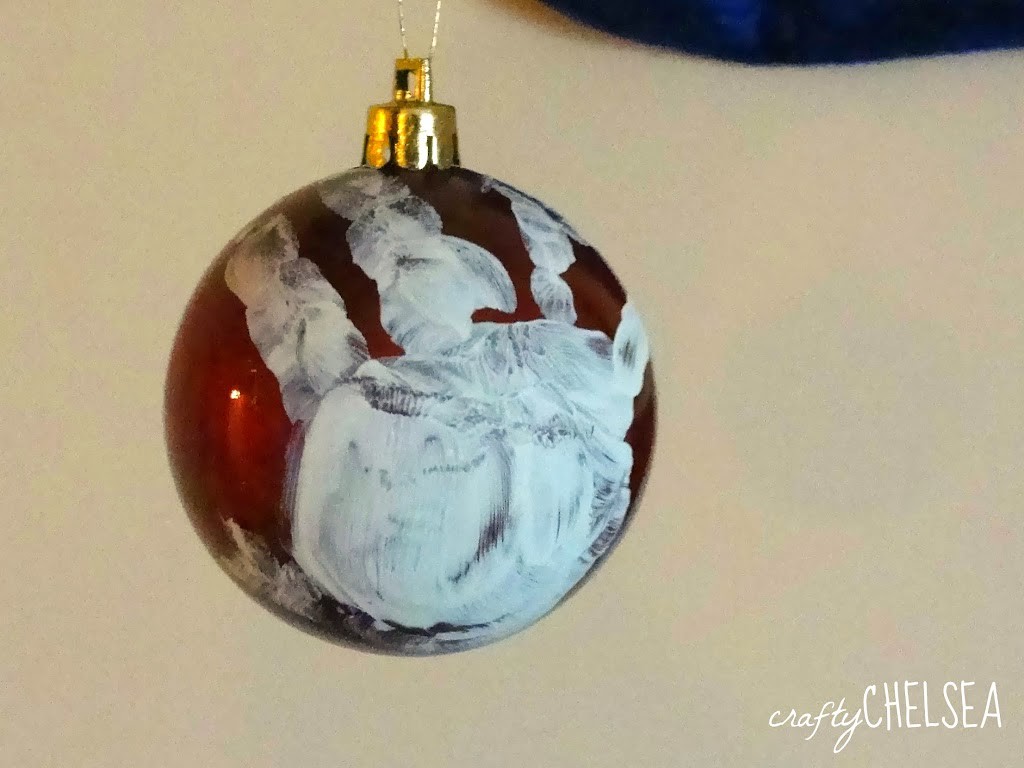 Take baby to meet Santa
This is a must! Even if your baby cries, the picture is going to make a great memory!
Some places, like Bass Pro Shops or Cabela's, will give you a free 5×7 photograph, with the option to pay for more pictures. Or there's always lots of options at the mall!
This is something fun to do even if your baby is crying, because you will always remember that picture and be able to share it with your child in the future. So be that parent and just do it! You won't regret it.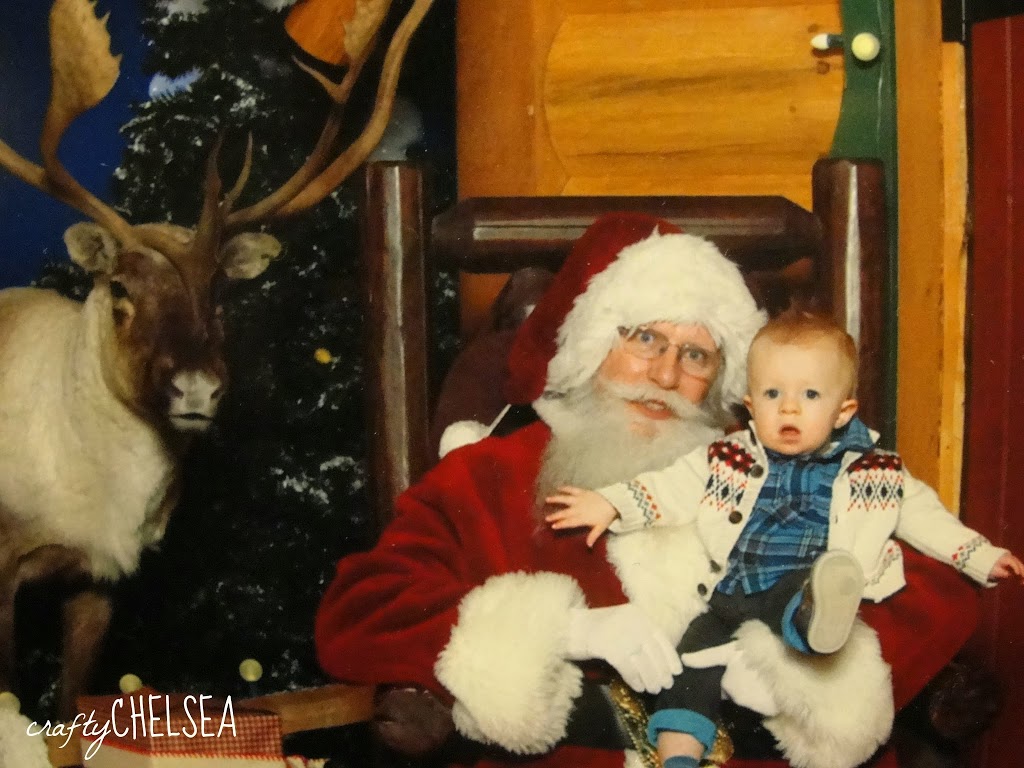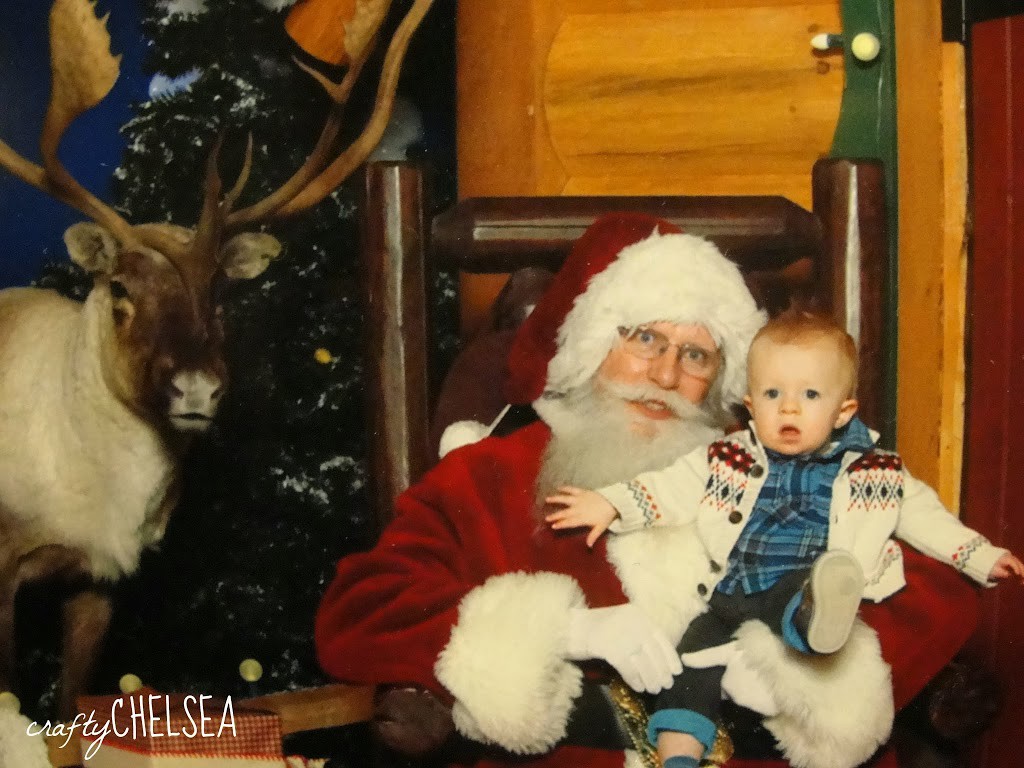 Send out Christmas cards
Okay so baby really only contributes a picture here, but this is something fun to do for your baby's first Christmas.
The first year we sent out Christmas cards was when my oldest was a baby, and I was so excited about them! You can do a standard family picture, or just a picture of your little baby looking adorable.
Don't pretend you don't want to show off how cute your child is. Christmas cards are a great way to do it!
Read Christmas stories
It doesn't matter how old your baby is, you can read them a Christmas book. Some babies will sit and listen to a long one like The Polar Express
and other babies just want a short one like Rudolph the Red-Nosed Reindeer
.
It doesn't matter which book you choose, just read! I started reading to my son before he was three-months-old and now he loves it. Reading Christmas stories together is a great way to get ready for Christmas.
Take a picture of your baby in a Santa hat or in a stocking
The idea here is to get a special picture for your baby's first Christmas. If your baby is too big to fit a picture of him in a stocking, try putting a Santa hat on him and taking a picture of that. My babies have never been small enough on Christmas to fit into a stocking, but Santa hats are cute, too!
You really just want to take a cute holiday picture that you will be able to show off for years to come!
Sing and dance to Christmas songs
Regardless of if you turn on the tunes after Halloween or wait until Thanksgiving is over, make sure you involve your baby in the festivities!
Even if you aren't big on singing, your baby will love to hear your voice, and it's especially fun to dance with them or have them clap along.
I realized the other day how many Christmas songs I know all the words to, and I don't think many of them were actually taught to me (who would teach their child the words to "Baby, It's Cold Outside?" But it's my favorite!). Start them early and one day they'll recognize Christmas songs mean it's almost Christmas time!
Look at Christmas lights
My family used to always drive around before Christmas and look at the Christmas lights. Even if your baby ends up falling asleep, they'll enjoy seeing the colors and lights while they're awake. And you can even decide to make it a Christmas tradition!
Make handprint or footprint art
I did this for Halloween and thought it was fun and wanted to do it again! I have seen pictures of "mistletoes" and reindeer feet, and Santa hands, and holly. Just search Pinterest for Christmas handprint or footprint art and I am sure you will find something you want to do.
Also, I would recommend doing footprint art over handprint art, because toes don't move around as much as fingers do. You'll get less smearing that way. But if you find an adorable handprint one you want to do, by all means, try it!
Watch a Christmas movie
Pick a short, bright movie that will keep them interested. Something like the animated version of "How the Grinch Stole Christmas
" is perfect. And it will get you in the Christmas spirit, too!
Make and hang up a felt tree
When my oldest was a baby, I got together with some friends and made a felt Christmas tree. I wasn't sure how he would really like his tree, but he loved it! I even redid it years later and made one for my daughter, too!
If your child is mobile (rolling, crawling, walking) you might not want to put up a real Christmas tree where they can get to it. It's a good idea to let them have their own little tree to play with and decorate. Even if your baby doesn't get the whole decorating thing yet, they'll enjoy playing with the ornaments
If your baby doesn't move yet, you probably don't have to worry about them getting into your tree, but it's still a fun idea to make them their own tree! Even if they do just suck on the ornaments!
Get them a special nativity for them to play with
I have seen little wood peg ones, felt ones, and Fisher Price even makes an adorable one
. It's fun to let your baby have their own special nativity set that they can play with and move around without you worrying about it breaking. There are so many things you set out at Christmas that you don't want your baby playing with that it's nice to let them have something that is their own that they can play with. And it sets the stage for you to teach them the true meaning of Christmas!
Read the story of Christ's birth from the Bible
Even better than reading a Christmas book is reading the story of Christ's birth recorded in the Bible. Luke 2:1-20 is my favorite version of it, and it's short enough that even though there aren't pictures, your baby might listen. You could also get a book with pictures that has the story of Christ's birth, but for now we are just sticking with the Bible!
Your baby's first Christmas will be special whether they remember it or not. I loved putting each of my babies in their Christmas pajamas on Christmas Eve and sitting down together to read "The Night Before Christmas." Having Christmas traditions is so much fun and I can't wait to start these with our little guy!