DIY Felt Christmas Trees are so cute, so easy, and so fun! What a great way to keep your kids busy during the holidays! And I love that they're toddler-friendly!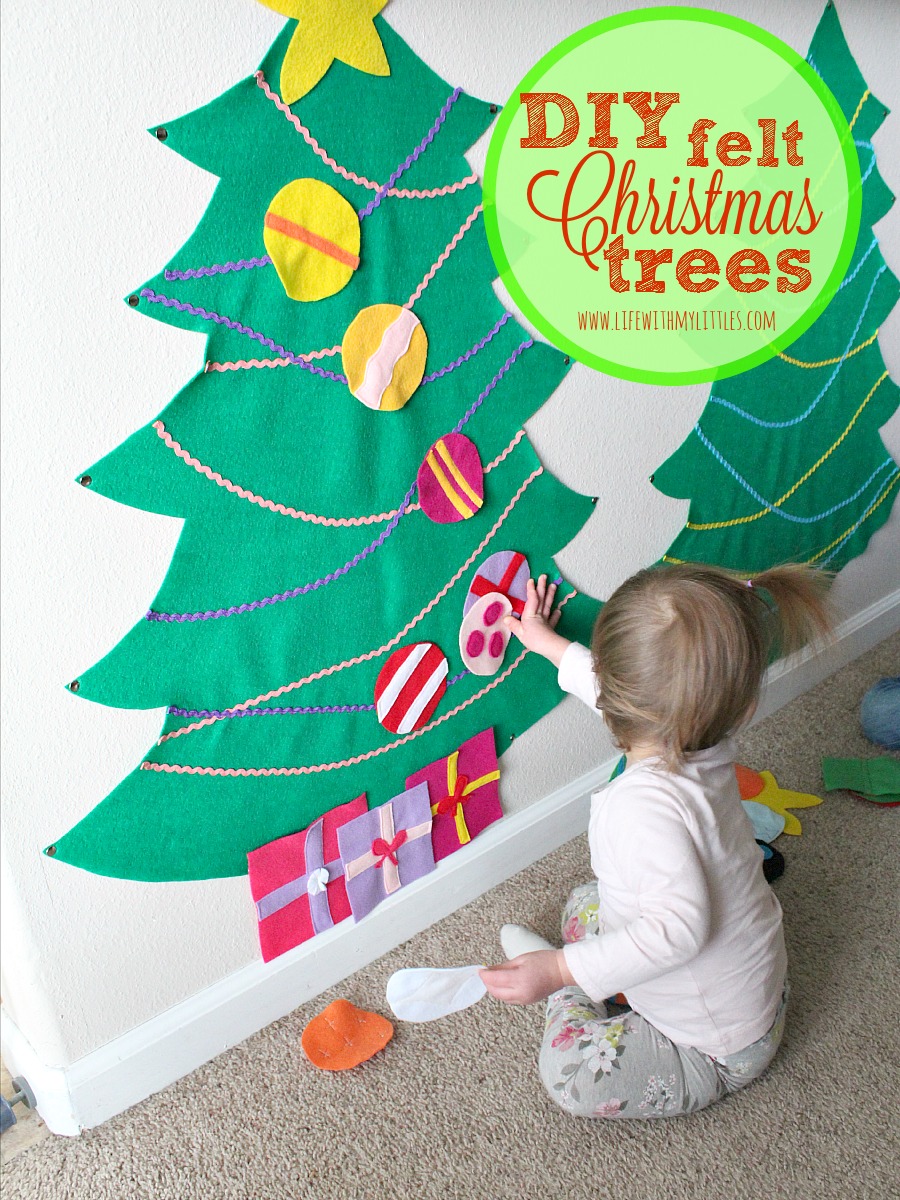 For my son's first Christmas, I really wanted to find a way to make it more fun for him. Christmas is such a magical time for kids, and even though he was only 9-months-old, I wanted to make it special.
My friends and I got together and made some DIY felt Christmas trees with ornaments that just stuck on so our kids could decorate their own little trees over and over again. (I highly recommend making your trees the way I mention in that post. It was a lifesaver!)
Now that my son is older and his tree is falling apart a bit, I thought I would make him a new tree, and make one for Little A, too! They are super easy and definitely worth taking the time to make. And the best part is, you don't need any patterns! You can freehand everything, and it doesn't even matter!
Seriously, this is super easy and super fun. And you'll love watching your kids decorate their trees over and over again!
How to Make DIY Felt Christmas Trees
First, you'll need a bunch of coordinating colors of felt for ornaments, some ric rac, and 1 yard of green felt. For the green felt, you can just go to any fabric store and find bolts of felt. I didn't know this until I made my tree, so I thought I would pass that along!
Next, decide how many ornaments to make, and cut them out. Mine are all circles, but I did different patterns on them. Polka-dots, stripes, zigzags, pretty much whatever you want you can do. And if you want to make some square ones or star ones or oval ones, be my guest. My original tree had a snowflake, a snowman, a penguin, and a candy cane, too. But since I was making two trees I decided just to stick with circles. And seriously, just freehand those bad boys. No need for patterns!
Now you want to either hot glue or sew on your ornament patterns. Honestly, if you just want to do solid-colored ornaments, that's no problem. You're toddler won't care either way, I promise. I chose to sew on my polka-dots, stripes, and zigzags, because my daughter puts everything in her mouth (still, at 15-months, ugh).
Also, if you want to make some presents for under your tree, you can do that, too! Here's how mine turned out. I did use a template for the bow on top, but the rest was freehand.
Now it's time for the tree! Fold your felt in half hot-dog style. It's going to be incredibly long, but you really only need half of it so if you want to cut it in half, be my guest. I did because I am making two trees.
Now cut your tree! Now I'm not super crafty or artistic (ha!), but I did this freehand. You can use a white crayon or something to draw it before to make sure you like it, but it's up to you. Here's what my tree looked like folded after I cut it if you want an idea of how to make the edges. And don't forget the stump!
Open up your tree and admire your work.
If you want to sew some ricrac on like a garland, now is the time. I think it looks super cute, but if you're going with the simplest form of this tree, just ignore it. Pin the ric rac on and then just set a line in the middle of it.
Now you have your tree, you have your ornaments, how do you make them stick!? This little bottle is the answer.
The instructions tell you how to do a temporary hold, so that's what you want to do. Lay your ornaments on some newspaper or something and then lightly spray. Let them sit for a bit and then they will easily attach to your tree.
Note: To be honest, this step isn't completely necessary. I actually hadn't sprayed my ornaments when I took these pictures and they stuck fine! The spray just makes it easier for younger toddlers to be able to get their ornaments back up on the tree.
Now hang up your tree and let your kiddos get to work! To hang them up, I have used tiny pushpins in the past, but now that we have a house and I don't want to poke holes in the walls, the poky part of velcro stuck to a command sticky pad has worked great!
I told you that was simple! And it's a fun way to keep your toddlers away from your nice Christmas tree, too! My kids love having their own little trees, and the best part is that you can use them over and over again because they just fold up for storage!
Now go get some felt and get to work! These DIY felt Christmas trees don't make themselves!