The Elf on the Shelf doesn't have to be an exhausting, stressful charade every night! Here's the easiest way to do the Elf on the Shelf that will make it an easy, fun Christmas tradition for your family!
This post contains affiliate links.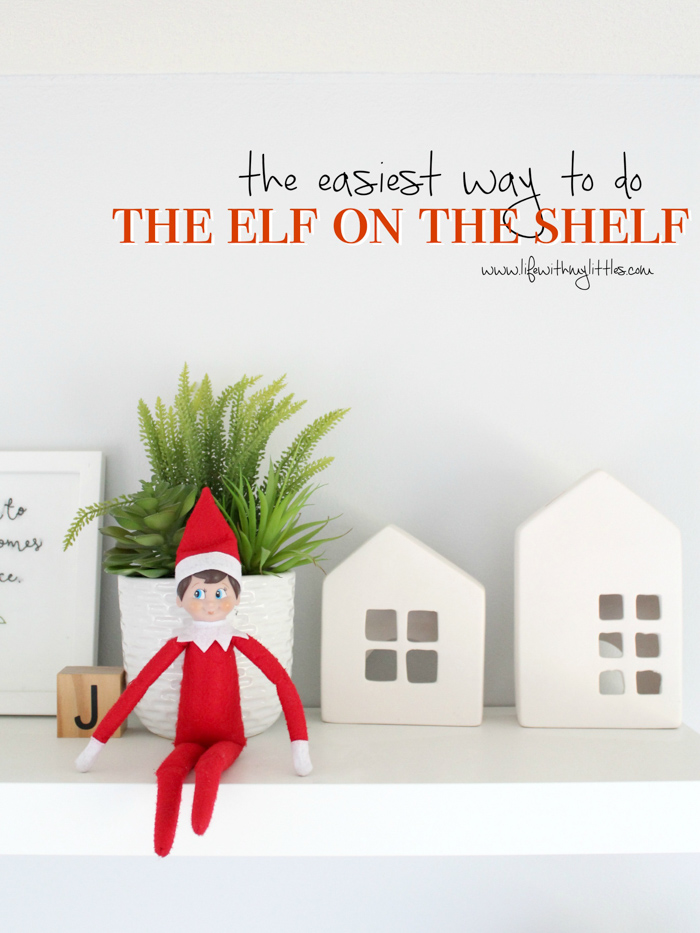 Ever since my kids were 1 and 3 months, I've done the Elf on the Shelf
. If you're counting, that's five years that our elf, French Fry, has been part of our Christmas traditions.
I know a lot of people who also do the Elf on the Shelf, and I know a lot of people who hate doing the Elf on the Shelf. If you're someone who has never tried it out, or someone who has done it and ended up hating it, I've got a revolutionary new idea for you.
The easiest way to do the elf on the shelf:
Just move the elf around every night and have your kids find him in the morning.
That's it. Total game-changer.
If you haven't ever noticed, there's nothing in the actual book that says the elf has to cause mischief. Nothing that says he's a trouble-maker or mess-maker or even a fun-haver (yes, it's a word). All the book says about the elf is:
"I'll be back at your home before you awake, and then you must find the new spot I will take. You'll jump out of bed and come running to see: who'll be the first to spy little old me?


Maybe the kitchen, the bathroom, or den is where you will find me, your special elf friend. I can hide on a plant, a shelf, or a frame. Where will I be? Let's make it a game."

"the elf on the shelf: a christmas tradition" by Carol V. aebersold and chandra a. bell
I'm not sure where along the lines doing the Elf on the Shelf got so complicated and time-consuming, but it really doesn't have to be! Sure, it's cute and funny for your kids to find him all tangled up in tinsel or with a Superman cape "flying" from the ceiling fan, but for parents, coming up with 25+ ideas (depending on when you start) for your elf can be EXHAUSTING.
And that's why the easiest (and also best) way to do the Elf on the Shelf is just to move him around every night.
Our elf likes to hang out on the Christmas tree, in stockings, in closets, even the fridge. And it takes about a minute for me to move him every night, which is a big plus.
Now I know that some parents love coming up with creative things for their elf to do, and that's fine. Every few days I might throw one of those in, but our elf doesn't ever make a mess I have to clean up and he rarely gives gifts or prizes to my kids.
Again, if that's your thing, no judgement! You do you! But by FAR the easiest way to do the Elf on the Shelf is just to move him around each night.
I'm a big advocate of not doing all the things unless you have to, but I also love seeing my kids' faces when they find French Fry every morning. So this is one Christmas tradition that we do in a very simple, fast way.
I move the elf to a new spot each night, the kids are excited to find him, and everybody wins! I think that's something even the Scroogiest of Scrooges can get on board with!