Not sure where to buy matching Christmas pajamas for your family? Here are six places with TONS of options for everyone! Great for families or just kids!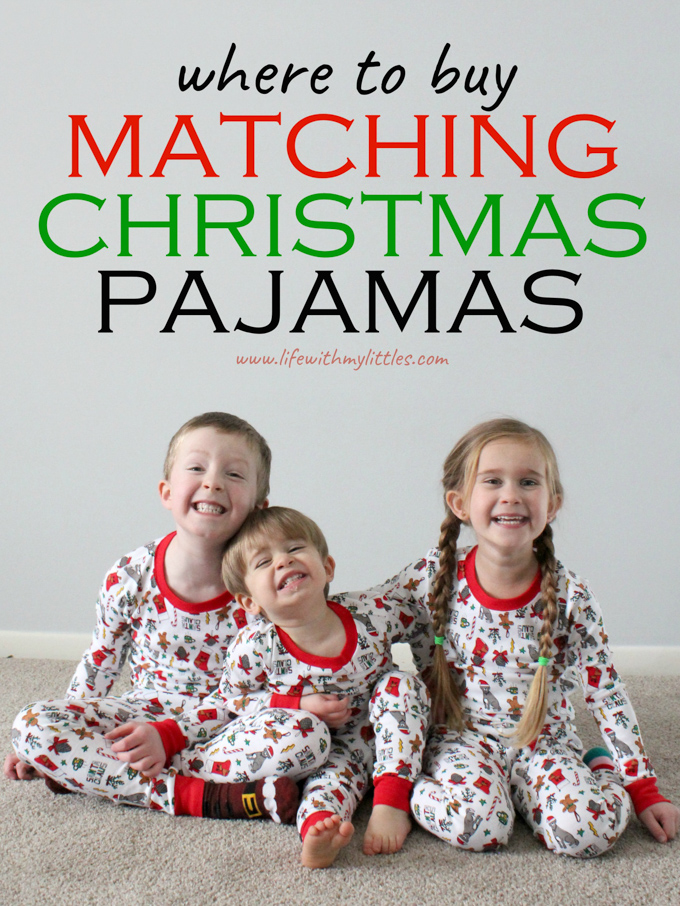 One of my family's longest-running Christmas traditions is to open special Christmas pajamas on Christmas Eve. When we had kids, we decided to keep the tradition going. Each year our kids have had matching Christmas pajamas, and it has been so much fun. They love it, we love it, and it makes Christmas morning even more special.
If matching Christmas pajamas are your jam, too, then today's post is for you! I'm sharing where to buy matching Christmas pajamas! Make sure you get them soon so your family can match on Christmas morning, too!
1. Carters. Not only do I love Carters because they seem to always be having sales on their clothes, but they also have super cute Christmas pajamas for kids! We got our kids' matching Christmas pajamas (pictured above) from Carters this year, and when I showed them to them, they were all so excited. They have sets like these or sleepers, and they go all the way up to size 14. A few of their styles are even available in adult sizes (like this one and this one). And make sure you sign up for their Rewarding Moments program because you can get coupons (like 15% off or 20% off!).
2. Old Navy. Old Navy always has cute Christmas pajamas, too. We've had a hard time in the past finding ones that are for the whole family, but when I checked their site this year it looks like they've expanded their options and have matching family ones (rather than just matching kid ones). When we got Christmas pajamas here a few years ago, we got coordinating girl and boy ones that were the same style but just different colors, and our kids loved those!
3. Target. We got our kids' pajamas from Target last year from the Burts Bees Baby line, and they were more traditional, but still really cute. This year they've got several different styles for the whole family (including Harry Potter Christmas pajamas and Mickey Mouse Christmas pajamas). If you want to get some for the whole family and want to see them in person first, Target is a great place to look!
4. Gap. Two years ago we got the kids matching Christmas pajamas from Gap, and they are still some of my favorites they've ever had. They have a few family sets (including flannel ones) but be ready to pay a little bit more. They also have some cute Star Wars matching Christmas pajamas for kids, and I almost got those for the kids this year. There are options to coordinate but with slightly different styles, or you can full on match with identical prints and styles.
5. Hanna Andersson. I've never bought pajamas from here, but I LOVE all the different styles and patterns they have, and I've heard great things, too. There are TONS of family pajamas, so if you're having a hard time finding ones you like, check here! They have Disney Christmas pajamas, generic winter pajamas, superhero pajamas, Grinch pajamas, Star Wars pajamas, I mean seriously there is something for everyone. Hanna Andersson basically are my dream pajamas. Hopefully one day we'll get these, because I really do love them!
6. PatPat. A very affordable place for matching Christmas pajamas for the whole family is PatPat. It's a daily deal site, and they have tons of different festive pajamas. I think these ones are super cute, and so are these. I haven't ever shopped here before, but the wide variety of matching Christmas pajamas is hard to beat!
Hopefully you now know where to buy matching Christmas pajamas, because I linked a TON of great options! Matching Christmas pajamas is one of my favorite traditions, and I hope that I've been able to help you find some that are perfect for your family, too! Merry Christmas!