32 of the best and easiest Elf on the Shelf ideas for toddlers! Fast, simple, and fun for your little kids!
This post contains affiliate links.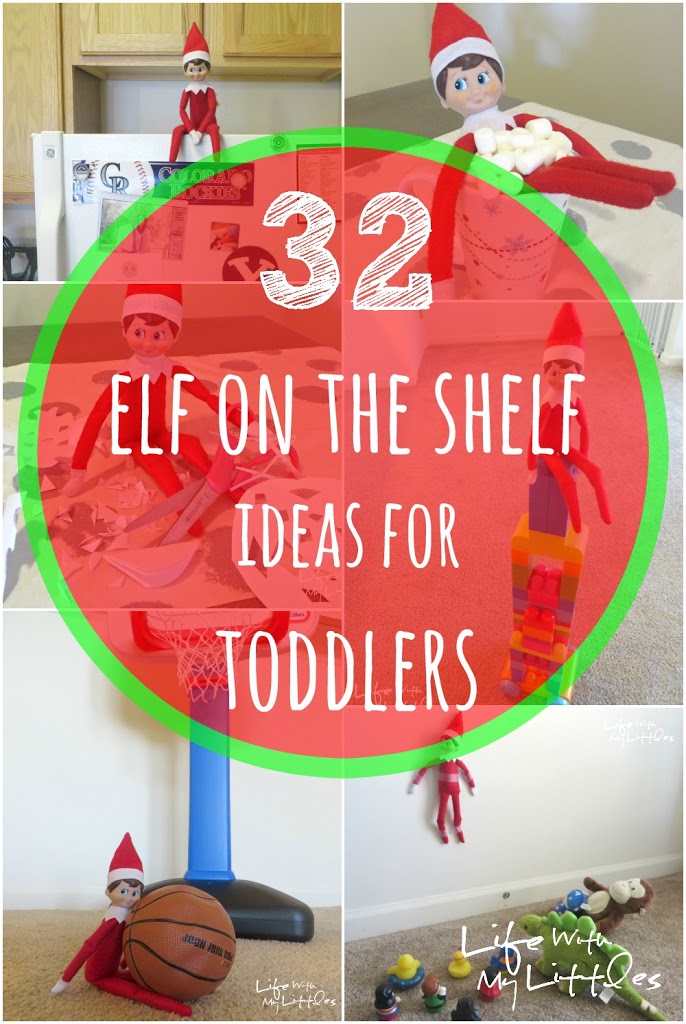 Ever since I discovered the story of Elf on the Shelf
, I have been dying to get one for our family. Last year I didn't get one because I figured Little J was too small and my husband didn't really care.
This year, Little J understands more of what is going on with Christmas, so I decided that he was old enough for our family to have our own little Elf on the Shelf. But the number of days between Thanksgiving and Christmas can be up to 32 days, and that is a lot of days to try and come up with ideas that are going to be fun for a toddler.
I took to Pinterest to try and find some good ones that would be easy for me and simple for Little J to find and understand. And now I am going to share the 32 best Elf on the Shelf ideas for toddlers with you!
1. North Pole Breakfast. This is a great way to introduce your little elf to your kids.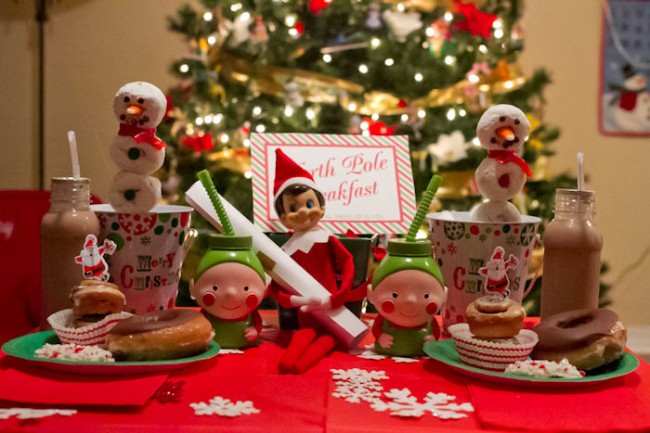 2.
Super Elf.
I think every toddler would be thrilled to find out that their elf is really a superhero!
3. Elf with the Nativity. I love this idea because it helps your kids remember why we are actually celebrating Christmas.
4. Elf with a Dry-Erase Marker and your Picture! How funny is this? Your littles will love finding that someone has given them a mustache or a hat!
5. Fishing. Super easy. Who doesn't have goldfish and floss? Little J is going to love this one!
6. TP'ing the Christmas Tree. Another fast idea that your toddler will love to find!
7. Snow Angel. I would recommend using rice so it will clean up easily.
8. Froot Loop Garland. Super easy, and you can hang it on the tree the next day!
9. Driving a Toy Car. With a little boy, we have a ton of cars, so this is really easy to put together!
10. Coloring a Picture. You could make it a Christmas picture, or your child's favorite cartoon.
11. Playing Basketball. Little J is going to LOVE this one! Basketball is his favorite, so he will have fun seeing that our elf loves it, too! We just used Little J's hoop, but you could make a tiny one if you wanted, too!
12. Sledding. A piece of cardboard and a toilet paper roll make a super easy sled!
13. Reading to Other Toys. Since our littles love to read, I thought this would be so fun!
14. Riding a Stuffed Animal. Who wouldn't want to ride a dinosaur?
15. Wearing Doll Clothes. We don't have a lot yet since Little A doesn't have any Barbies, but I know in a year or two we will have some doll clothes to do this!
16. Taped Up By Other Toys. Who knows what that elf did to deserve this one!?
17. With Cookie Ingredients. What little kid wouldn't want to help make cookies?
18. Doctor Elf. Since the Mister is in medical school, we thought Little J would really like this one!
19. Trying to Open Presents. I'm sure before Christmas I will catch Little J trying to do this, so it would be funny to have our elf do it, too!
20. On Top of a Block Tower. Little J loves building, and he has a lot of blocks, so this one is perfect! And it's really easy!
21. With Tissues. I hope your little elf doesn't catch a cold, but if he does, here's a fun way to set him up!
22. In the Car. This is perfect if you are going to drive somewhere to visit family. You can't forget your elf!
23. Lifting Weights. Really easy to make some tiny weights out of toothpicks and marshmallows!
24. Inside Your Advent Calendar. I just made a new advent calendar, so I thought it would be really fun to have our elf hanging out in one of the pockets!
25. Wrapping a Present. We got Little J and Little A some special presents to open before we visit our family, and we thought it would be fun to have our elf wrapping them. This is great if you have something you want your littles to open early!
26. In a Stocking. Another really easy idea that your kids will have fun finding!
27. Making Paper Snowflakes. And then you can hang them up in your house after!
28. On the Fridge. Either on top or on the handle. Easy to do.
29. Tee-peeing the Christmas Tree. I know Little J is going to love this one! And it's easy to find!
30. In a Cup with Marshmallows. It's like a tiny elf bubble bath!
31. In a Pizza Box. Our family loves pizza, so it was easy to have our elf sneaking the leftovers!
32. On a Zipline. A little harder to set up, but way fun for your toddler!
33. Sneaking a Midnight Snack! Just grab a baby spoon and some Nutella!
34. Decorating with Diapers. I know my kids are going to LOVE this one!