Looking for a long-lasting family Christmas tradition? Try yearly ornaments! It's fun, it's easy, and they last for years!
I received free product in exchange for this post.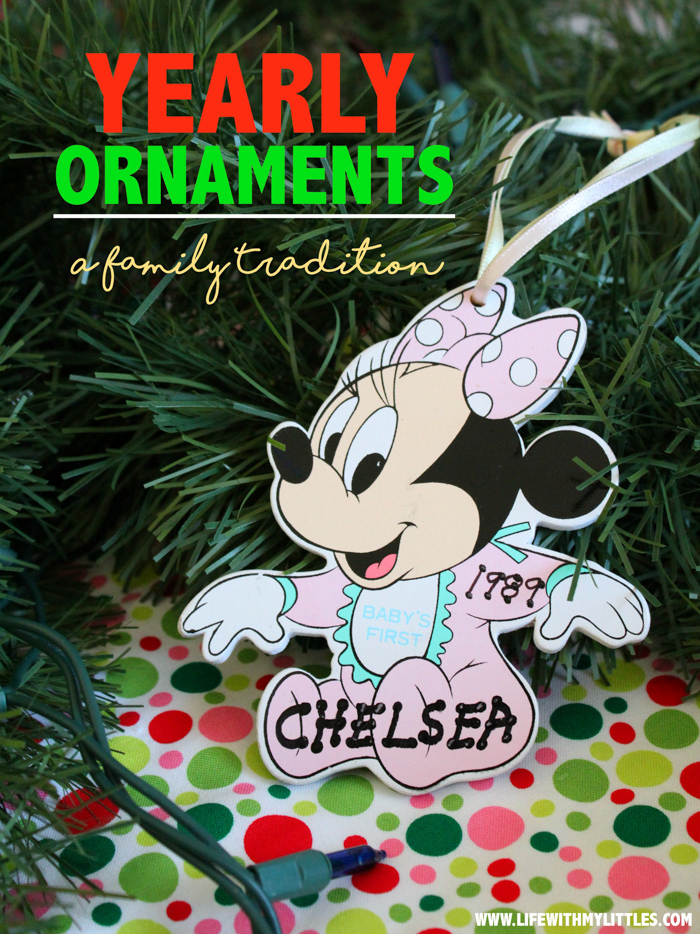 One of my favorite Christmas traditions growing up was picking out a special ornament each year. My sister and I both had our own little Christmas trees in our room, and each year, we got to choose one ornament to add to our collections.
Even after we moved out of the house, my parents would still send us a special ornament of something they knew we loved. Getting these ornaments out every year is one of my favorite parts of decorating for Christmas. And as you can imagine, I now have quite the collection!
When our first son was born, I knew I wanted to continue the tradition with our kids. Of course babies can't pick out their own ornaments, but we still got a special one to commemorate his first Christmas! He's now six and has his own little growing collection of ornaments.
Our daughter and youngest son have gotten their own ornaments each year, too. I love seeing how each collection represents each child. They have such different interests, but they also sometimes are into the same things, which has reflected in the ornaments they've chosen a few times!
Maybe one day when they all have their own rooms we'll let them have their own trees like I did growing up, but for now, I love having all our family ornaments on the same tree.
If you want to start this tradition with your family, basically, all you do is let your child pick out a special ornament each year. We like to have it be one of our advent calendar/Christmas bucket list activities.
Where you let your kids pick your ornaments is up to you. We've gotten them at Walmart and Target before, and just today I was in Hobby Lobby and they have an amazing collection of ornaments, too. But my favorite place to get ornaments is from Hallmark. Their Keepsake Ornaments have been a part of my family's tradition for over 25 years!
Some of my favorites are my Lion King ornament from 1994, my Pocahontas ornament from 1995, and my 101 Dalmatians ornament from 1996. But honestly, they're all special!
This year, my kids have already picked out their ornaments. They had so much fun looking at all the options and then choosing their favorites. My oldest son chose a Bladerunner Police Spinner, my daughter chose Unikitty, and my youngest son chose a Mickey ornament (of course!).
Hallmark has an amazing collection of Keepsake ornaments, including ornaments from Disney, Star Wars, Harry Potter, Nintendo, Barbie, DC, Marvel, and so many more! I highly recommend checking out their selection before looking anywhere else!
Our family tradition of getting ornaments each year is one of my longest-standing family traditions, and I hope to keep it going for years to come. If you're looking for a fun, easy holiday tradition that will be special even when your kids are adults, try collecting yearly ornaments!