Raspberry White Chocolate Shortbread Cookies: The perfect mix of fruit and white chocolate in a delicious Christmas cookie!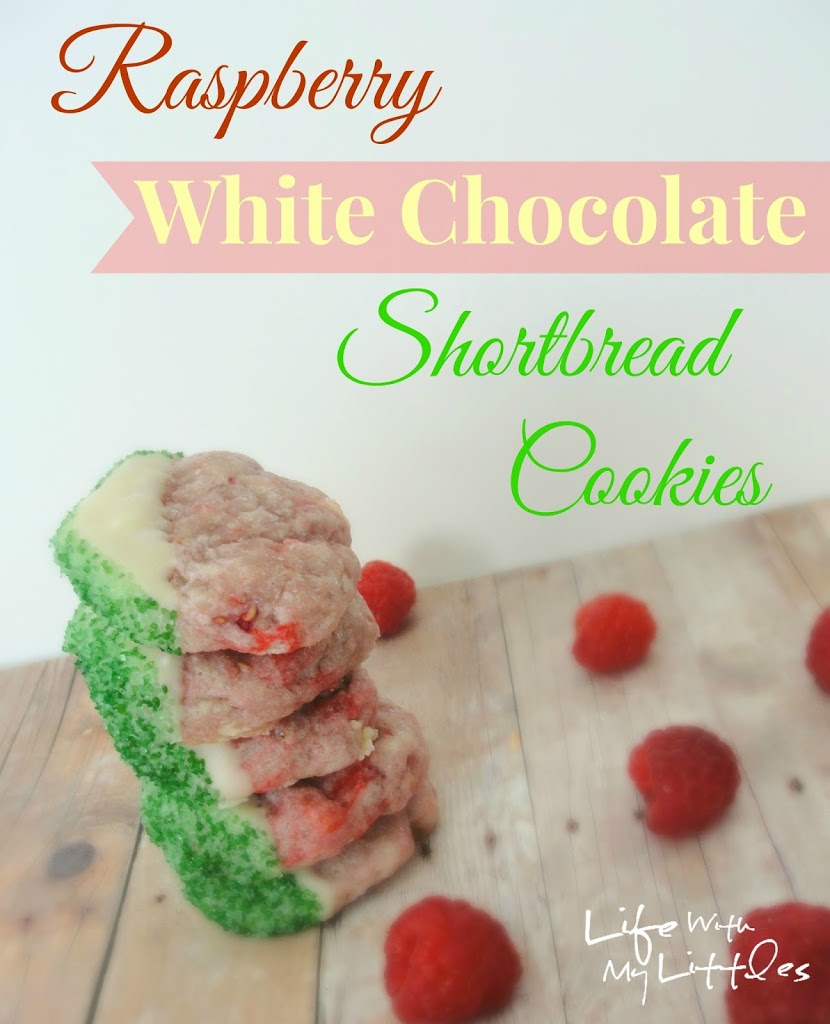 Cookies are my favorite food. When I was in high school I got a recipe book filled with 500 different cookie recipes. I immediately set about marking ones I wanted to try and then baking them to see which ones were good. I quickly discovered my favorite one, and it has become my signature cookie each year for Christmas.
That being said, I would like to introduce you to my new favorite cookie. It is a shortbread cookie adapted from The Ultimate Cookie Book and it is AMAZING.
Yeah, raspberry in a cookie. You usually only hear about raspberry cheesecake or raspberry jam being incorporated into a cookie, but I tried something new and oh man, was it rewarding. These cookies combine white chocolate and raspberries into a shortbread cookie, and then they get dipped in white chocolate and rolled in sprinkles for a decorative edge. They are so good! And they are the perfect Christmas cookie when you match the natural red coloring from the raspberries with some green sugar sprinkles. Put these on a plate of Christmas cookies and they will be the first ones to be eaten.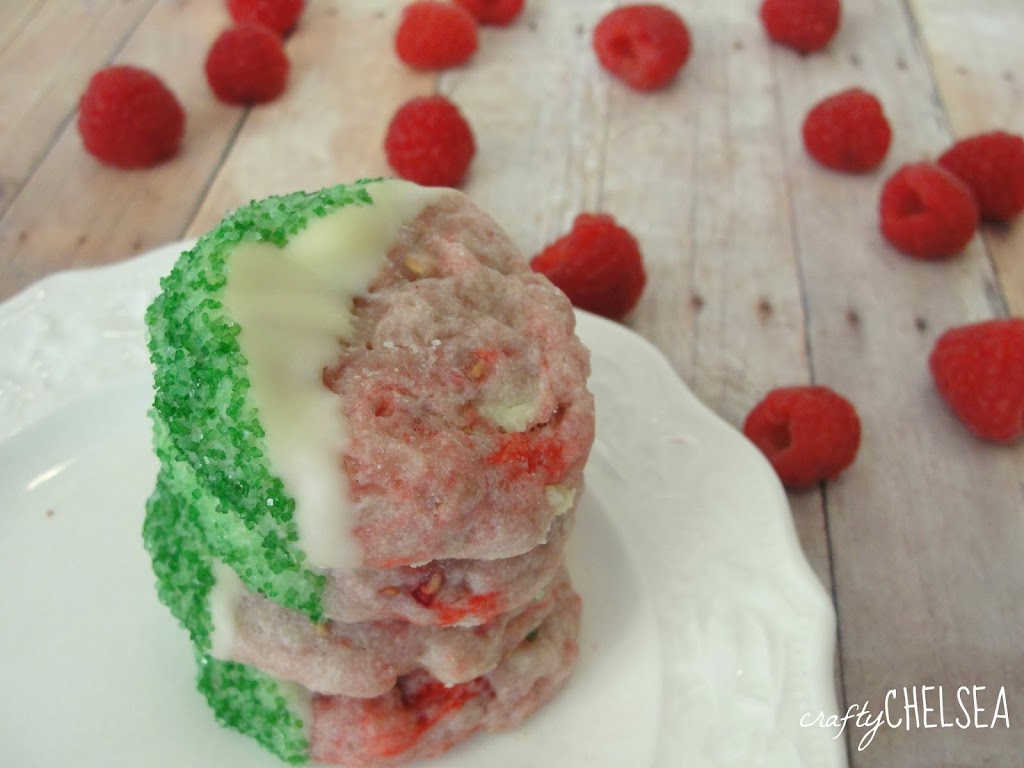 They are chewy but not crunchy, sweet, but not too sweet, and the white chocolate gives them a rich twist. They are DIVINE.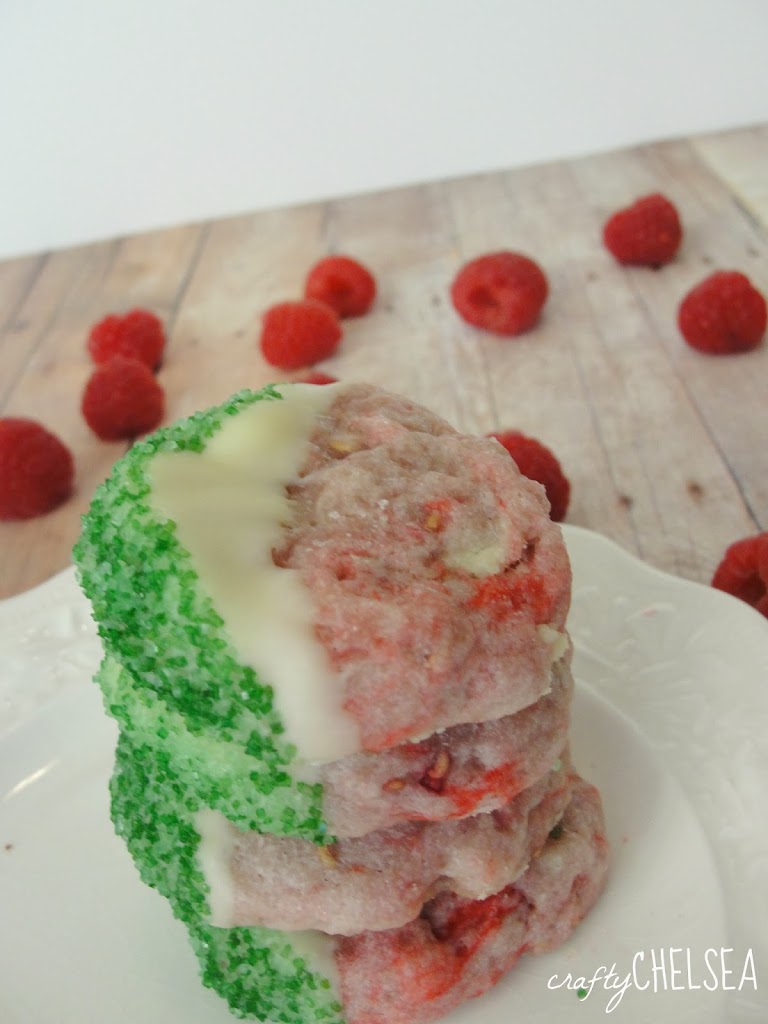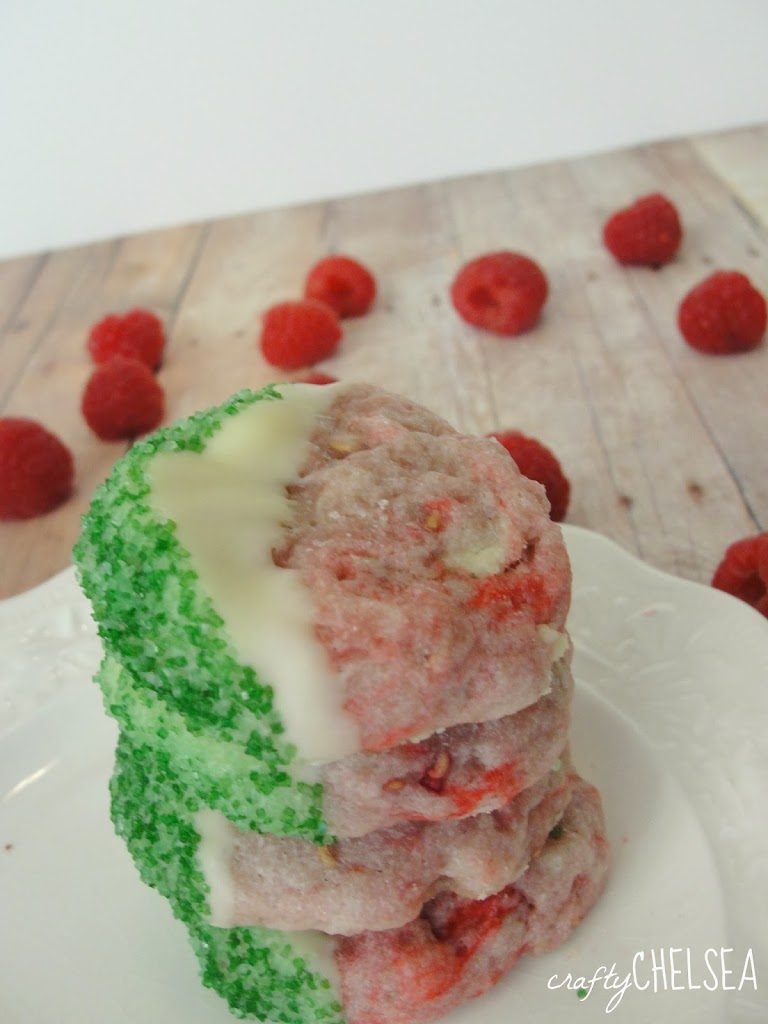 I seriously don't know why anyone hasn't thought of these before. Or why I didn't think of them sooner.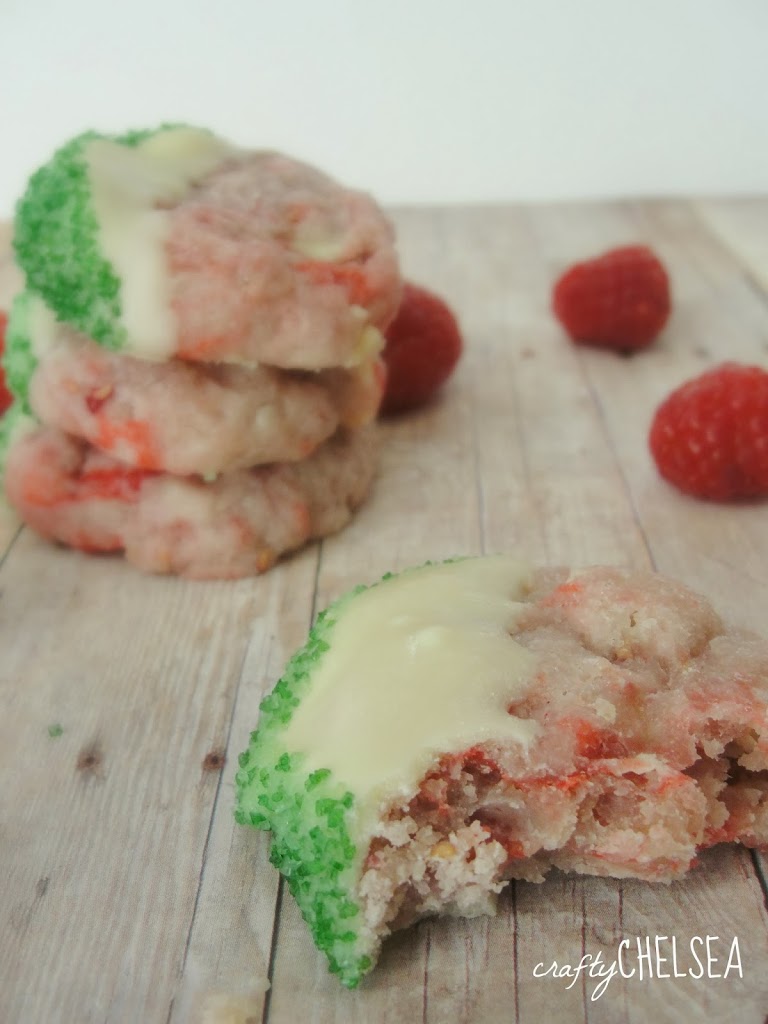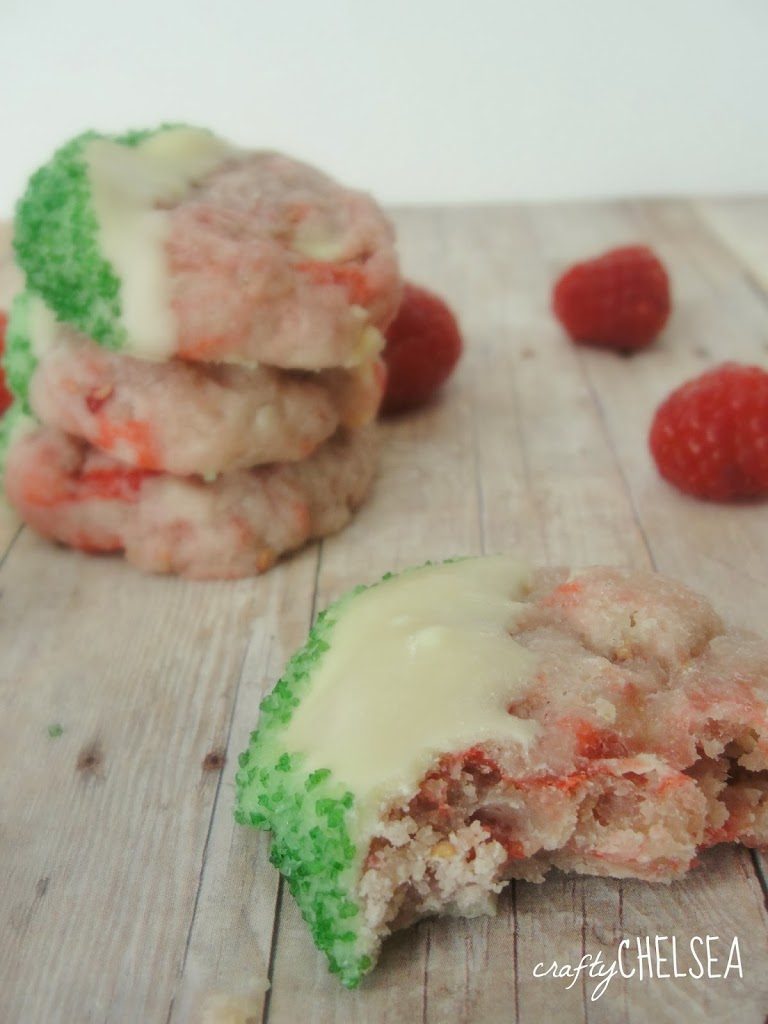 Raspberry in a cookie is a win.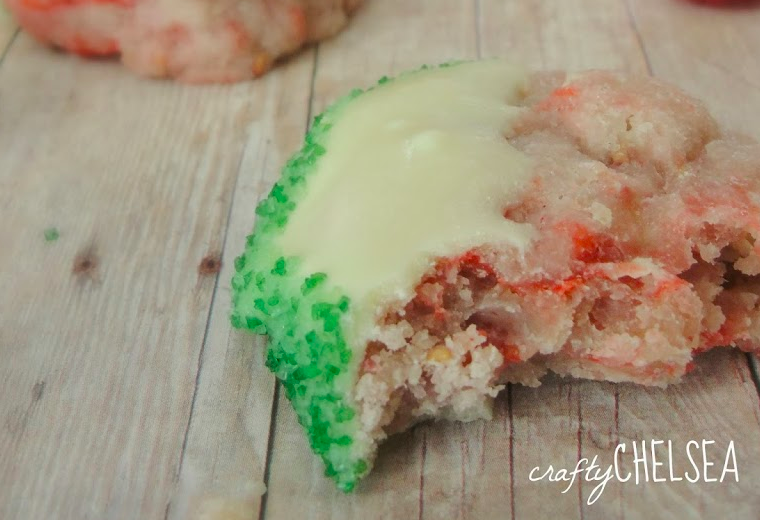 Yield:

60 cookies
Raspberry White Chocolate Shortbread Cookies
Raspberry White Chocolate Shortbread Cookies: The perfect mix of fruit and white chocolate in a delicious Christmas cookie!
Ingredients
2/3 c. washed raspberries, chopped
2 1/2 c. flour
1/2 c. sugar
1 c. cold butter (just don't let it soften at room temp)
6 oz. finely chopped baker's white chocolate (don't get the vanilla candy coating stuff)
1/2 tsp. almond extract
A little extra sugar (maybe 1/4 c.)
2 tsp. shortening
6 oz. baker's white chocolate (same stuff, just don't chop it up)
Sprinkles for decorating, green if it's for Christmas!
Instructions
In a mixing bowl, mix flour and sugar.
Use a pastry blender to cut in the butter until the mixture looks like fine crumbs (see picture above). I highly recommend using a pastry blender because it makes this so much easier. I finally got one from the dollar store and it made a HUGE difference.
Add in raspberries and 6 oz. the chopped white chocolate.
Stir in almond extract and mix until the dough is combined. It will look like play-dough.
Form balls about 3/4 inches big, and place them on an ungreased cookie sheet 2 inches apart. Using the bottom of a flat glass or cup dipped in sugar, squish the balls until the are about 1/2 inch thick. I also kind of shape my cookies into better circles after this, and add a tiny bit more sugar to the tops.
Bake at 325 degrees F for 15-17 minutes (check on them to make sure they are done, they may need a little bit longer depending on your oven). Let the cookies cool a bit and then put Once your cookies are 100% cool (be patient, I know it's hard), melt the white chocolate and the shortening in either a small pan on the stove or in the microwave (just follow directions on the box). Then, dip each cookie halfway into the white chocolate, roll the edge of the cookie in the sprinkles, and set it on a cookie sheet covered in aluminum foil to dry. The reason I say put them on a cookie sheet with aluminum foil is that then you can put them in the fridge and they will dry much faster.
When your cookies are dry, take them out of the fridge and enjoy!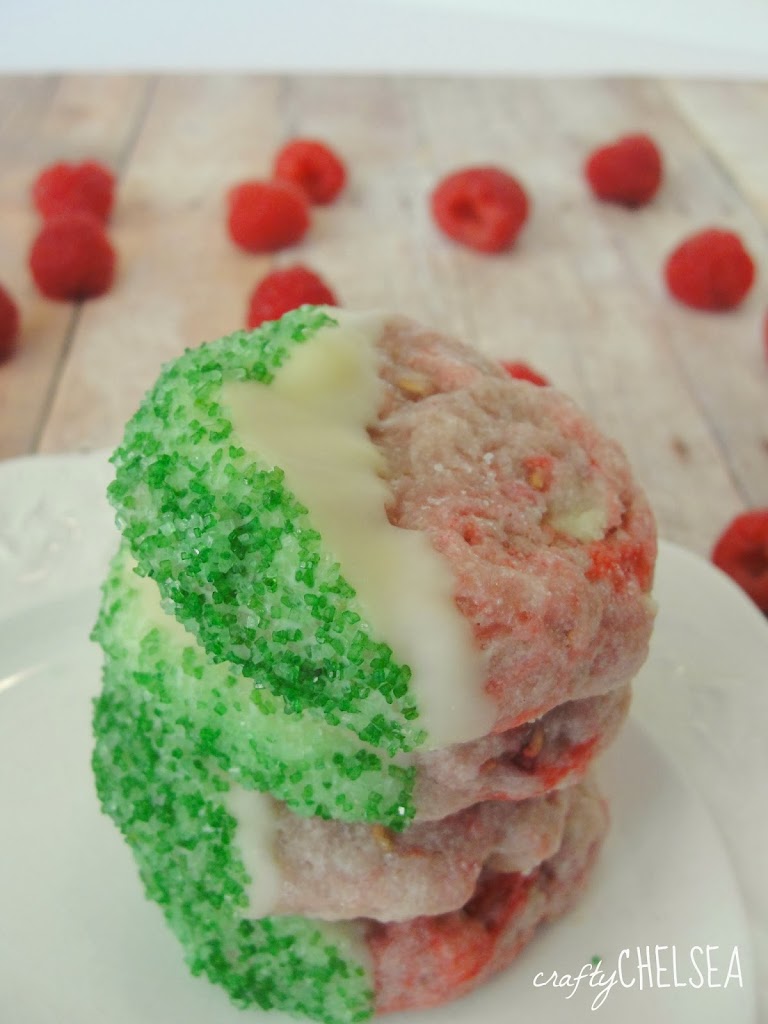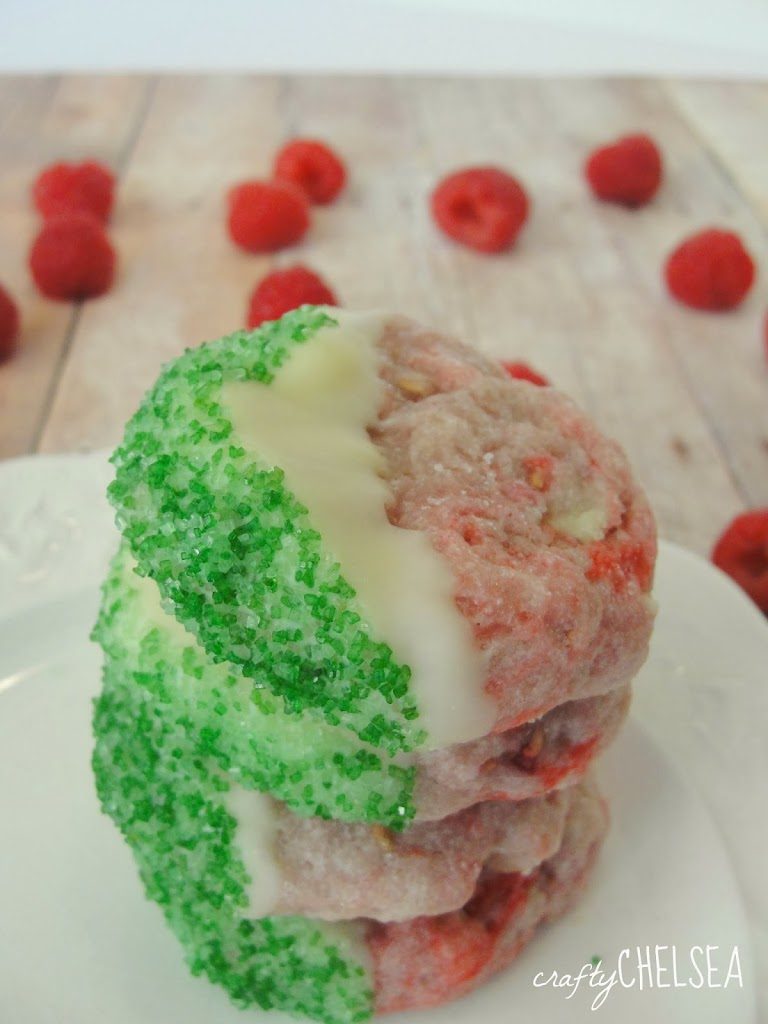 These cookies really are amazing. They taste incredible with the raspberries, and even though it might be scary for you to put fruit into an actual cookie, I promise it is SO worth it! These are the perfect cookies to take to a Christmas party, neighbors, or a cookie exchange!