Tips for going to Disneyland with a baby that will make it less stressful, less exhausting, and even more fun! If you're planning a trip to Disneyland with a baby, this post is for you! Amazing, helpful tips that are a must-read before hitting the park!
Save big on Disneyland vacation packages from Get Away Today! Check out all the current deals here (including their layaway plans where you can hold a future vacation for just $175 down)! And don't forget to use promo code LITTLES to save an extra $10 off your already discounted package! Check it out HERE!
I received complimentary Disneyland tickets in exchange for this post. This post also contains affiliate links.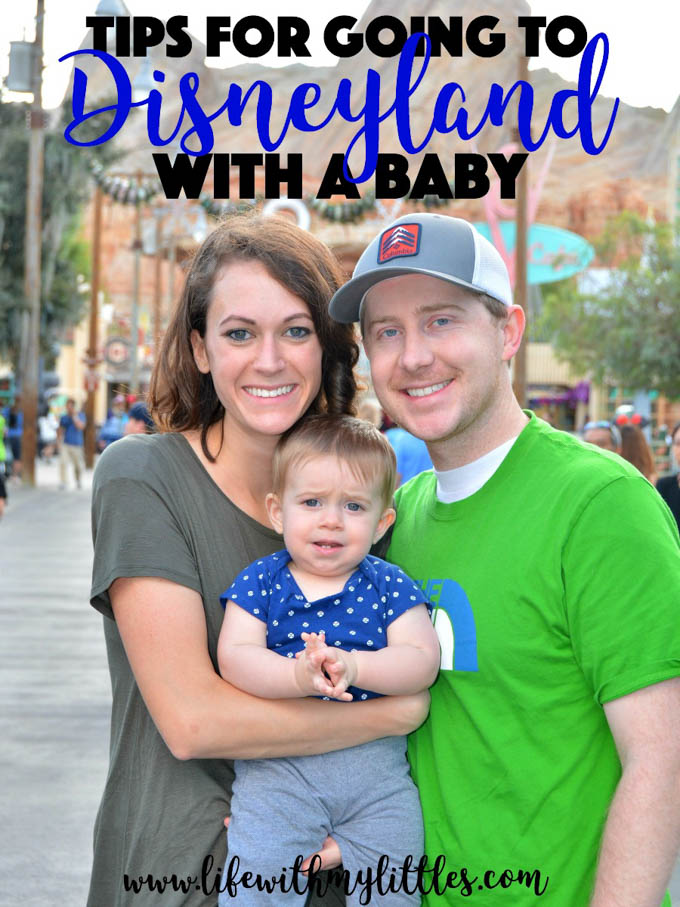 Guys, it's true what they say. Disneyland really is the happiest place on earth, and it's even better as a parent.
Last month we got to go to Disneyland as a family of five, and it was so much fun. Last year we went to Disneyland with two toddlers and had a blast, and it was fun to go back again with a baby in tow. We visited both Disneyland and California Adventure, and I loved seeing the Christmas decorations they had all over the parks! The attention to detail is amazing!
Our oldest is now four and is even more Cars-obsessed than he was last year, so it was the best taking him to Cars Land and getting to experience Radiator Springs and ride all of the Cars rides. He was even brave enough to ride The Guardians of the Galaxy: Mission Breakout ride not once, but twice!
Our daughter's favorite part of our trip was getting to meet her favorite Disney princess, Moana. It was the cutest thing to see her next to Moana in their matching Moana costumes
. I think she was a little starstruck because she only said a few words to her the whole time! Our daughter was also tall enough to ride the big rides, so that was a lot of fun, too!
Our youngest was nine-months-old, and seriously, he was a champ while we were there. Since it was our first time going to Disneyland with a baby, I made sure to prepare so that we would be ready for anything! Traveling with a baby can be hard, especially to somewhere like Disneyland! You need to be prepared!
I wrote down a bunch of tips for going to Disneyland with a baby before we went, and added a bunch more when we were there! It made all the difference!
And don't forget to check out Get Away Today! They have great discounts on Disneyland tickets and packages (like adult tickets for kid prices!), and you can get $10 off any 2-night or longer Southern California package with code "LITTLES" (hotel and 2 ticket minimum purchase to qualify for the discount).
Tips for Going to Disneyland with a Baby
Bring a good stroller that can recline and has shade covers
Bringing a stroller that can recline is important because your baby will probably be taking naps while you're in the park, and having one with shade covers is important because California is sunny and you aren't going to keep your baby in the sun all day.
We love our ZOE XL2 BEST v2 double stroller because it reclines almost all the way down, and the shade covers expand and almost completely cover your baby (it's also AMAZING for travel because it's only 16 lbs and you can get a special travel bag for it). ZOE also makes a single stroller if you don't need a double yet. And having a stroller that's a bright color is a plus, too, because it helps your stroller stand out when you're looking for it!
Utilize the Baby Care Centers
If you're bringing a baby to Disneyland, this is a must. The Baby Care Centers in Disneyland and California Adventure both have quiet, private rooms for nursing and pumping, several nice changing pads, tiny potties for kids learning how to potty train, feeding areas with high chairs, kitchens, and a main room for any other guests to wait in. They're super nice and very comfortable.
I nursed baby boy in both the Disneyland Baby Care Center and the California Adventure Baby Care Center, and they were exactly what I needed. This is definitely one tip that you have to know when you go to Disneyland with a baby!
Stay close to the park
There are a lot of great hotels at and around Disneyland. The Disneyland Resort Hotels are great because they are super close so you don't have to commute to the park (which is no fun with a stroller in tow), you can enter the parks an hour early with the Extra Magic Hour, and the hotels are themed, which is super fun!
You can also stay at one of the Disneyland Good Neighbor Hotels that are Disney-approved. You don't want to stay too far away from the park because if your baby has a meltdown, you run out of backup outfits, or you just need to go back to the hotel and rest, you want to be close enough that you actually can. (In the past, I've recommended Airbnb, but we had a horrible experience this time and ended up staying at one of the Good Neighbor Hotels instead.)
Don't plan on regular naps
No matter how good of a sleeper your baby is, you shouldn't plan on having them stick to their regular nap schedule when you're at Disneyland. They're probably not going to sleep as long, and they might have more short naps throughout the day.
Don't stress about getting them "down for their nap," and try to go with whatever they want. Our little guy regularly naps twice a day for about an hour or two at a time, but at Disneyland he had three or four thirty minute naps both days.
Check to see what rides your baby can come on
Some of the rides don't have a height requirement, so your baby can actually come with you! Some of the rides your baby can do at Disneyland are Alice in Wonderland, Pirates of the Caribbean, It's a Small World, The Haunted Mansion, and Buzz Lightyear Astro Blasters. Some of them at California Adventure are Toy Story Midway Mania, Monsters, Inc. Mike and Sully to the Rescue, Heimlich's Chew Chew Train, and The Little Mermaid – Ariel's Undersea Adventure. There are a few more, and you can see all of them on the Disneyland website if you use the search filter for "any height." Your baby can have a good time, too!
Bring a baby carrier
Since we were there two days in a row, baby boy got tired of being in the stroller and sometimes he just wanted to look around and have a little more freedom.
He loves his líllébaby 6-in-1 COMPLETE baby carrier
because he can ride in facing forward or facing backward. My mom and I both wore him for a while, and it was a nice change from having him in the stroller when he started getting restless.
Bring two bags
The first bag should be a lightweight backpack/fanny pack that you can keep your valuables in so that when you go on rides and leave your stroller, you don't have to bring a big bulky bag packed with all your stuff.
The second bag should have things like snacks, jackets, backup outfits, diapers, and wipes, and it can be as big as you want because it's basically a stroller-only bag.
This tip will save you when you're going on rides and don't want to bring a giant bag with you every time you get in line. (Here's a helpful list of things to pack in your diaper bag for a day at Disneyland)
Bring baby food and snacks to entertain your baby
If your baby is old enough for solid food, bringing some squeeze pouches
and snacks
to feed him while you're in line or waiting for people to do rides is a good idea. Making sure you have stuff to keep your baby entertained while you're waiting (because you do a lot of that at Disneyland) is important. Plus a full baby is a happy baby in our house, and snacks definitely helped keep our little Pua happy!!
Get the MaxPass
This tip is one I would give someone even if they weren't bringing a baby along, but it is also helpful if you're bringing a baby.
MaxPass is a really cool new feature that you can add to your ticket for only $10 per day, and not only does it gives you the ability to get FastPasses through the Disneyland app while you're in the park (which I will talk about next), but it also gives unlimited PhotoPass downloads for the whole day. This is huge!
Last time we went to Disneyland, my husband was running all around the park collecting FastPasses for us so that we could shorten our ride time. It was exhausting and made his feet super sore by the end of the day. And I, on the other hand, was always trying to get the perfect picture and finding someone to take our picture in front of the classic Disney landmarks like the castle and and with the princesses and other characters.
The MaxPass changes all of that because you can get FastPasses from your phone wherever you are in the park, and then you can download all of your ride photos and photos taken by Disney PhotoPass Photographers.
In terms of why this is great when you have a baby in tow, it helps shorten line time, makes it so you're not splitting up or running around to get FastPasses, and you can download all of the pictures taken by the photographers of your baby's first visit to Disneyland! We got some really cute pictures with baby boy in Cars Land, and they were all included with our MaxPass purchase. Seriously guys, it's worth the extra $10.
Use FastPasses
Another quick note about FastPasses. I still think it's crazy that some people don't use them. Even if you don't get the MaxPass, FastPasses from the kiosks are included with the price of your ticket. And if your'e going to Disneyland with a baby who can't ride the big rides, you're going to want to use the FastPass feature so you can shorten your wait time and shorten the time your baby (and baby's chaperone) has to just sit there and wait.
This is sort of a general Disneyland tip, but I have to include it in this post because it's so helpful for anyone going to Disneyland.
The Disneyland app is really well done. It has a map with all the attractions and wait times, it tells you height requirements, it tells you where the characters are, it tells you show times, it tells you where bathrooms and restaurants and Baby Care Centers are, and it even shows park hours and which rides are closed for the day. It's a great resource, and way more helpful than a plain paper map in the park.
Bring water in a sippy cup if your baby needs it
If your baby doesn't use a sippy cup yet, obviously disregard this tip, but if your baby can use a sippy cup, bring them one! California is usually pretty warm, and if your baby drinks water, having a sippy cup on hand will help keep them cool!
Don't worry about souvenirs
You really don't need to worry about souvenirs because babies don't care. Unlike a toddler who will cry when you say no to something they want, your baby isn't going to care if he has a cute mouse ear hat or a new stuffed animal (although we did buy our son a stuffed Pua because we call him that!). If you're trying to find a way not to spend a ton of money in the park, this is something you can cut out.
Check the weather and bring ponchos
We were lucky and had sunny skies the days we went, but when we went to Disneyland last year, it rained two of the three days we were there. I wish we had brought ponchos for us and one for the stroller, too, because we had to buy them in the park and they were more expensive.
And yes, bring one for your stroller, especially if your baby will be in it or you're going to be leaving it outside while you go on rides. Babies don't like wet strollers.
Bring someone to stay with your baby so you can do big rides
Your baby can come on some rides, but a lot of rides have a height requirement and your baby won't be able to come. My mom was able to come with us and she was a lifesaver because she stayed with our youngest while my husband and I went on the big rides with our two older kids. It was perfect because we were able to all ride the big rides like Space Mountain and Radiator Springs Racers together instead of having to split up.
If you can't bring someone with you, utilize Rider Switch Service for rides with a height requirement
Of course you aren't always going to be able to bring a chaperone for your baby. And for those instances, make sure you utilize the Rider Switch.
Basically, your whole group goes up to the ride entrance, you tell the cast member at the ride entrance that you want to do the Rider Switch, and then you split up into who is riding the first time, and who is waiting with the person who can't ride (in our case, this was my husband, my two older kids and me, and then my mom and baby). The cast member then scans your tickets (if you have the app, they scan them on your phone), and then the first group goes and rides the ride. When they are done, they come back and you switch who waits with the person who can't ride. They go back up to the cast member, who scans their tickets, and then they get in the Fast Pass lane and go ride the ride. The person who waits gets to bring up to two other people, so my mom was able to ride with my two older kids while my husband and I waited with Little R.
Hopefully that makes sense, because I tried reading the Rider Switch instructions on the website a few times and didn't really figure it out until we actually went to the park and tried it out. It's a great service if, like I said, you don't have someone to wait with your baby but you all want to ride the rides.
Bring a strap for toys/pacifiers
Another great way to keep your baby entertained is to bring a few toys! Even better if they're new because they'll probably keep his attention longer. But you don't want to be constantly bending over and picking them up, so bring a pacifier clip with a strap and hook it onto the toys so they won't fall!
This worked wonders for our son because his toys stayed within reach. And if your baby takes a pacifier, bring a pacifier clip for that, too!
Bring several outfits and lots of diapers and wipes
The second day we were there, our son had a poopout before we even stopped for lunch (that kid). Luckily, I had packed an extra outfit for him, as well as lots of diapers and wipes. You can purchase Huggies diapers and wipes at the Baby Care Centers in the parks, but it's always better to come prepared.
And seriously, bring more than you think you might need. Babies have a way of pooping at the most inconvenient times, in the most inconvenient ways (please say that's not just my baby?).
Bring hand sanitizer and/or sanitizing wipes
I'm not a huge germaphobe, but babies ALWAYS put their hands in their mouths, and if your baby is going to be going on rides and touching handlebars that one million other people have touched, you might want to sanitize their hands after. We did this with our older kids before they ate meals, too.
Put sunscreen on your baby (if they're older than six months)
Again, California is sunny, and you want to make sure you protect your precious baby's skin, especially on their little feet or legs if they are going to be in the sun. Put sunscreen on them (a few times throughout the day) so they won't get burned and so you protect them from UV rays. We love Coppertone WaterBABIES sunscreen
!
Use the shows as breaks throughout the day for napping or nursing
If your baby takes a long time to nurse, or if you just don't want to use the Baby Care Center, feed him during one of the many Disneyland shows! There's usually seating for the shows, and sometimes they are indoor, dark, and air-conditioned, which can provide a great place to nurse or let your baby nap!
Take lots of pictures
If this is your baby's first trip to Disneyland, make sure you get some of the classic pictures with him! Get a picture with Mickey, a picture in front of the castle, and a picture anywhere else you want. Your baby only goes to Disneyland for the first time once, so make it special (the PhotoPass is helpful for this tip, too!).
Going to Disneyland with a baby is a lot of fun, and it doesn't have to be stressful or even exhausting. Just follow these tips, be flexible, and remember that you're going to Disneyland!!! Have a great time!!!