28 tips for going to Disneyland with toddlers. These are such amazing, helpful tips! I never would have thought of half of these! These are great ways to have fun with toddlers at Disneyland!
Save big on Disneyland vacation packages from Get Away Today! Check out all the current deals here (including their layaway plans where you can hold a future vacation for just $175 down)! And don't forget to use promo code LITTLES to save an extra $10 off your already discounted package! Check it out HERE!
I received free product in exchange for this post. This post contains affiliate links.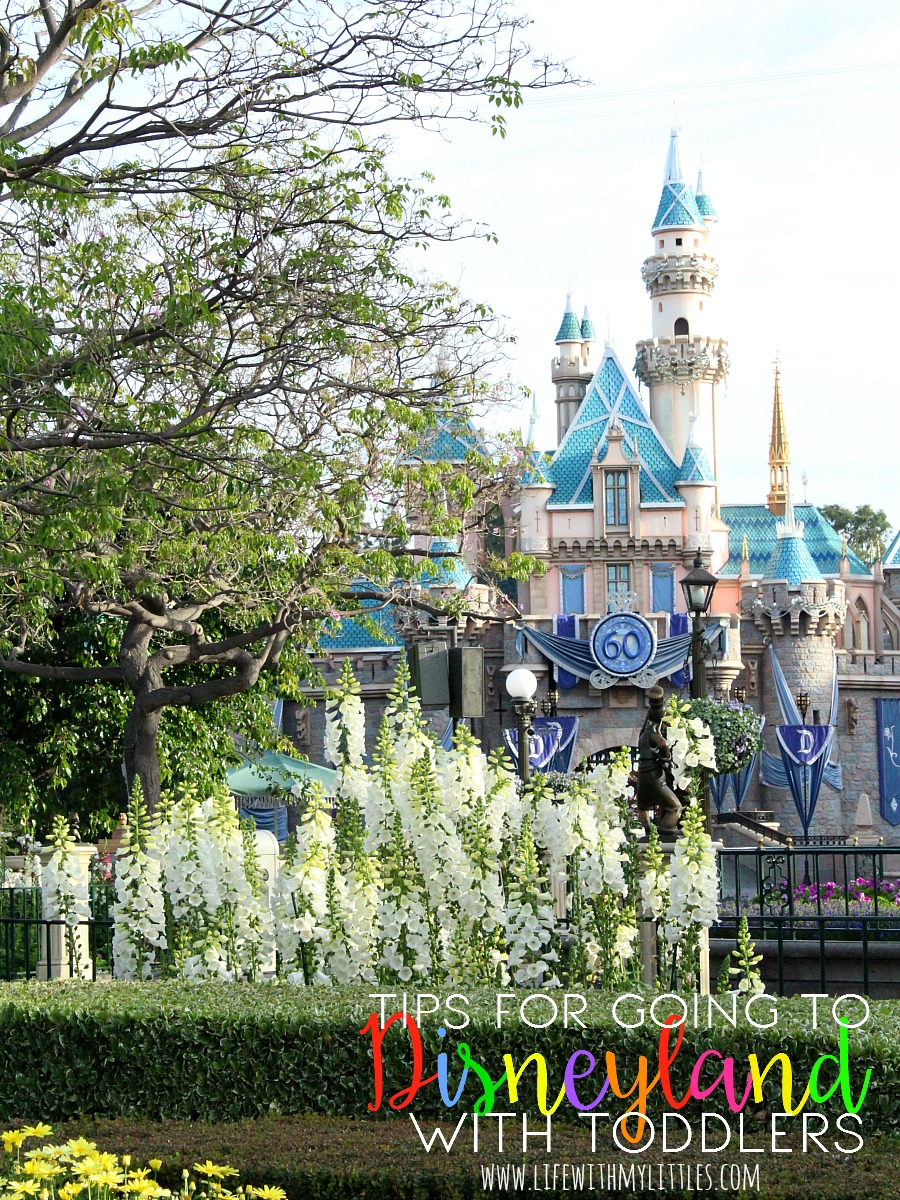 Two weeks ago we took our first family vacation to Disneyland, and to say it was the greatest vacation ever is an understatement. I have never had so much fun on a family trip, and honestly if I could go again right now I would pack everything up and do it all over.
Little J is obsessed with the movie Cars (we watch it several times a week), and getting to see him meet Lightning McQueen and Mater actually made me tear up a little bit! And watching Little A run to Olaf and give him a big hug and not let go was just about the cutest thing I've ever seen! The magic of Disney is so real, you guys!! We did two days at Disneyland and one at California Adventure and it was perfect!
But as any parent knows, traveling with toddlers, especially to somewhere as crazy as Disneyland, can be a challenge. We spent a lot of time preparing and researching Disneyland tips, and I have come up with a list of things we did that will help make your time at Disneyland with toddlers a success. Here are 28 tips for going to Disneyland with toddlers (in no particular order).
And don't forget to check out Get Away Today! They have great discounts on Disneyland tickets and packages (like adult tickets for kid prices!), and you can get $10 off any 2-night or longer Southern California package with code "LITTLES" (hotel and 2 ticket minimum purchase to qualify for the discount).
1. Bring a diaper bag you can easily carry with you. You do a lot of waiting in line without your stroller, and you won't want to leave it in the stroller when it has your wallet and park tickets and phone. So having a diaper bag that won't hurt your back to carry is a must. I used my JJ Cole Collections Backpack Diaper Bag and it was amazing. It fit everything I needed and was super comfy. I wore it for three days and my back didn't hurt at all. (Check out what I packed in it here.) It was so comfy that I only left it in the stroller when we rode the big rides and my mom was staying with the kids.
2. Get souvenirs before you go. I knew I wanted to wear Minnie ears in the park, but I didn't want to spend $20+ on them. So I made my own! I used this tutorial from Dixie Delights and made two sets of matching ears for Little A and me for $8 total.
My sister also made some ears so we were all matching and cute! I would also recommend getting hats or princess dresses before you go, because they are expensive there! The princess dresses cost over $60 at the park! Yikes!
3. Use airbnb.com to book a place to stay. There are tons of hotels around Disneyland, but they are all mega expensive. And I have heard great things about staying in one of the park's hotels so you are close and can go home for naps, but honestly, if your kid is really tired they'll nap in the stroller. My advice is to use airbnb.com and get an apartment or little house to stay in that is close to Disneyland! We stayed in an apartment that had three bedrooms, two bathrooms, a kitchen, and a pool for four nights for less than it would have cost for rooms for one night for all seven of us. It was the perfect setup.
4. Pack lots of snacks for in line. Snacks were seriously a lifesaver for us in the park. You do a lot of waiting in line, so having a snack for my kids to stay busy was incredibly helpful. I packed their Disney Princess Snack Bowl and Cars Snack Bowl both full of snacks, plus we brought applesauce pouches and fruit snacks. It was just what we needed to keep them busy and happy!
5. Eat breakfast and dinner where you are staying and lunch in the park. So it says on their website that you aren't allowed to bring in outside food or beverages, so I think that means no coolers. Plus, it's so fun to be able to do one special meal in the park each day! We bought groceries and ate breakfast and dinner at the apartment, and then just did lunch at Disneyland each day. It was seriously perfect, and we saved a lot of money doing that.
6. Do the parades! Guys, I have like a weird sensitive love for parades (aka, parades make me cry), so I absolutely loved the Disneyland parades. More importantly, the kids loved the parades! The daytime one was super fun and we got to see all the characters (and some you don't get to meet in the park).
The electric light parade at night was amazing! Little J loved seeing Lightning, Mack, and DJ all lit up, and Little A freaked out and wanted so badly to touch Sully from Monsters Inc. (because he's fluffy). Watching their faces just melted my heart! You have to do the parades with toddlers!
7. Bring in refillable water bottles and sippy cups. It gets hot in California and you're going to want to make sure you and your kids drink lots of water. There are few things worse than a dehydrated toddler on a hot day. We brought the kids' Cars Insulated Straw Cup and Disney Princess Straw Cup and just kept refilling them throughout the day. There are lots of water fountains around Disneyland, so you definitely don't need to pay to buy water there!
8. Bring sunscreen and apply it throughout the day. We put sunscreen on in the morning each day, but two of the days were rainy so it didn't really matter. But the first day there was extra sunny so we made sure to apply liberally so our toddlers wouldn't get sunburned. That's one way to quickly ruin your vacation!
9. Before you go, look at a map and decide where the things you want to do. There are so many amazing and wonderful things to do at Disneyland, and if you don't prepare, you can easily miss half of them. We planned out our day each morning and it made a huge difference. We were able to ride lots of rides and get lots of pictures with characters. We also got the yummy treats that we wanted and knew where we could go to take a rest when we got tired. If we hadn't planned our day, I think we wouldn't have been able to do all the fun things we did.
10. In Disneyland, go to Fantastyland first and ride Peter Pan's Flight. I'm not sure why, but everyone goes to Peter Pan's Flight first. The line got crazy long as soon as the park opened, so if you want to do that ride, go there first. We did that both mornings and we were able to ride Peter Pan's Flight and then go do all the other rides quickly in Fantasyland while everyone else was still getting in line for Peter Pan. Again, not sure why everyone goes there first, but doing that first and then sticking around Fantasyland for a bit (since our kids could do all of those rides) was the perfect way to start our day and make sure we got to do all the rides.
11. In California Adventure, go to Cars Land first and ride Radiator Springs Racers. Just like in Disneyland, everyone goes to Car's Land and rides Radiator Springs Racers first. This was actually one of my two favorite rides, so I get this one. If you have a toddler who is 40″ (or a toddler who is 39.5″ and a husband who is cool enough to stuff his shoes), then you're definitely going to want to ride this one. Little J got to ride it twice and he says it was his favorite ride (besides Mater's Junkyard Jamboree). And honesty time, I teared up a little because I felt like I was in the movie! (We watch Cars a lot around here, so it's become one of my favorite movies, too!)
12. Stay close for naps or just let them nap in park. Nap tip number one is to take your toddler back to where you are staying for naptime, or to just let them nap in the park. Little J doesn't nap anymore, but Little A fell asleep all three days in Daddy's arms. And if you need them to nap but they are fighting it, go ride It's a Small World.
13. Bring a stroller with umbrella covers. I really don't like my stroller, but it worked for Disneyland because it was comfy for both kids and it had umbrella covers to protect them from the sun and rain. We had planned on Little A napping in the stroller, but that didn't happen. It rained two of the days we were there, so the umbrellas (and a poncho on top) kept them dry.
Also, there is stroller parking outside all the major rides, so don't worry about not having somewhere to park your stroller. Just check out the stroller parking outside Toon Town!
14. Go with family so you can ride rides, too. This is one of my biggest tips. My parents and my sister both came with us, so we were able to take turns watching the kids so we could do some of the bigger rides like Hyperspace Mountain (yeah, they renamed it) and the Indiana Jones ride (my other fave!). This was also perfect because the first night, we put the kids down for bed and then my husband, sister, and I went back to the park while my parents watched the kids. It was seriously PERFECT. So if you can swing it, get the grandparents on board. They will love seeing your kids at Disneyland, and you will love being able to ride the grown-up rides.
15. Have your kids wear bright colors. This was something I tried to do but also sort of backfired when the kids had to wear jackets in the rain. There are so many people at Disneyland, and having your kids wear bright colors will make it easy to spot them if they get away from you (since toddlers love to run). Hopefully you won't have a problem with that, but if they do, having them wear bright colors will help you spot them.
16. Write your phone number in sharpie on their arms in the morning. This may be the paranoid parent in me, but I was worried that something was going to happen to my kids while we were there (even though we had five adults with us and only two toddlers). I actually forgot my sharpie, but I wrote my phone number on their arms in pen so that if they got lost and someone found them, they could easily call me and I could come get my kids.
17. Download and use the Disneyland app. Guys. The Disneyland app is amazing. It tells you wait times for rides, what characters are where, daily events, if rides offer Fastpasses, where bathrooms are, and has a map of each park to top it off. It helped us SO MUCH. We were able to see which rides had short lines so we could maximize the time we spent on rides, and it helped guide us to characters. We saw so many characters (which was amazing) and a big part of that was because of the amazing app. It's a must for going to Disneyland.
18. Do character dining. The most expensive meal we ate at the park was our character dining, but I can't even tell you how worth it it was. We did the Minnie and Friends breakfast at the Plaza Inn because it was in the park and I had also heard that it had the most characters at it. Oh boy, we met so many characters! It was amazing! They all come to your table and interact with your kids and you get to take tons of pictures. The food is AMAZING and it really is worth the money you spend on it (plus you can get a good deal on it through Get Away Today here). You can make reservations up to 60 days in advance, which I highly recommend. We did 10:30am which was the perfect brunch, and it wasn't too busy at that time. Plus when everyone else was eating lunch later, we rode rides! The highlight of our breakfast was when Chip (or Dale, I have no idea) came over and hugged Little A for like 10 minutes. She didn't want to let go and neither did he! It was so sweet!
19. Bring hats. I brought Little J a hat, but then my mom bought him and Little A new Disneyland hats. When it's sunny (or rainy) you're going to want to have a hat on your little one.
20. Utilize Fastpasses. Guys. This is another SUPER IMPORTANT TIP! Use the Fastpasses! We saved SO much time getting Fastpasses and it was the perfect way to ride rides with toddlers. They do not cost extra and all you have to do is go insert your park ticket into a machine and you get a Fastpass for a later time so you can skip the line and only have to wait 5-10 minutes instead of 40-120 minutes. Why is this important with toddlers? Because they don't have to wait 40-120 minutes!
Not all rides have them, but the ones that have long wait times usually do and you are seriously a fool if you don't use the Fastpasses. We had one Fastpass runner (usually my husband) who would go and get Fastpasses while we were doing something else and he would go get Fastpasses for everyone and then bring them back so that we could maximize our time on rides and not waiting for rides. And make sure you look on the app where the Fastpass dispensers are, because sometimes they aren't right by the entrance. I can't stress this enough. Use the Fastpasses!
21. Look ahead to see what rides your child can ride. Most of the big rides are 40″ (Indiana Jones is 46″), and some of the rides have a requirement of 32″. You can check out the list of rides with requirements here. Knowing which rides your child can and can't ride is going to save you some tears when they get to the front of the line and find out they can't ride it. My son was super bummed about not being able to ride Splash Mountain (I was not bummed though, because I think it would have terrified him).
22. Get a daily schedule. When you pick up a map, make sure you pick up a daily schedule, too. It's nice to have it all in one place so you can see what time the parades and shows are every day. That way you can plan where you want to be in the park at what times.
23. If you need a break, go see Disney Junior Live on Stage. One thing I wish we would have done was go see Disney Junior Live on Stage in California Adventure. I have heard it's great for toddlers, and has characters like Sofia the First, Doc McStuffins, and Jake and the Neverland Pirates. We were busy in Cars Land so we didn't get to see it, but it's in the afternoon and might be a good way to cool off in some AC on a hot day!
24. Check the forecast, and bring ponchos. We were fools and did not bring any ponchos. And of course it rained two of the three days we were there, so we had to pay (aka, my mom paid) for ponchos for everyone. We also got an extra one for the stroller which was super awesome because we were able to keep the kids dry (and the stroller dry when we were on rides). Even if there's a slight chance of rain, I recommend bringing ponchos.
25. Go early every day and stay late one day. Every day we left the apartment at 7am, got to Disneyland at 7:30am, and then got in line. Disneyland officially opens at 8am, but they open the gates usually a bit earlier (it was like 7:45am for us) and then you can go wait by the castle until 8am so you can get to the ride you want (which for us, were Peter Pan and Radiator Springs Racers) fast. That way you can maximize your day there and get in as many rides as possible before it gets busy! And also, on the last day, we went back to the apartment around 4pm, had dinner and rested, and then went back to the park at 7pm. We wanted to see the electric light parade and the fireworks, and with toddlers, there's no way you're going to last over 12 hours at the park. So at least one day, stay late, and every day, go early!
26. Do both parks. We had three days there, so we did Disneyland the first and third days, and California Adventure the second day. There are more good kid rides at Disneyland, but we had to go to California Adventure for Cars Land and to meet Anna, Elsa, and Olaf. You're missing out if you only do Disneyland and you don't get to go to Cars Land. It's so legit, guys. The detail there was amazing! I felt just like I was in Radiator Springs! So go to both parks, and if you have more than two days, do more days at Disneyland. It's better for toddlers.
27. Clean out and refill your diaper bag each morning. Every day before we left I cleaned out empty fruit snack wrappers and crushed goldfish from my diaper bag and refilled it with more diapers and snacks. You want to be organized while you're at the park, and you definitely don't want to be caught without diapers or snacks (although they do have new Baby Care Centers where you can buy diapers or wipes in the park). I felt ready for each day with my diaper bag organized and full.
28. Go see characters in the morning. One of the reasons we got to see so many characters was because we did them in the morning. We didn't have to wait more than 5 minutes to see Lightning McQueen, Red, Snow White, Cinderella, Ariel, or Peter Pan. We actually didn't have to wait at all for some of them. Compare that to later in the day when we waited over an hour to meet Anna, Elsa, and Olaf (worth it, though). Since toddlers love meeting their favorite characters, seeing them in the morning is the best way to go at it. Little A actually didn't like any of the people (no princesses for her!) but she loved anything fluffy. Little J loved everyone, which was adorable! Meeting the characters is one of the things that makes Disneyland with toddlers so special!
So those are my 28 tips for going to Disneyland with toddlers! Our kids are 3 and 19-months right now, and they were seriously the perfect ages to go. Like I said, I wish we could go back right now because we all had such a fun time. Disneyland with toddlers is amazing and so magical, and we were able to manage three days there without any meltdowns or tantrums (which is pretty impressive!).
If you're planning a trip to Disneyland with your toddler, I am both super excited for you and super jealous of you. It will be a trip you'll never forget!