Disneyland is amazing but it can be stressful if you don't pack your diaper bag right. Here's what to pack in your diaper bag for Disneyland!
Save big on Disneyland vacation packages from Get Away Today! Check out all the current deals here (including their 30th anniversary sale where you can save up to up to $86 on kids' tickets)! And don't forget to use promo code LITTLES to save an extra $10 off your already discounted package! Check it out HERE!
I received free products in exchange for this post.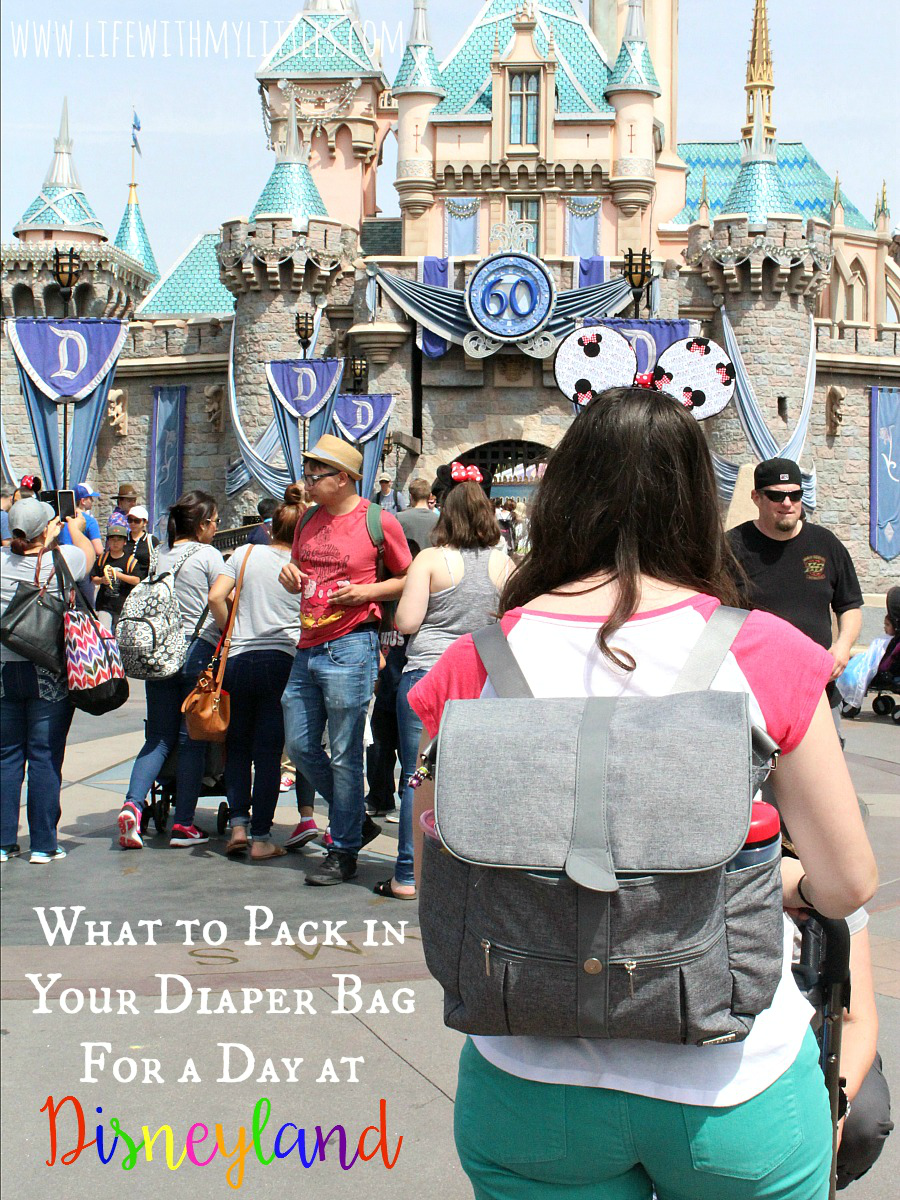 A few days ago we got home from our first family trip to Disneyland! You might think that going to Disneyland with two toddlers is insane, but it was so much fun, and I can't wait to share tips for how to successfully navigate Disneyland with toddlers next week. There's something so special about being able to take your kids to see their favorite characters. I seriously think it was more fun going as a parent than going when you are younger. The magic of Disney is so real!
And don't forget to check out Get Away Today! They have great discounts on Disneyland tickets and packages (like adult tickets for kid prices!), and you can get $10 off any 2-night or longer Southern California package with code "LITTLES" (hotel and 2 ticket minimum purchase to qualify for the discount).
Today I want to share with you guys what to pack in your diaper bag for Disneyland. I put a lot of thought into what I wanted to include and it paid off! Going to Disneyland with toddlers is definitely something you need to prepare for (anything can go wrong!), but if you make sure you pack the essentials, you'll be all set! And if you're going for more than one day, I recommend cleaning it out and repacking it at the end of each day. That was huge for us!
Here's what I packed inside my diaper bag:
1. Snacks. Any parent going anywhere with toddlers knows that snacks are a must. And when you're going to the most expensive happiest place on earth, you're going to want to bring lots of snacks. We packed the kids' Disney Princess Snack Bowl and Cars Snack Bowl (because duh, Disneyland!) with their own little treats, and then I brought several Take and Toss Bowls with more snacks. Plus, we brought some fruit snacks and applesauce pouches. I really didn't want to have to pay for snacks when we were there, so I packed a lot! Plus they were super helpful when we were waiting in line and when we were riding adult rides!
2. Sunscreen. California is sunny guys, and when you have littles you definitely want to pack some sunscreen. We applied it a few times every day we were there because if there's one thing that can ruin a trip to Disneyland, it's a sunburned toddler.
3. Sippy cups and Boon SNUG straws. I packed the kids' Cars Insulated Straw Cup and Disney Princess Straw Cup and filled them with water inside the park. I also packed our Boon SNUG Straws so that if we got a drink we wanted to share with them, we could turn those cups into sippy cups!
4. Extra clothes. Any parent knows that it's a good idea to have a backup outfit for your littles. Our son did have a minor accident right at the end of one of the days, so we had to change his shorts and I was really glad we had a backup pair! It's always good to have a backup outfit in the diaper bag anyway, especially if you're far from home.
5. Changing pad with diapers and wipes, or extra undies. I love my new JJ Cole Collections changing clutch because not only does it match my diaper bag, but it holds diapers and wipes and is big enough for my tall 19-month-old daughter. I firmly believe in changing pads in public places, and Disneyland is no exception.
6. Disneyland map. You can't go throughout the park without a map! And make sure you pick up a daily schedule, too! They tell you what events are happening (like parades!) that week.
7. Wallet. Kind of an obvious one.
8. Tickets. Again, obvious. But you're in trouble if you don't pack these in your bag! Plus you need them to get FastPasses, which are definitely worth getting!
9. Sanitizing wipes. I'm not a horrible germaphobe, but I know that there are germs all over Disneyland and I don't want my kids to get sick. So no, I didn't wipe down every ride we went on, but I did wipe my kids' hands before we ate food. So sanitizing wipes are a must in my diaper bag.
10. Mom bag. My little mom bag is my bag with my chapstick, tissues, lotion, stain removing pens, hair ties, bandaids, and a nail file. It's nice to have one little space of my diaper bag with things I might need! And keeping them all together makes it easy to find them when I need it.
Disneyland was so much fun, and I know that a big part of that was because we were prepared and had everything we needed. I loved being able to wear my JJ Cole Collections Backpack diaper bag the whole time and having everything I needed handy and organized.
Hopefully this post will help you out if you are brave enough to head to Disneyland with toddlers in tow! It's so worth it seeing their little faces light up when they meet their favorite characters, guys!
And check out these posts about going to Disneyland with a toddler or a baby!