Currently December 2017: What's going on this month for Life With My Littles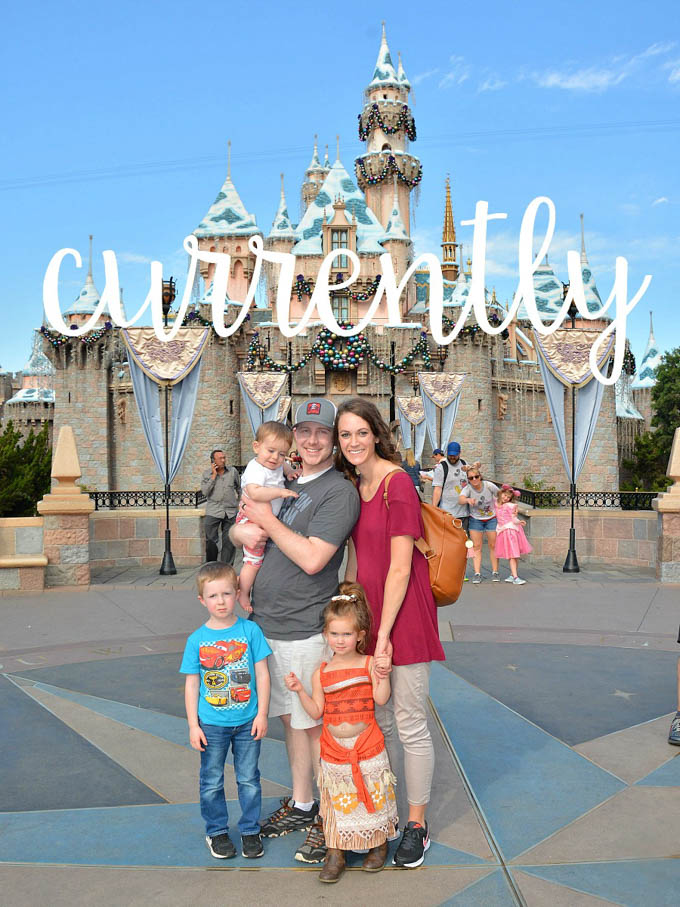 Guys, our November was off the CHAIN. Does anyone else use that expression, or is it just us? Anyway, we had a fab November. So many amazing things happened. First of all, we went to California and visited Disneyland and LEGOLAND. I personally love all things Disney, so that was super fun. My mom was able to come with us and watch Little R while we did the big rides, and Little A was 40″ (thanks to her cowgirl boots and top knot!) so she was able to do the big rides with Little J, my husband, and me! She also got to meet Moana, which was one of my favorite moments of the trip.
And you know how I've been talking about my 10k? Well it wasn't just any 10k! It was the Thor 10k through Disneyland and California Adventure during the Super Heroes Half Marathon Weekend. I am not exaggerating here when I say that it was absolutely one of the coolest, most fun things I have ever done. I loved every second of it, I ran it in 1:00:05, and out of 4,776 women who ran, I placed 248. That is a HUGE deal to me! I am seriously considering running a Disney half marathon now, because it was so well done, so much fun, and I am super, super proud of myself for accomplishing such a big goal.
Also, my husband started his family medicine residency! I talked about it here and here so I won't brag too much about him, but we feel so blessed that this opportunity came along and for the way things worked out.
And because he started his residency, we were able to make another big life decision and buy a house! We closed last week and are just in love with our new home. We've been renting a house in the country since we moved to Minnesota in July, and while it's fun to have the space and privacy, it's not fun driving a bajillion miles every week taking Little J to preschool, going to the gym, and running errands. We're going to move in after Christmas, and we could not be more excited to make it our own.
In the Little R department, he now has FOUR teeth and can army crawl around. It's the cutest, funniest thing. And we for sure need to invest in a baby gate.
Here's what's currently going on this month:
Painting the new house. For years it has been my dream to live in a house with light, light grey, almost white walls. I am so tired of dark walls, brown walls, and beige walls. No thank you. So I'm getting to work painting some of the inside of our new house, and I'm excited to see how it turns out! I know it's going to be perfect!
Planning for the new year. I printed off my 2018 blog planner last week and I'm getting ready to use it! I also got an Erin Condren Life Planner for 2018, and I'm excited to start filling everything in! I want to try and simplify things and focus more on what matters, so planning is a big part of that.
Skipping Christmas cards. I just can't this year, guys. First of all, anyone who I would send one to anyway already knows what my family has been up to and either sees us often or can see pictures and updates of us on social media. Second, I just don't have the time or energy to spend on taking picture, picking a layout, ordering them, gathering addresses, and sending them. Nope. So sorry if you were expecting one this year, because your'e not getting one.
Taking time off. For the first time EVER my parents, my sister, her husband, and her baby are coming to visit us for Christmas! We were all together (sans two babies) for like a day three years ago, but this is going to be even better because we get five days and we have two more babies to join in the fun! So, I am going to be taking the last two weeks of December off so I can enjoy their company and so we can get ready to move into our new house.
Finishing my book. I know I put this last month, too, but I had to update ya'll on how it's going! I had four people read it and I got really, really awesome feedback (you can read what they said here). So now it's off to the editor, and I could not be more excited. I've been looking into all that I need to do to get it published, both in an e-book form and a hard copy, and I am hoping to get it all done soon. I actually sat down and started writing all of my notes the beginning of January 2016, so I'd like to publish it at the start of the 2018 as kind of like an anniversary. I really could not be more excited about it, and you KNOW I'll be doing a big blog post when it goes on sale (and a countdown on my Instagram, because I'm cool like that). Seriously guys, so, so excited!
Feeling grateful. At the end of the year I always get a little retrospective and I like to look back at how much has changed. Yes, I could do that at the start of next month, and I probably still will, but so much has changed for us from last December to now. Not only did we add a new little person to the family this year, but we sold a house, moved to a new state, my husband started a new job, and bought a new house. Personally, I've accomplished a lot of big goals this year, and our family is just so much happier and in such a better place. Not like we were ever in a bad place, but we had a rough year in Texas. So to be where we are, with all the blessings we have received this year, makes me feel so grateful and happy!
Anywaaaaaaay, that's what's currently going on with us this month! See you in 2018, mamas!