If you're going to LEGOLAND with a toddler, check out this post of helpful insider tips! Great suggestions on how to prepare, what to do in the park, and what to bring for a great day!
I received complimentary LEGOLAND California tickets in exchange for this post. This post also contains affiliate links.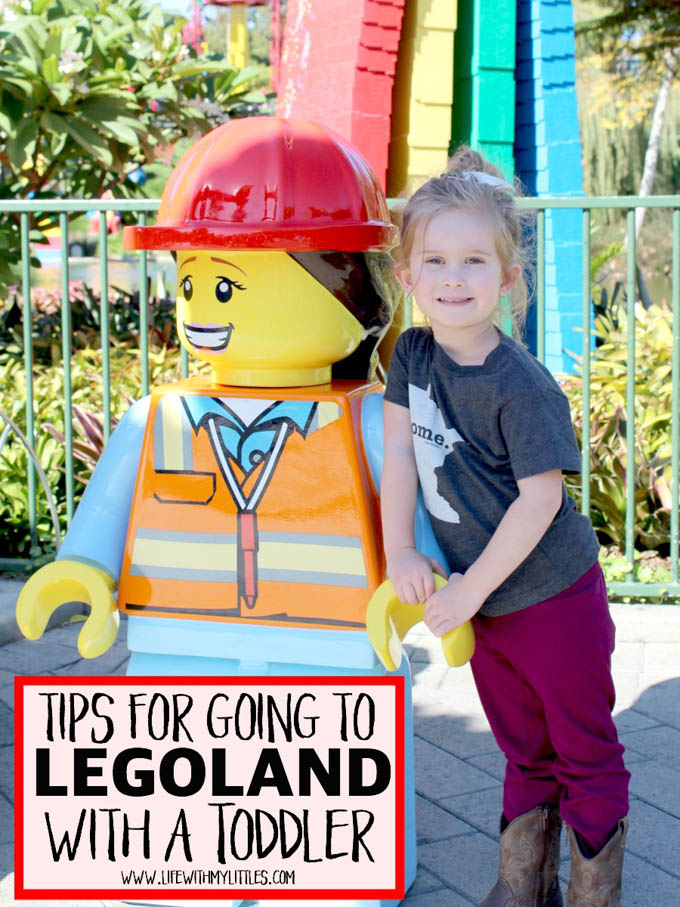 Last month we had the chance to visit LEGOLAND California as a family for the very first time! Our four-year-old is LEGO obsessed, and he had so much fun the whole day we were there. He was so excited to see LEGOs everywhere he looked, to ride LEGO-themed rides, and to play with LEGOs while we were there. It was pretty much his best day ever!
Even as an adult, it's an impressive place! We went to the LEGO Americana Roadshow in Texas, and LEGOLAND is like that but on a much bigger scale, plus rides! The people who build all of those LEGO models are amazing! Definitely fancier than the little things I build with Little J!
But as any parent knows, traveling with kids under five can be hard! Since we hadn't been to LEGOLAND before, I did some research before to make sure we were prepared and were all set for a fun-filled day! Here are some helpful tips for going to LEGOLAND with a toddler:
1. Watch what your toddler puts in his mouth. Depending on the age of your toddler, this one is super important. Is it just me, or when toddlers walk around do they find all kinds of potential choking hazards on the ground? There are lots of little places where your kids can play with and build with LEGO bricks, but that also means that there could be random LEGO pieces on the ground all around the park. So just watch your toddler and be extra vigilant!
2. Bring sunscreen, and apply it a few times. California is sunny, and there are few things worse than a toddler with a sunburn. Make sure you apply sunscreen when you get there, and then again after lunch. If you're going to be at the LEGOLAND Water Park, make sure you put it on after being in the water, too.
3. Wear bright colors. Dress your child in something bright so that if you happen to get separated, you'll be able to spot them quickly.
4. Write your phone number on your toddler's arm. I actually brought a permanent marker along on our trip specifically for this reason. I wrote my phone number on the inside of my kids' upper arms so that if they got lost, I would be just a phone call away.
5. Get an identification bracelet for your toddler when you get to the park. So I didn't know about this until after our trip, but you can stop at the Guest Services when you get to LEGOLAND and pick up an identification wristband for your toddler, so that if you get separated, it will be easy to be reunited!
6. Use the Baby Care Center. If your toddler is on the younger age, you might want to check out LEGOLAND's Baby Care Center, located in the Fun Town area. It has a baby-changing area with rocking chairs for nursing mothers and highchairs, as well as a refrigerator and microwave for preparing meals. Your toddler might be too old for this, but even if you just go there to change their diaper, it's a great resource!
7. Bring a stroller with shade and that can recline. Since your toddler will probably be taking a nap or two in the park, make sure you have a stroller that will accommodate them. We love our ZOE XL2 BEST v2 double stroller because it reclines almost all the way down, and the shade covers expand and almost completely cover your toddler (it's also AMAZING for travel because it's only 16 lbs and you can get a special travel bag for it). ZOE also makes a single stroller if you don't need a double. And having a stroller that's a bright color is a plus, too, because it helps your stroller stand out when you're looking for it after going on rides!
8. Bring lots of snacks. There are a lot of fun rides at LEGOLAND, and if you want to do them, you're going to have to wait in line. So bring some snacks to keep your toddler busy (and to prevent them from getting hungry and whiny!).
9. Bring Grandma. We were lucky enough to have my mom come along on our trip, and it was amazing because she was able to spend time with us and watch our baby and toddler who couldn't go on the bigger rides. A lot of the rides at LEGOLAND have height requirements that aren't toddler-friendly, and if you aren't planning on doing the Parent Swap, having Grandma there will be a huge blessing.
10. Use Parent Swap. If you aren't lucky enough to have a grandparent or friend come along, make sure you utilize the Parent Swap. Basically, everyone gets in line together (even the toddler who can't ride), and when you reach the front, you tell the ride operator you want to do the Parent Swap. Then one parent rides the ride with the older child and when it's done, the other parent can then ride with the older child. It's an awesome feature that I don't think many people know about!
11. Use the app. The LEGOLAND app is great because not only does it provide an interactive map, but it also has wait times, height requirements, a car finder (so cool!), and daily entertainment. It's nice because sometimes when you have a toddler you don't want to wait in a long line, and you can easily look at the app to see which rides have shorter wait times!
12. Go during the week and not on a holiday. Unfortunately, we went the day before Veteran's Day and all the local schools were out, which meant the park was super busy and we didn't get to do very many rides. So if you want to maximize your time and do as many things as possible, try to avoid holidays and weekends.
13. Bring refillable cups for water. We don't give our kids juice or soda very often, and since you can bring your own water into the park, we made sure to bring their little refillable cups so they wouldn't get dehydrated! California is a warm place, and it's important to make sure your toddler gets enough to drink! We love these Munchkin Miracle 360 cups
.
14. Bring sanitizer or sanitizing wipes. Any time we go somewhere where thousands of other people have been, I get a little worried about my kids picking something up. So after rides or after playing with LEGO bricks, or even just before meals, make sure you clean your toddler's hands. Sanitizer or sanitizing wipes
are an easy way to get them clean!
15. Bring a backpack diaper bag. I love my Fawn Design backpack diaper bag. I've had it for a year now and it's still in great shape. It fits everything I need for three kids, and it lets me be hands-free! Super important when you're going to be chasing a toddler around LEGOLAND!
16. Check height requirements before you go. One thing we made sure to do was to check what rides our daughter would be able to do before we went. That way she didn't get excited about something and then have a meltdown when she wasn't able to ride it.
Here are a few tips on things to do with your toddler in different areas of LEGOLAND:
Explorer's Island: Check out Dig Those Dinos (where your toddler can dig for "dinosaur bones" in sand) and Fairytale Brook (a fun little boat ride)
Castle Hill: Walk through the Enchanted Walk (a walk-through display) and play on the dragon playground outside the line of The Dragon
Imagination Zone: Check out the DUPLO Play area (where kids can build with DUPLO bricks) or the 4D show (if your toddler is willing to sit still!)
Miniland: Ride the Coast Cruise (a boat ride where you can see animated LEGO models and international landmarks)
Fun Town: Ride the LEGOLAND Express (a cute train that goes around a LEGO farm!), run around DUPLO Play Town (a playground), and stop by the Baby Care Center
Heartlake City: Ride Mia's Riding Camp (the merry-go-round!)
Pirate Shores: If you brought your swimsuit, Swabbies Deck is a fun splash pad!
Land of Adventure: If your toddler is at least 36″, they can ride the Cargo Ace (a cute plane ride)
LEGOLAND California is a lot of fun with little kids, and I'm glad we got to go! It's definitely a great place to visit with toddlers and young kids, and if my four-year-old had his way, we'd be going back again ASAP! Hopefully these tips for going to LEGOLAND with a toddler will come in handy on your trip, and if you think of any others, let me know!