If you're trying to get your kid to take a sippy cup and they won't, check out this post! The best sippy cups for learning how to drink, recommended by real mamas!
This post contains affiliate links.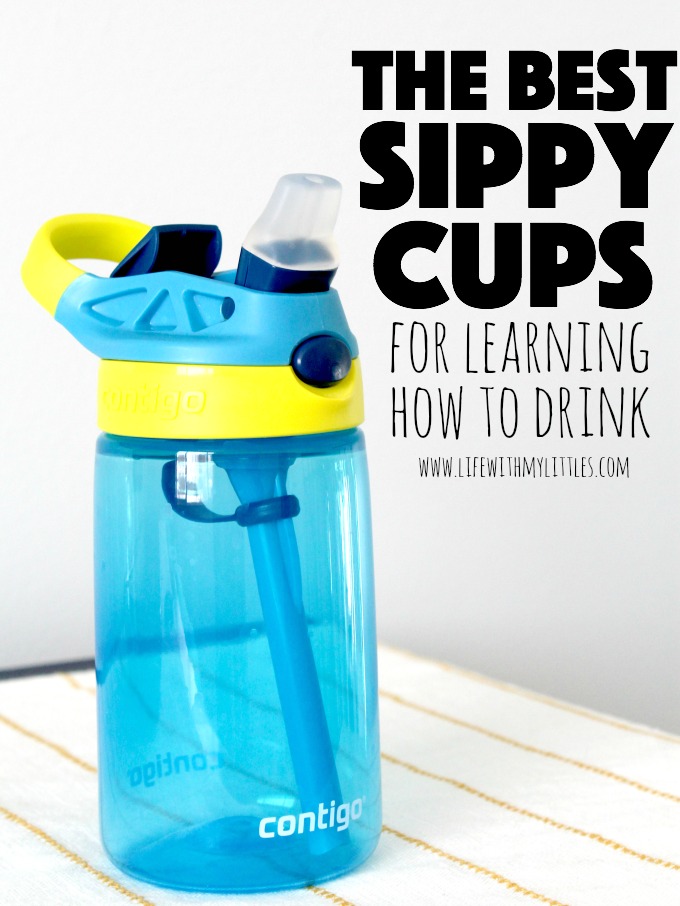 For some reason, my kids have always struggled with learning how to drink from a sippy cup. I don't know if I waited too long to start or if they were just super picky, but it was hard. And I'm guessing that if you found this post you've probably had a problem with this, too (or you just like reading my blog, which if that's the case, thank you!).
Today I want to share some of the best sippy cups for learning how to drink, recommended by real mamas who've been there.
1. Contigo Kids Water Bottles
. Okay, so technically these aren't traditional "sippy cups," but they are our current faves. We couldn't get Little R to take a bottle or any other sippy cup, and these ones were the winner. They can't really chew on them and they don't leak, so we're big fans. Just make sure that if you put milk in it, you wash it every single day. Otherwise they get super stinky (lesson learned).
2. Munchkin Click Lock Weighted Straw Cups
. I tried these out and they were pretty cool, but my stinker son wouldn't take them. But in the past, my older two have used these and they worked great! It's great for drinking at any angle because the bottom of the straw has a weight so no matter what angle the cup is at, the milk goes up the straw!
3. Munchkin Miracle 360 Sippy Cup
. These are awesome. I used these with my first two, and I also had several other mamas recommend them. They are like a regular cup in that you tip it to drink and there's no straw, but they don't leak because there's a special seal around the top that only releases water when there's pressure. They're great if you want to skip traditional sippy cups and teach your kids how to use a regular cup faster! They come in different sizes and some even have handles!
4. Take & Toss Straw Cups
. I use these for my 3 1/2 year old's milk every day still. They are leak-proof and incredibly easy to clean. As long as your child can figure out how to drink from a straw (which, that's the point of a sippy, right?) these are awesome. Plus they're cheap and the straws aren't made of rubber so they don't get chewed up as much as the rubber straws!
5. Playtex Sipsters
. These are nice because they have different stages so you can slowly move your child out of the baby sippy cups and into toddler ones. And the stage 1 cups have a similar mouthpiece to the Contigo bottles, too. I've also heard these are easy to clean!
6. Munchkin Click Lock Bite Proof Trainer Cup
. If your baby hasn't ever had a bottle, these might be a winner. One of my friends said that her breastfed babies wouldn't suck on anything other than for nursing, so when they started biting these and liquid came out, they figured them out pretty quickly! And they are "bite proof" because they won't get all chewed up!
7. MAM Learn to Drink Cup
. There are actually several MAM cups in their toddler line, and you can use all of them in order to help make the transition to a cup easier (or you can just use this one!). Either way, they are spill free and come recommended!
Hopefully one of those cups has got to work, right? And when you get frustrated, just remember that they'll learn eventually! Even if you have to just try the same cup over and over and over!