The do's of pregnancy: a great list of things that all pregnant women should do during pregnancy! Read this one as soon as you get pregnant!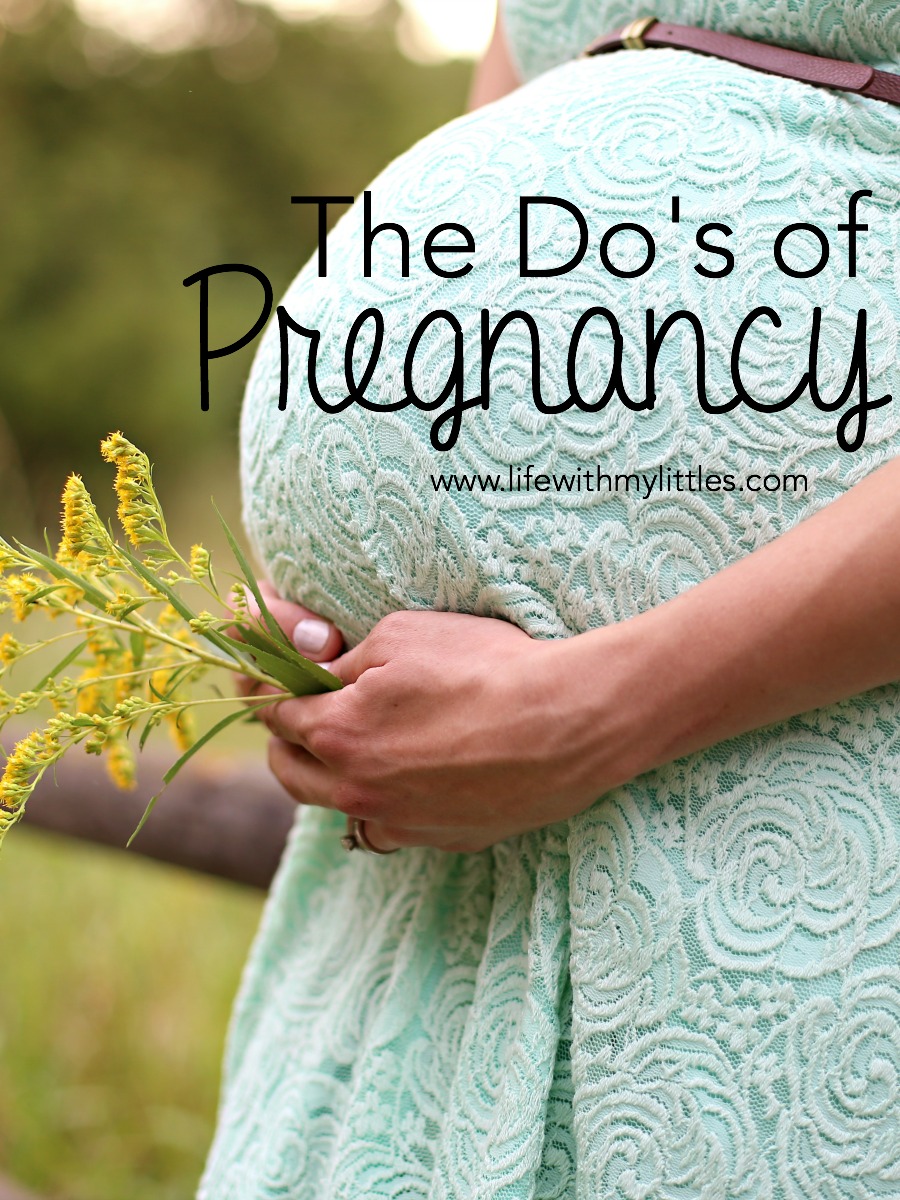 Finding out you are pregnant for the first time can be scary, exciting, overwhelming, intimidating, and thrilling. When we found out I was pregnant with our first baby I cried because I was so grateful and full of joy. I immediately started reading all I could about the don'ts and the do's of pregnancy so I could have a healthy pregnancy and make sure I was ready when it was time to have our baby.
I wrote a post last year all about the don'ts of pregnancy, and it took a lot of heat. People were commenting and saying I was wrong and that I was just trying to scare pregnant women and make them panic and worry unnecessarily. Please. I am doing no such thing. When I first found out I was pregnant, I wanted to know everything I should and shouldn't do that was recommended by doctors. And that's where these posts come from! So don't take this the wrong way and panic because you haven't started a prenatal vitamin yet or because you have no idea what your health insurance says about prenatal care. This list is to help you have a healthy pregnancy and prepare for the birth of your baby!
Do exercise. It doesn't need to be intense, but stay active.
Do eat well. A balanced diet will help prevent unnecessary weight gain and help you get the nutrients you need for pregnancy.
Do get sleep. While you can! Pregnancy is not the time to be staying up late.
Do enjoy pregnancy. It's such a miracle.
Do allow yourself to not enjoy pregnancy. Sometimes it sucks and that's okay.
Do write down special moments. Keep a pregnancy journal or start a journal for your unborn baby.
Do take pictures. Document that growing baby bump, mama!
Do get prenatal care. I'm not even going to explain this one.
Do be open with your doctor. If you have a question or are uncomfortable with something, let them know. You won't solve the problem if you don't share it with them.
Do check with your doctor to make sure the medicines you are taking are alright to take during pregnancy. Sometimes they aren't, so just check!
Do listen to your friends. Sometimes they give good advice. Sometimes.
Do what you want. Don't feel pressured to do what your friends did during their pregnancies.
Do relax. It's a good habit to get into, and what better time to de-stress than during pregnancy?
Do take a prenatal vitamin. You need extra vitamins and minerals to help your baby grow and a prenatal will help you get them.
Do study your health insurance. Figure out what is covered with prenatal care and delivery. Make sure you know what you'll end up paying for before you get a big bill.
Do start budgeting for baby. Babies cost a lot of money, so start setting aside some money now!
Do drink lots of water. Getting dehydrated during pregnancy is the worst.
Do get a pair of maternity pants and a few maternity shirts. It's worth it.
Do research baby products before buying them. Buying something because it "looks safe" probably isn't the best route.
Do get a flu shot. If you're pregnant during flu season!
Do monitor your weight. Just don't obsess about it.
Do ask for help. If you need something done but shouldn't do it because you're pregnant, ask for help!
Do get your teeth cleaned at the dentist. Pregnant women have a higher chance of getting gingivitis.
Do get your baby's nursery ready! Easily one of my favorite parts of pregnancy.
Do make sure you know how to install your baby's car seat AND how to buckle them in safely. A lot of people do it wrong.
Do involve your husband in your pregnancy. After all, he's part of the reason you're pregnant!
Do kegels. Trust me. If you want to learn more about the why and how of kegels, check out this page.
Do have a baby shower. Babies need a lot of things and having a shower is a great way to get some of those things!
Pregnancy is an amazing and horrifying nine months, and you can definitely choose to make the best of it or not. I don't think any of the things on this list are bad or very hard, and having a baby is definitely worth sacrificing small things anyway!
Let me know if there's anything you think I should add to the list! I'd love to hear your "do's of pregnancy!"