8 common car seat mistakes every parent needs to know! Learn how to install your car seat in the right way!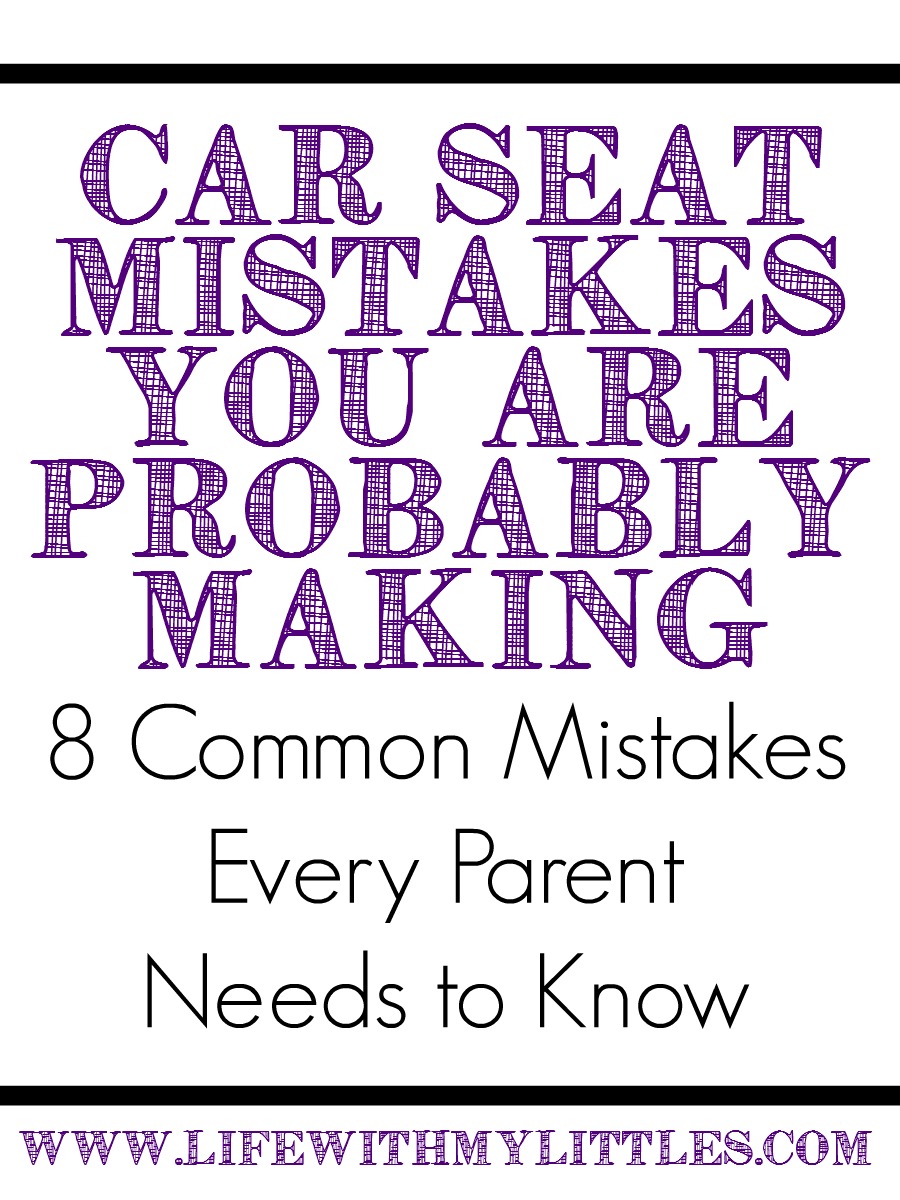 Last November, my family was driving and we had to swerve and hit a curb to avoid T-boning a car that had slid on some ice right in front of us. My whole family was in the car, including both of our kids. It is a really scary thing to have the airbags go off and smell burning smell and know that both of your kids are in the back seat of your car. We frantically jumped out of the car and got them out, and luckily, we were all okay (except for the car). We were all safe, and our kids didn't have any injuries because their car seats were installed correctly.
Guys, I can't tell you how many times I have seen people make some serious car seat mistakes. When we got a convertible car seat for Little J, I had no idea what to do so I took it to the police station and had an officer who was trained to install it put it in my car correctly. They have to take a class in order to get certified to check car seats so they learn how to do it right. She told me so many things I didn't know, and I'm sure a lot of other people don't know, too.
Now I am no expert, so I HIGHLY recommend taking your car seat to the local police station or car seat inspection location and having someone who has been trained show you how to put in your car seat correctly. You can check here to see where the closest location is. I just wanted to write this post and talk about some mistakes that I have seen, and also point out a few things you may not know about car seat safety.
1. Chest clip not on the chest. Guys, it's called a chest clip for a reason. It is supposed to be at the child's armpits, not down by the latch part. So once you buckle it all up, slide it up so it's on your child's chest. This is definitely one I have seen a ton, even with some of my friends.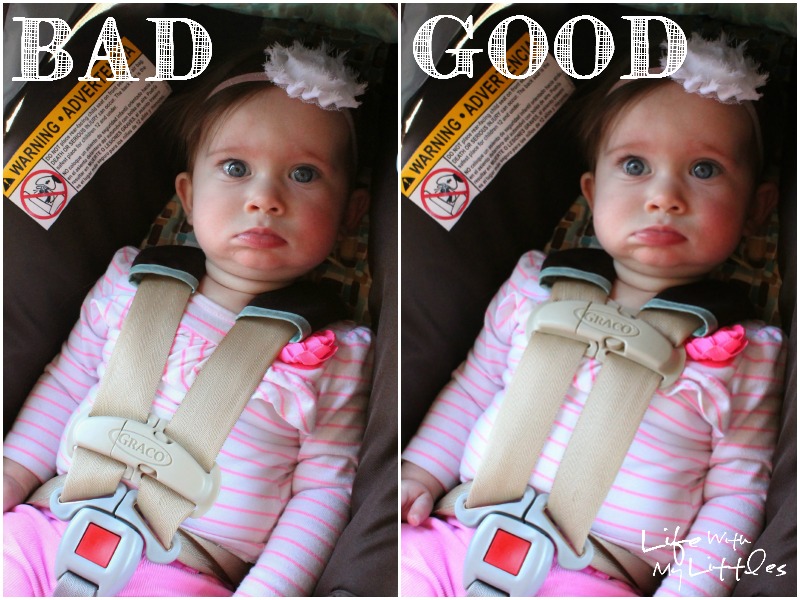 2. Buckling your child up with their coat on. I don't think very many people know that you aren't supposed to do this. Having a coat under the harness can compromise the tightness of the straps in an accident. So get your child in the car wearing their coat, take their coat off, buckle them in, then put a blanket or something over them to keep them warm.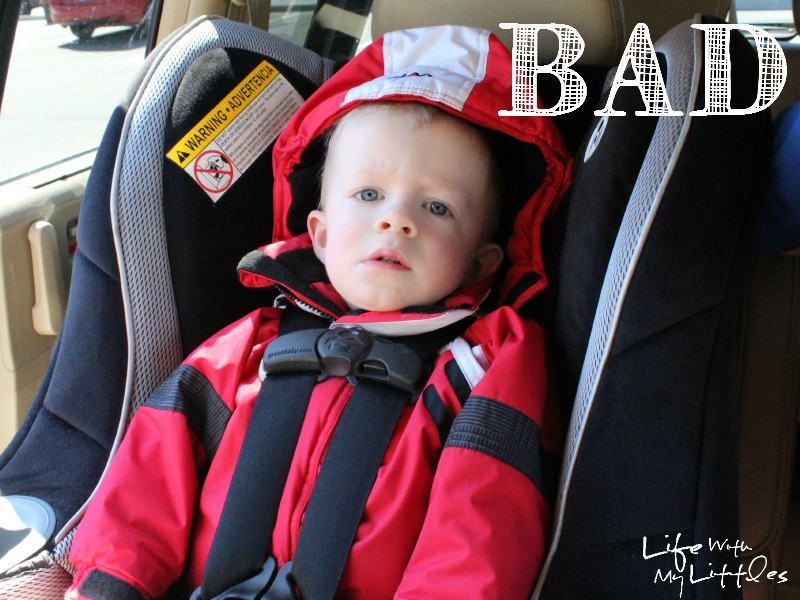 3. Loose harness. Another super common mistake people make is not tightening the harness on their child. You have to do more than just buckle it, guys. It should be snug and you shouldn't be able to pinch any extra at your child's shoulder. The straps also need to lay flat and not have any twists.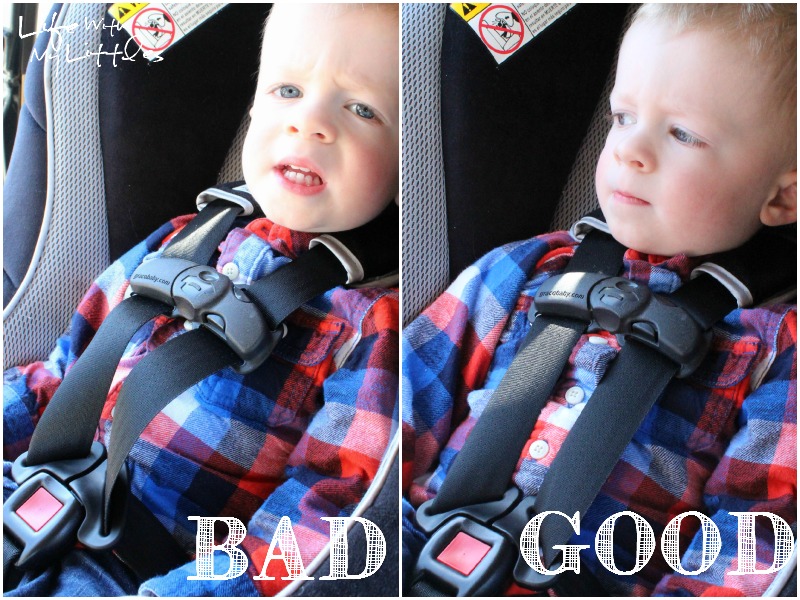 4. Straps should be at or below your child's shoulders when they are rear-facing, and above when your child is forward-facing. This was something I actually didn't know that I was surprised by when I had my son's convertible car seat installed. I think a lot of people either don't know this at all, or they just know that the straps should be at or below your child's shoulders. You have to readjust the straps when you switch the car seat around!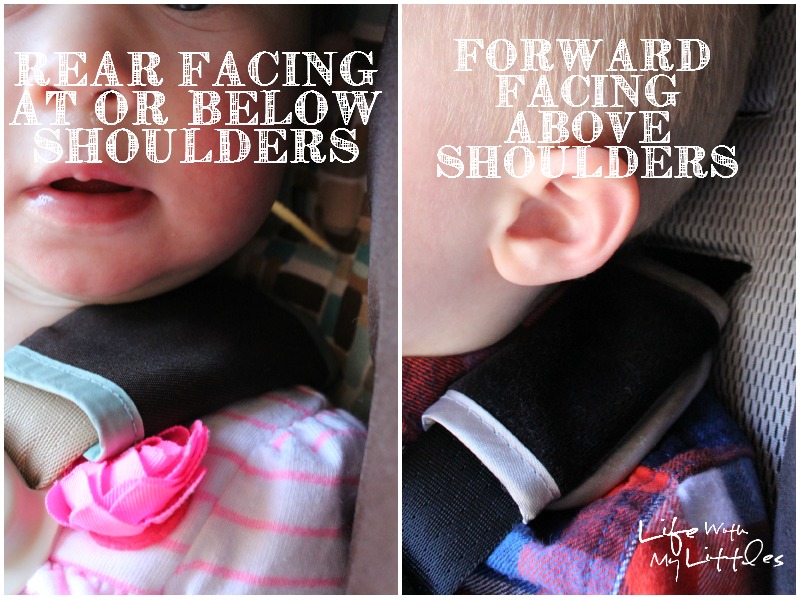 5. Loose car seat in the car. Your child can be buckled in nice and tight, but if the car seat isn't actually in the car tightly, it's not going to do much good in an accident. Your car seat needs to be tight enough that it shouldn't move more than 1 inch either way at the belt path. In a convertible car seat, the belt path is pictured below. And in an infant carseat, the belt path is the part where the belt goes through the base. And if you aren't using the latch system, then you need to lock the seatbelt (pull it out as far as it can go and lock it so it can't loosen. If your car has seatbelts that don't lock, then you need to use a locking clip.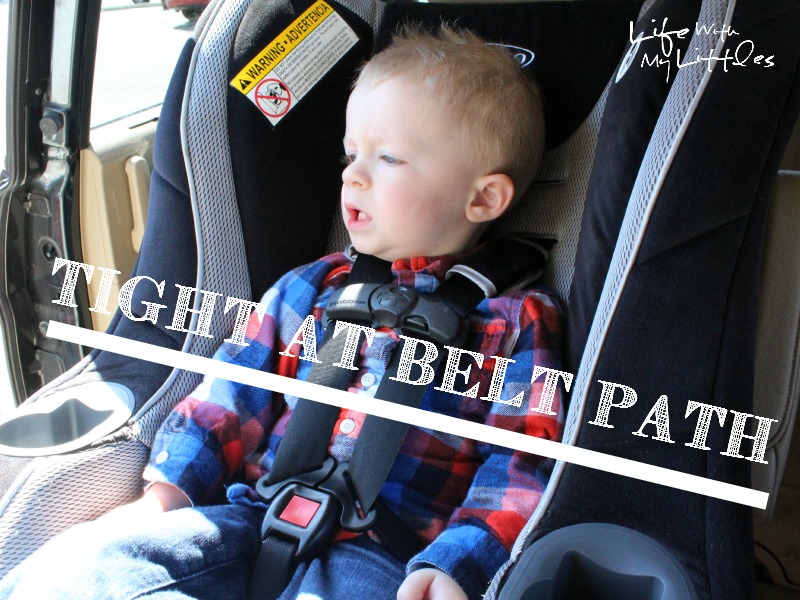 6. Turning child forward-facing too soon. The American Academy of Pediatrics recommends keeping your child rear-facing until two years old. I know that it can be super hard to keep your child rear-facing when their legs are long and they just want to face forward, but it actually makes a huge difference in their safety. I read on Parenting.com that a study found that kids under two are 75% less likely to die or to be severely injured in a crash if they are rear-facing. Another study found riding rear-facing to be five times safer than forward-facing. So really, why would you take any chances? Just wait! Your child needs to be two-years-old or until they exceed the height or weight limit for the car seat.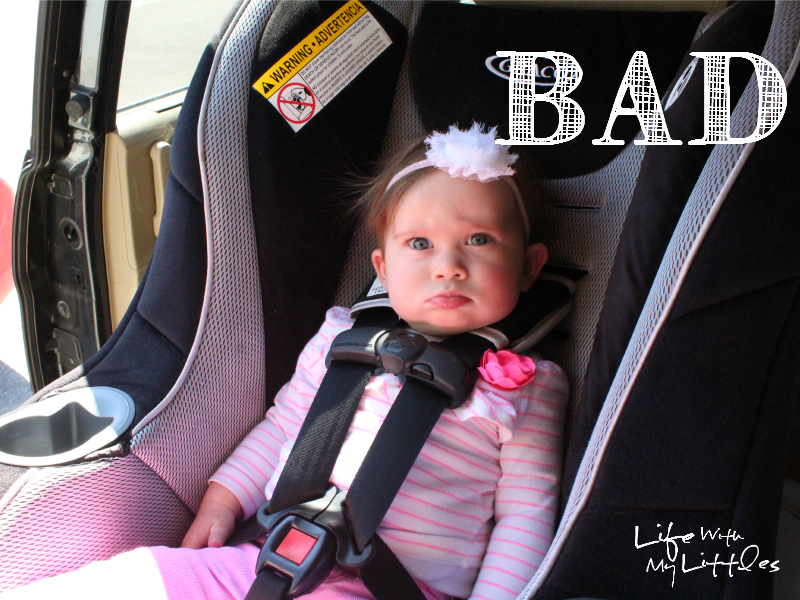 7. Leveler is not in the green. Most car seats have a little leveler on the side of the seat with a little ball that is supposed to be centered in a green section. If you haven't noticed this on your car seat, go look! The leveler is there for a reason (to make sure your car seat is at a 45 degree angle) and you should use it!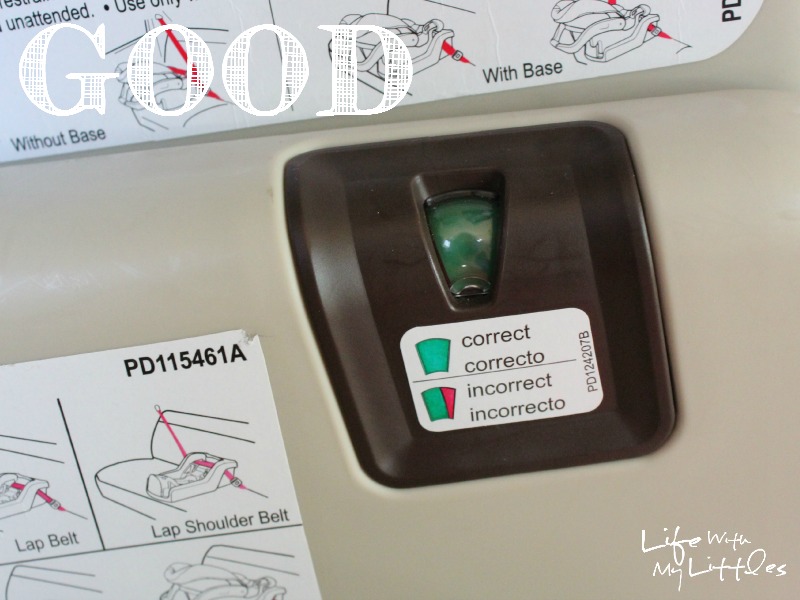 8. Expired car seat. Did you know car seats expire? Well they do. Most car seats last from 5-9 years, so if you are lucky, you can use the same one for your kids (depending on how many you have). Our Graco car seats have the dates on the bottom, so look there. If you can't find it on the bottom or side, check your user's manual, or call the company and ask! It's not worth taking the risk to use an expired car seat just so you can save money on buying a new one.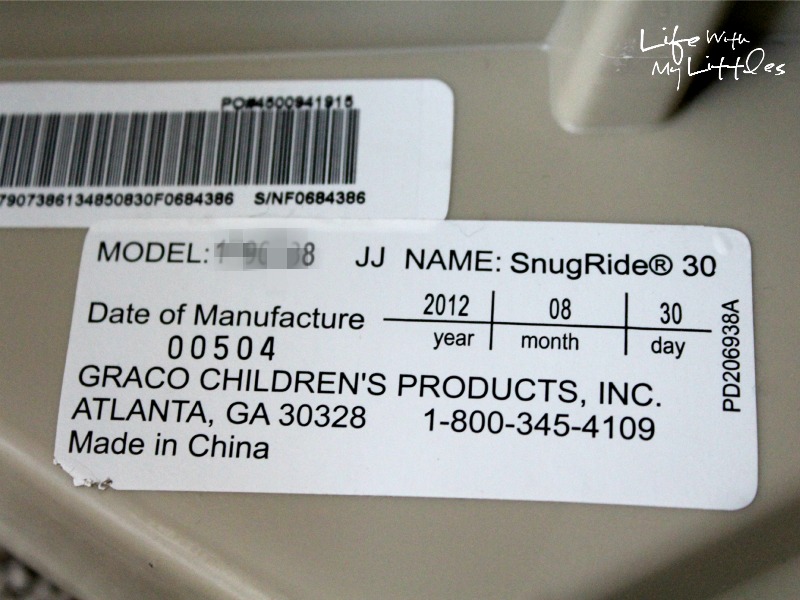 So did you learn something? I hope so! As parents I know we all want to do what is best for our kids, and we all want to keep them as safe as possible. These car seat safety tips can help protect your little ones and give you peace of mind that they are safe driving around in the car. And even if you think you've done it right, I recommend taking your car seats into an inspection check, just to make sure!!!
Have you done any of these? Which ones did you not know?