Ever wondered what life with a newborn is really like? Here's the honest, awkward, and uncomfortable truth about what it's really like to have a newborn. I had no idea about the last one!!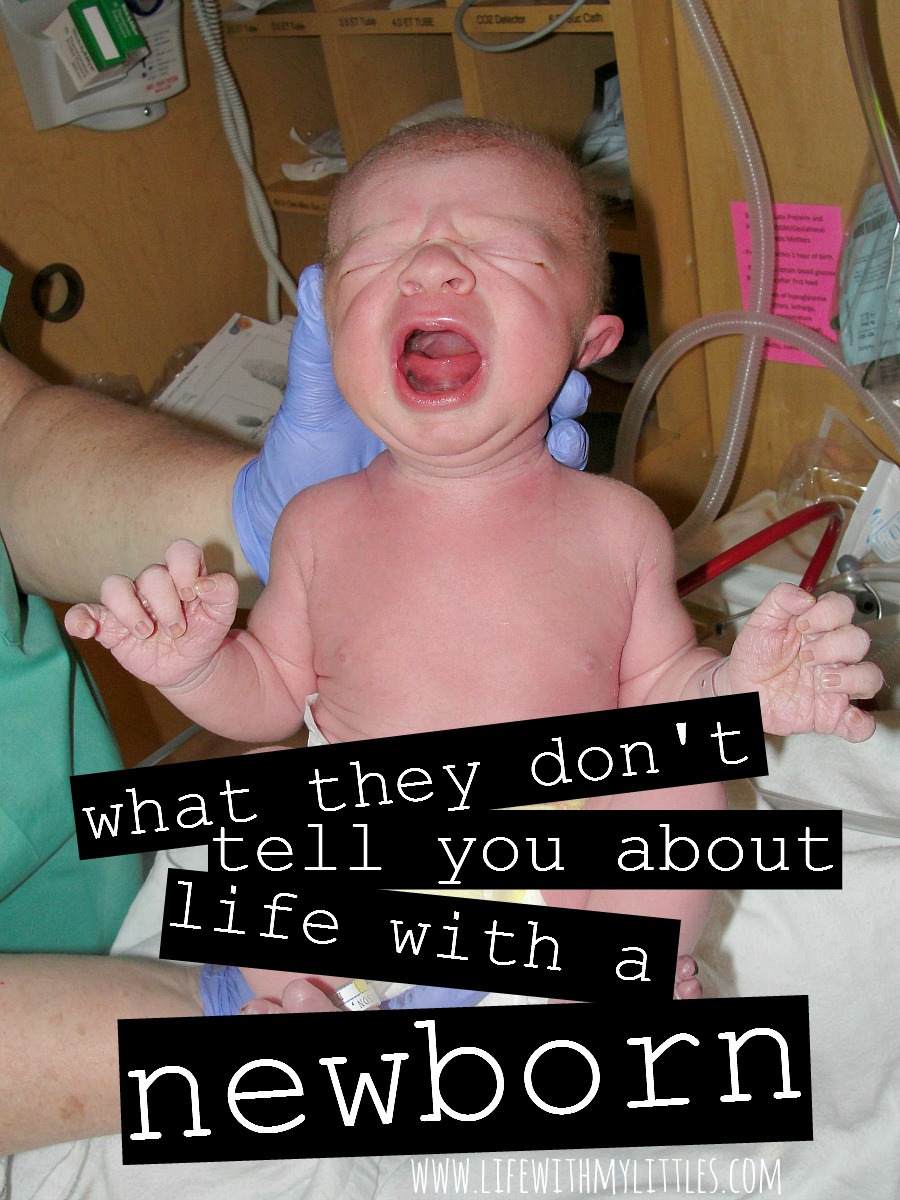 I felt him move and I knew he was in there, but when all of a sudden there was a newborn baby in the hospital room with us, all I could say was "Oh, weird!"
Yes, that was my reaction upon seeing my baby for the very first time. I thought it was weird that I birthed a child from my nether regions and suddenly, there he was, our SON. I had read all the books, blog posts, and articles I could about what it would be like to be a mother, but nothing could actually prepare me for what life with a newborn was really going to be like. And yes, it was a little weird.
And yes, this is just another blog post about what it is like to be a mother (like the hundreds aforementioned), but I'm going to be 100% straight with you. I'm not going to tell you that my body naturally sprang back into amazing shape, or that I had a bladder of steel from day one. I'm going to tell you what nobody else will tell you about life with a newborn.
You won't be able to poop. Not only do you feel weak and unable to push, but if you tore at all, you'll be terrified or ripping those stitches. So eat lots of fiber and take some laxatives. Just try not to get backed up.
You will feel all the things. And it will make you a little crazy.
You will hate your husband. I have never felt more irritable than those first few weeks after my son was born. It's definitely not the perfect little happy family vibe like in pictures. Sometimes, you will just want to slap him and tell him to go away. He won't deserve it, and of course you love him even more now that he's a dad, but you will also hate him for a little bit.
You will have a jello belly. After my son was born and I first felt my tummy, I laughed a little bit because it felt like jello. It was jiggly, wiggly, and there was lots of it. Don't expect to be comfortable in a bikini anytime soon.
When your baby is first born, they might look a little weird. They might not be the cute, squishy, chubby things you imagine babies as being, and it might catch you off guard. And when someone tells you he totally looks like you, it's okay to give them an icy glare (unless you're a skinny bald man, in which case that would be accurate).
You will both hear and feel your baby's poop. I remember one time we were saying a prayer and during a pause when the room was silent, our newborn had a "rocket" poop. I'm not kidding, it sounded like a rocket shooting out of his tiny booty. And more often, when I was holding him, I would actually feel him fill his diaper. Super gross, super weird.
You will wonder if you are diapering your baby wrong. I'm still not sure why, but every once in a while, my son would pee out of his diaper. My friend who doesn't have kids was holding him when he was about a week old, and he actually peed all over her. Through his pants and diaper. I have no idea how it happened, but I questioned my diapering ability. I also stressed over how the little ruffle part was supposed to go over his tiny thighs. Looking back, I'm pretty sure that it doesn't matter if it's tucked in or pulled out.
You will feel like you need to shower with your baby right outside the shower so you can check on them every five seconds. It's unnecessary, but also fine.
You will put baby shoes on your newborn and wonder what you were thinking when you bought them. They are ridiculous, unnecessary, and a waste of money.
You will feel like you are going to break your baby. Babies are so tiny and fragile-looking, and it's totally understandable why you might feel like if you don't hold them right or move super slow when transferring them to someone else, they will break. But they're pretty tough, and this feeling is baseless.
Last, and most importantly, you will pee your pants. Remember how when you were pregnant and you would sneeze, sometimes you would pee your pants a little? Well that was just the beginning. After you give birth, your bladder muscles are going to be weak. Or more accurately, you will not be able to hold your pee in AT ALL. Let's just say that my most embarrassing moment involves me emptying the entire contents of my bladder on the carpet in front of my son's changing pad. Lesson learned. When you have to pee, go immediately.
So next time you feel the urge to slap your husband, take a deep breath of your baby's heavenly scent and know it's just a phase. One day, you'll feel like a normal person again. It just might take a while.