Not sure what's safe and what's not safe during pregnancy? Here's a helpful list of the don'ts of pregnancy. Learn what to avoid during pregnancy!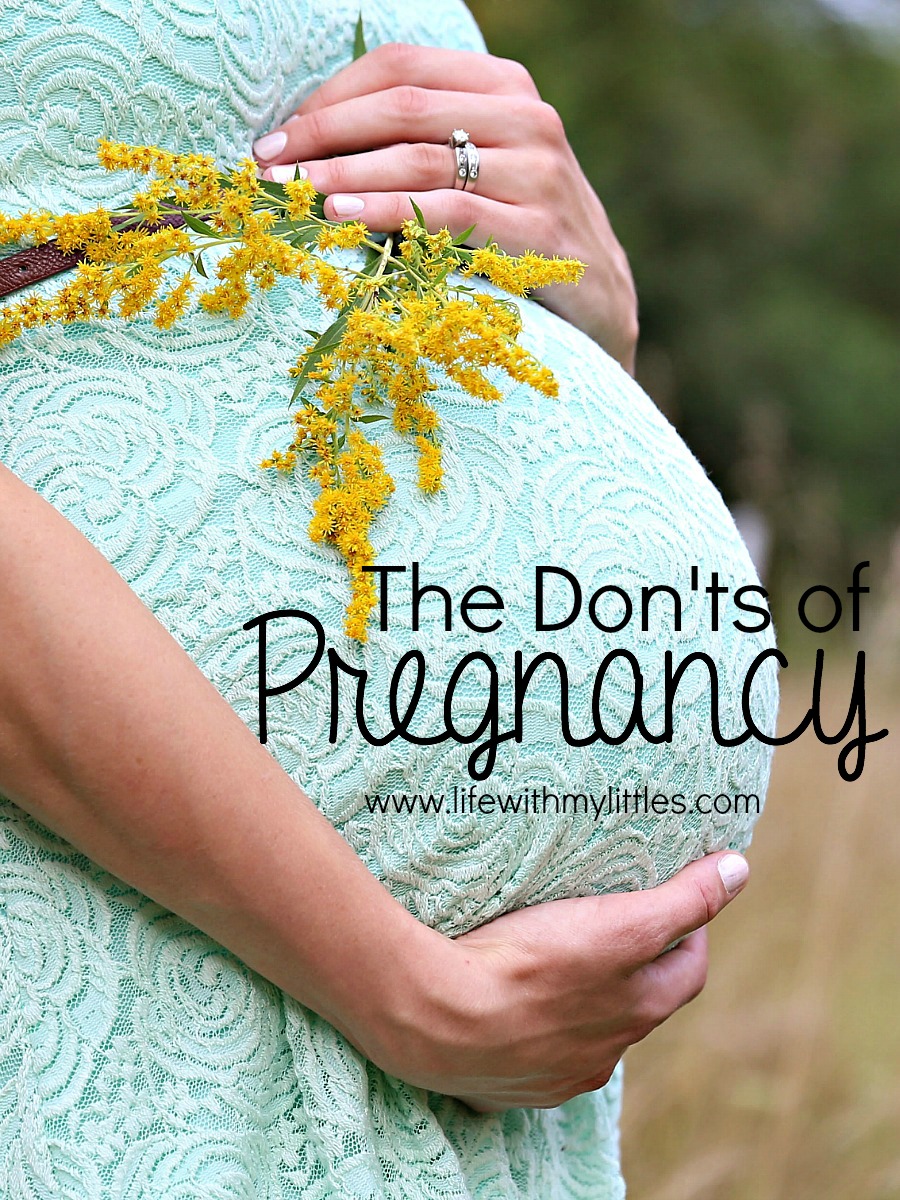 Whether it's your first or third pregnancy, chances are going to have some questions about what's safe and what's not during pregnancy. Some of them might be obvious (no roller coasters, please), but some you might not even realize.
Today I wanted to put together a helpful list of the don'ts of pregnancy for expecting and experienced mamas alike. Because if there's one thing I know about pregnancy, it's that you want everything to go right!!
And before you continue, these are not meant to scare you. I've been getting a lot of hateful comments from people telling me I'm wrong and making pregnant women panic and worry unnecessarily. Guys, I'm not making these up. I got them all from pregnancy books and medical websites (like the American Pregnancy Association). If you really are worried about one of these or have any more questions, please talk to your doctor. Don't whine to me.
Don't smoke. Duh.
Don't do drugs. Duh.
Don't drink alcohol. DUH.
Don't eat too much. You really don't have to eat for two. You don't even need any extra calories until the second trimester.
Don't eat the cookie dough. I know it's hard, but try to hold off until the cookies are baked! No salmonella for you!
Don't get dehydrated. I did during my first pregnancy and it was not my favorite ER trip.
Don't eat sushi, any other raw meat, or seafood with high levels of mercury.
Don't eat deli meat. That sub is going to have to wait until after delivery. And same for that hot dog.
Don't eat unpasteurized dairy products. Sorry to all the blue cheese fans.
Don't use a hot tub or take hot baths. Not good for your baby or your body temperature.
Don't drink too much caffeine. Avoiding caffeine is the best, but if you can't drop your morning coffee, the recommendation is between 150-300 mg per day.
Don't clean your cat's litter box. Ever heard of toxoplasmosis? You can get it from a cat's litter box and it can cause serious pregnancy complications.
Don't get your nails done. As fun as it is to get pampered, try to avoid nail salons because of the strong chemical smell. In general, if it smells strongly, it's probably not good for you during pregnancy.
Don't sleep on your back. There's a blood vessel called the vena cava that can get squished when you're pregnant and you lay on your back. Squishing it can disrupt blood flow to your baby while you sleep, so obviously you don't want that to happen. Also avoid sleeping on your tummy after the first trimester.
Don't skip your doctor's appointments. I know they can seem silly and like you're only with the doctor for a few minutes each time, but if you don't go you might find out later there's a complication or problem that could've been prevented.
Don't take over-the-counter medications. Always ask your doctor before you pop those pills.
Don't hang out around chemicals. If you're going to clean with chemicals, make sure you do it with the windows open and do it quickly. Don't stay in the room after you've cleaned. Let it air out!
Don't stress. Easier said than done, am I right?
Don't go on a diet. Pregnancy is not the time to try out the latest fad diet.
Don't get x-rays at the dentist. Going to the dentist is important, but make sure you let them know you're pregnant and don't get any x-rays until after delivery.
Don't go out without sunscreen. Your skin is more susceptible to UV rays during pregnancy, so use at least SPF 30 and reapply every 2 hours.
Don't do intense activities like skiing, horseback riding, wakeboarding, or anything like that. Again, duh. You could get hurt and that could hurt your baby.
Don't expose yourself to paint fumes. If you're planning on painting the nursery, wear a mask, or better yet, ask the hubby to do it for you.
Don't spray pesticides, fungicides, or insecticides. Let your hubby do this one, too. You want to stay away from those chemicals that can sink into your skin and then into your bloodstream.
Don't lift heavy things. I'm not going to give you a weight limit on this, but just be smart about it. And always remember to lift from the legs, not the waist.
Don't stand on your feet too often. Exhaustion happens easily during pregnancy.
Don't overheat. If you're hot, your baby is hot, which can lead to problems you don't want to deal with.
So I know that list is long and depressing and makes pregnancy sound super lame, but ask yourself this: do you want a healthy pregnancy that ends in a healthy baby? If the answer is yes, then it's really not a big deal to sacrifice some of these things for nine months.
And on the bright side, it's awesome to be able to sit on the patio and drink lemonade while you watch your whole extended family pull weeds and work in the yard all day.
If you think of anything else to add to the list or something that you aren't sure about, ask in the comments and I will do my best to look it up for you guys! And don't forget to check out the do's of pregnancy here!