These 16 practical things to put on your baby registry are a life saver! A great list of things you'll actually use that you won't regret registering for!
This post is sponsored by Pampers. I am a proud member of the Pampers Baby Board.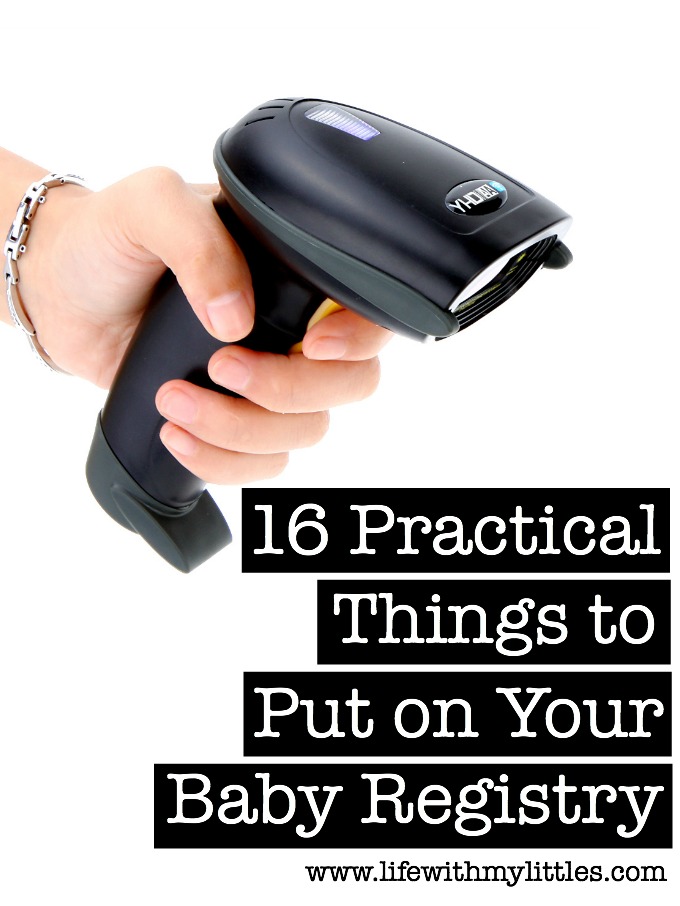 When we stepped into the giant baby store to register for our first baby, we were handed a list several pages long of "essentials" that we needed to put on our registry. Being naive, first-time parents, we were overwhelmed and had no idea how much of what was on the list was actually necessary. A lot of what we registered for ended up not getting used, or used once and then donated, simply because those things weren't practical or helpful. What a bummer!
A recent Pampers survey found that we weren't the only ones feeling that way (thank goodness!). More than half of moms who created a registry felt it was more overwhelming than they expected, and 62% of moms have regrets about their baby registry. Of those who do, the top regret is that they didn't register for enough practical items!
Now that I've had three babies, I feel like I have a pretty good idea what practical things to put on your baby registry. I know what you'll actually use, what you'll wish you registered for more of, and what you won't regret adding to your registry later!
1. Diapers. Of course the #1 thing on this list is diapers! I've registered for all three of my babies, and each time, Pampers diapers are the first thing I've put on the registry. You can never have too many diapers, and they are definitely the most practical thing you can put on your registry! And please don't feel guilty about adding a ton of diapers to your registry! 88% of moms that Pampers surveyed said they wished they had included more diapers on their registry, yet more than 1 in 3 (35%) moms who included diapers on their baby registry felt guilty about registering for them. Please make sure you add diapers to your registry! All sizes, and different kinds. I love Pampers Swaddlers for newborn and size 1, and then Pampers Baby Dry for sizes 2 and up!
2. Baby wipes. If you're registering for diapers you have to register for wipes, too! You need wipes for every diaper change, so add them to your registry without hesitation!
3. Baby wash and lotion. Babies have extra soft, sensitive skin, and you're going to want to keep it that way! Register for some baby-specific wash and lotion. Baby wash and lotion are always something you can use!
4. Healthcare and grooming kit. One of the best things we registered for (besides diapers!) was a healthcare and grooming kit. It had a nasal aspirator, a little hair brush, nail clippers, a tiny toothbrush, and other little things like that to help take care of baby. We still have the one we registered for with Little J almost five years ago, and I still use it with Little R!
5. White bodysuits. You can never have too many of these! I love layering them under button-up shirts and pajamas (in the winter), and they work great for monthly baby pictures, too!
6. Portable playard. These are perfect for traveling, keeping your baby in your room before moving them to their crib, naps in other parts of the house, or even as a playpen when you just need to contain your baby!
7. Baby monitor. We've tried a ton of different baby monitors (plain audio ones and video ones) and either way, I think they're great! You can even use them when your baby gets bigger!
8. Car seat. Some people don't register for big items like this, but I say why not? You're absolutely going to need a car seat, and putting one on your registry gives people a chance to go in together and get one for you! One less thing you'll have to buy yourself!
9. Stroller. Again, a big item that you might not think to register for, but you're going to need one, so why not?
10. Bouncer or swing. I wouldn't say you need both of these, but having one is nice because it's a great place to put your baby when you just need a minute! We had a little bouncer that vibrated and all three of my kids would hang out in it while I showered in the mornings. And I know my sister loves her swing for helping her baby fall asleep when he won't any other way!
11. Bibs and burp rags. Even if your baby doesn't spit-up much, it's handy to have at least a few of these for feeding (especially once your baby starts solids!).
12. Baby carrier. Ask some of your mama friends what carriers they liked (maybe even try one out with a friend's baby!), and register for one! I still get use out of my carrier and my baby just turned one! They are great when you need your hands free but your baby doesn't want to be put down.
13. Crib pad/ fitted sheet. One of the best tricks I learned as a new mama was to layer a waterproof mattress protector underneath my baby's crib sheet, and then do it again. That way if your baby gets sick or gets their sheet wet in the middle of the night, it won't soak through to the mattress and bonus, you can just pull off the top layer of crib sheet and waterproof mattress protector and still have a sheet on the mattress so your baby can go right back to sleep and you don't have to do laundry in the middle of the night! Genius!
14. Swaddle blanket. Swaddling your newborn may help them sleep longer and prevents them from startling themselves awake. You can use a stretchy muslin swaddle or one that has velcro, but either way, they are definitely a practical thing to include on your registry!
15. A baby book. I know some people aren't a fan of traditional baby books, and that's fine. If that's you, just ignore this one! I personally like having a place to write down milestones and glue baby pictures, so I use baby books. I have one of these for Little R and I love it because I can customize it and add or remove pages.
16. A nursing pillow. Regardless of whether or not you are planning on breastfeeding, these are amazing. I used mine for nursing and bottle feeding my first two babies, and they work great for tummy time and supporting your baby when they are learning to sit. Definitely a great, practical item to have!
Registering for your baby can be a little overwhelming at first, but if you do your research, you'll quickly realize babies really don't need that much stuff! Follow this list of practical things to put on your baby registry, try to stay calm, and go in with a plan. You'll find that registering for your baby can be a lot of fun!