I recently partnered with Pampers on a Pampers Giveback and surprised my little sister with $1,000 worth of baby things! Read all about what I got her and see her tear-jerking reaction!
This post is sponsored by Pampers. I am a proud member of the Pampers Baby Board.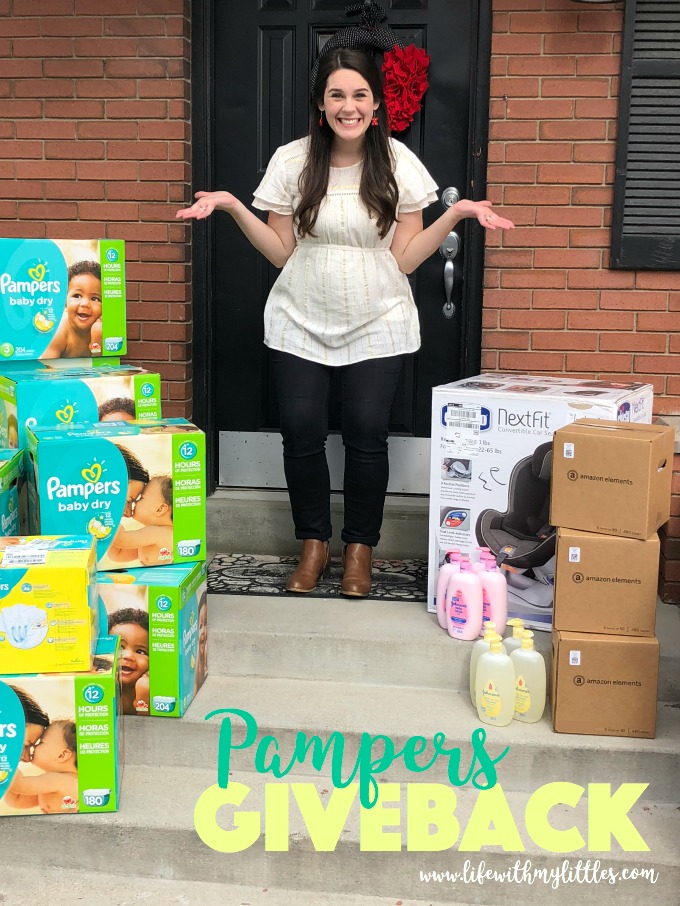 I've gotten to do a lot of really cool, exciting things since I started blogging 4 1/2 years ago. I've gotten to try cool new baby products, gotten free tickets to the happiest place on Earth, and been able to help support my family financially while my husband was in medical school. But two weeks ago something happened that absolutely beat all of the other cool things I've gotten to do.
Two weeks ago, I got to participate in a Pampers Giveback. What is a giveback, you ask? As a member of the Pampers Baby Board, Pampers gave me the opportunity to purchase $1,000 worth of baby items for someone I know who really needs it! As if I didn't already love Pampers enough!
As soon as I found out I got to arrange a Pampers Giveback, I knew exactly who I was going to give it to. My little sister is my absolute best friend. She lives several states away, and we're lucky if we get to see each other more than once a year (if you don't count FaceTime almost every day!). She is a fourth grade teacher and her husband is a police officer, so they both do very important (underappreciated and underpaid) work in their community. Their son, Brooks was born in June, and he is the sweetest, happiest little boy (and my first nephew!). In December my sister and her husband found out they were expecting baby boy #2! Yay!
My sister has always supported me and been an example to me, and I knew that I wanted to use this Giveback to help pay her back for all she's done for me. Babies are expensive, and having two close together is already stressful enough without worrying about how you're going to buy them diapers (my oldest two are 18 months apart, so I know!). Her sweet babies will be 14 months apart, and I wanted to make sure they would have all the diapers they needed for at least six months!
In January I started coming up with my plan to surprise her. I knew I wouldn't be able to fly out and give her the gifts in person, so I enlisted the help of my mom and one of my sister's childhood friends. I had a bunch of practical things (14 boxes of Pampers diapers, a convertible car seat, some baby lotion and wash, and a few other smaller items) delivered to my sister's friend's house a few days before the Giveback. I made sure to include some Pampers Swaddlers for the newborn stage, as well as several boxes of Pampers Baby Dry in bigger sizes, both for Brooks and for when the new baby got into bigger sizes. They've always been my favorite diapers and I passed that love on to my sister, too! Only the best for our little ones!
On the day of the Giveback, my mom made sure my sister stayed downstairs in the basement so she didn't see her friend, Katie, setting up all the gifts outside. When she was ready, Katie rang the doorbell and watched my sister find $1,000 worth of baby items on her doorstep! Even though I wasn't there, just watching how my sister's expression changed in these photos made me cry!
I talked to her on the phone after and she was so grateful. I actually think she thanked me four separate times that day! Being able to help her family out this way was a huge deal to me. I am so lucky and feel so blessed that I was able to partner with Pampers to help support my sister's family, and especially those two sweet babies! I can't wait to meet baby #2 in August! Thanks, Pampers!