Not sure what to do with your baby monitor now that you don't have a baby? Here are 7 great ways to use a baby monitor as your kids grow up. These are so clever!
This shop has been compensated by Collective Bias, Inc. and its advertiser. All opinions are mine alone. #VTechBaby #CollectiveBias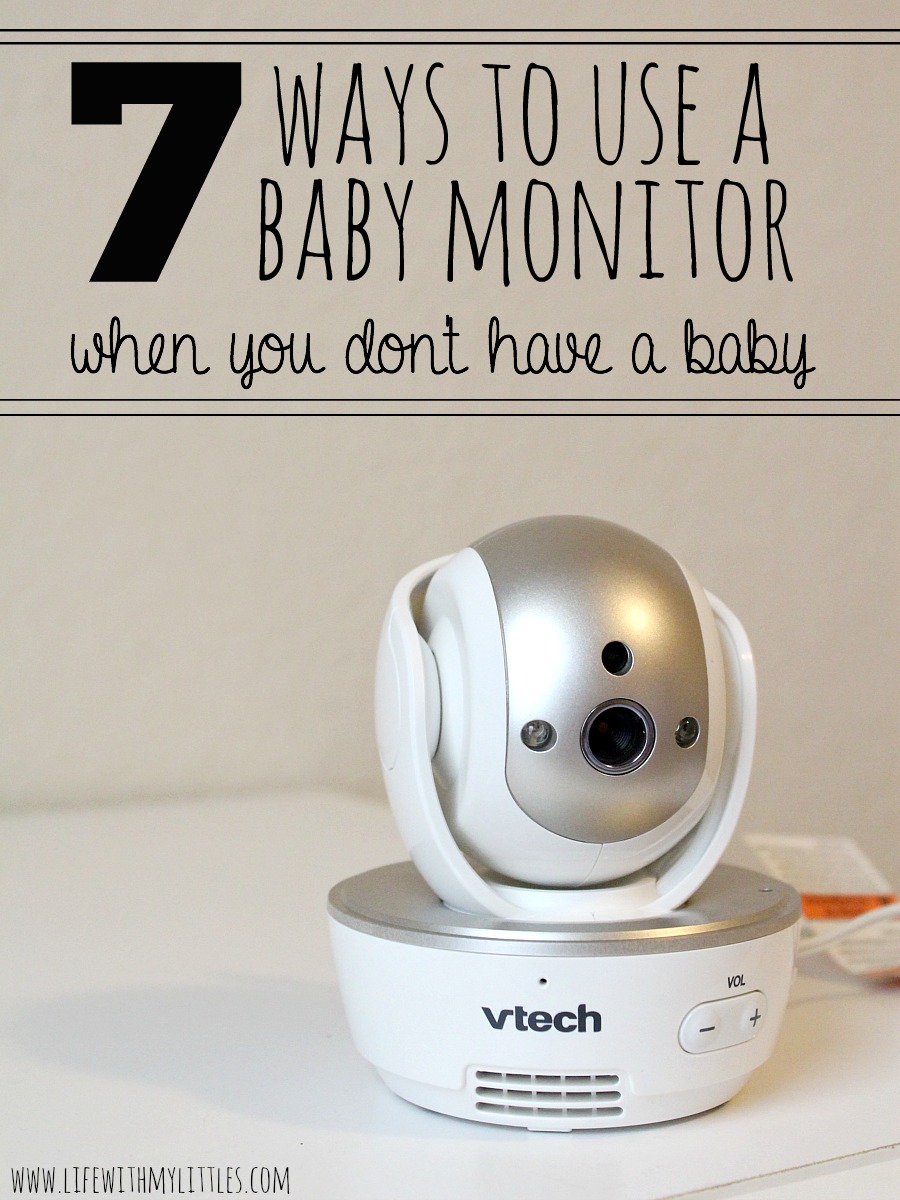 We have used a baby monitor ever since our first child was born almost 3 1/2 years ago. We started out with a digital baby monitor and have since graduated to a video monitor. And even though our youngest will be two next month, we still use our baby monitor every single day.
I know that they are called baby monitors, but I think they should be used for so much more! We recently got to try out the VTech Safe&Sound VM343 Pan & Tilt Full-color Video Monitor, and I want to share seven ways to use a baby monitor when you don't have a baby.
1. Bed time. Yes, we still monitor our kids at night while they sleep. Our preschooler and our toddler share a room, so it's nice to be able to make sure they actually go to sleep at bedtime. I keep the parent monitor on my nightstand every night so that if one of them needs something during the night (like my son has to use the bathroom or my daughter has a bad dream) I can come to the rescue quickly.
2. Nap time. So we didn't use to use the monitor during nap time, and then last December, my son swallowed part of his sister's hair clip that I had left on top of the dresser. Long story short, we had to rush to the emergency room and he had to have it surgically removed. Anyway, it could've easily been prevented if I had just used the baby monitor during nap time. Yes, you're awake and you can probably hear if your child needs you, but seeing what your child is doing can give you huge peace of mind. Also, since only my daughter naps now, using the monitor during nap time has made it possible for my son and I to go play outside while she sleeps. The VM343 comes standard with 1,000 feet of range, so it's easy to stay connected to my daughter from any room in the house – even from outside.
3. Transitioning to a toddler bed. Now that we've covered sleeping, there are lots of other ways to use a baby monitor, and this one is a must! Switching to a toddler bed is a big deal. Our son started climbing out of his crib at 18 months, so we had to switch him for safety reasons. Having a video baby monitor helped a lot because I was able to see when he was actually in the bed and when he was trying to play with toys or read his books. With our daughter, we used the VTech Safe&Sound VM343 Pan & Tilt Full-color Video Monitor and it made a big difference. It was easier than ever to keep a close eye on her thanks to the monitor's remote pan and tilt camera featuring 2x zoom. It was easy to scan her room straight from the parent unit and I didn't have to worry about not being able to see her just because she wasn't in her bed.
4. Watching them play so I can get work done around the house. Sometimes I just need to clean the bathrooms or mop the floors and I can't have the kids running free around the house while I do. Being able to stick them in the playroom and shut the door and not worrying about what they are doing has been AMAZING. The camera is discreet and pretty small, so my kids just ignore it while they play. And not only does the VM343 have automatic night vision so it works great in the dark, but it also works great during the day because the large 4.3-inch LCD screen has full-color video, too. So I can watch my kids clearly and clean the bathrooms without worrying what they are doing!
5. Safety. Like I said before, we stopped using the monitor for a while and our son had to go to the ER because I couldn't see what he was doing. Using a monitor has given me great peace of mind when I can't be in the room with my kids. I try not to have anything in their room that they could play with or potentially swallow, but if there's something I miss I'll be able to see them before something happens. I'm pretty chill on a lot of things, but the safety of my kids is not one of them.
6. Traveling to new places. I ALWAYS bring a baby monitor when we are traveling. You never know how your kids will react to being in a new room and in a bed that isn't their own. Having a video baby monitor like the VM343 is a necessity! Plus it tells the temperature so you can see if your child might need an extra blanket or some fleece pajamas that night!
7. Communicating. Whether I'm telling the kids to get back in their bed or asking my husband a question while he's helping tuck the kids in and I'm in our bedroom, being able to use our baby monitor for communication has been great. The monitor features a two-way, talk-back intercom so parents can soothe their child without needing to enter the child's room and disrupt nap time or bed time.
I am a big fan of using a baby monitor even when your kids aren't babies anymore, and I also am a big fan of VTech.  VTech's feature-rich and modern baby monitors provide parents with stylish choices and the comfort of knowing they always have eyes and ears on their little ones. Plus, they make regular audio baby monitors as well as video baby monitors, so there's something for everyone. And additional monitors can be added to the VM343 system so you can keep an eye on different rooms or different children all at the same time. When we have another baby, I'm definitely investing in another monitor and mounting it above our baby's bed! And since the monitors are available at a variety of retailers, including Walmart, Target, Babies R Us, Amazon, I'll be able to find one easily!
We seriously love our VTech Safe&Sound VM343 Pan & Tilt Full-color Video Monitor, and it has come in handy every day with our toddler and our preschooler. Hopefully these 7 ways to use a baby monitor will help motivate you not to put your monitor away when your child turns 1! We have had such peace of mind continuing to use our monitor, and I don't see us putting it away any time soon!
What ways to you use your baby monitor? Let me know!