12 Mom hacks to make life easier. Love these helpful suggestions!
I was selected for this opportunity as a member of CLEVER and the content and opinions expressed here are all my own.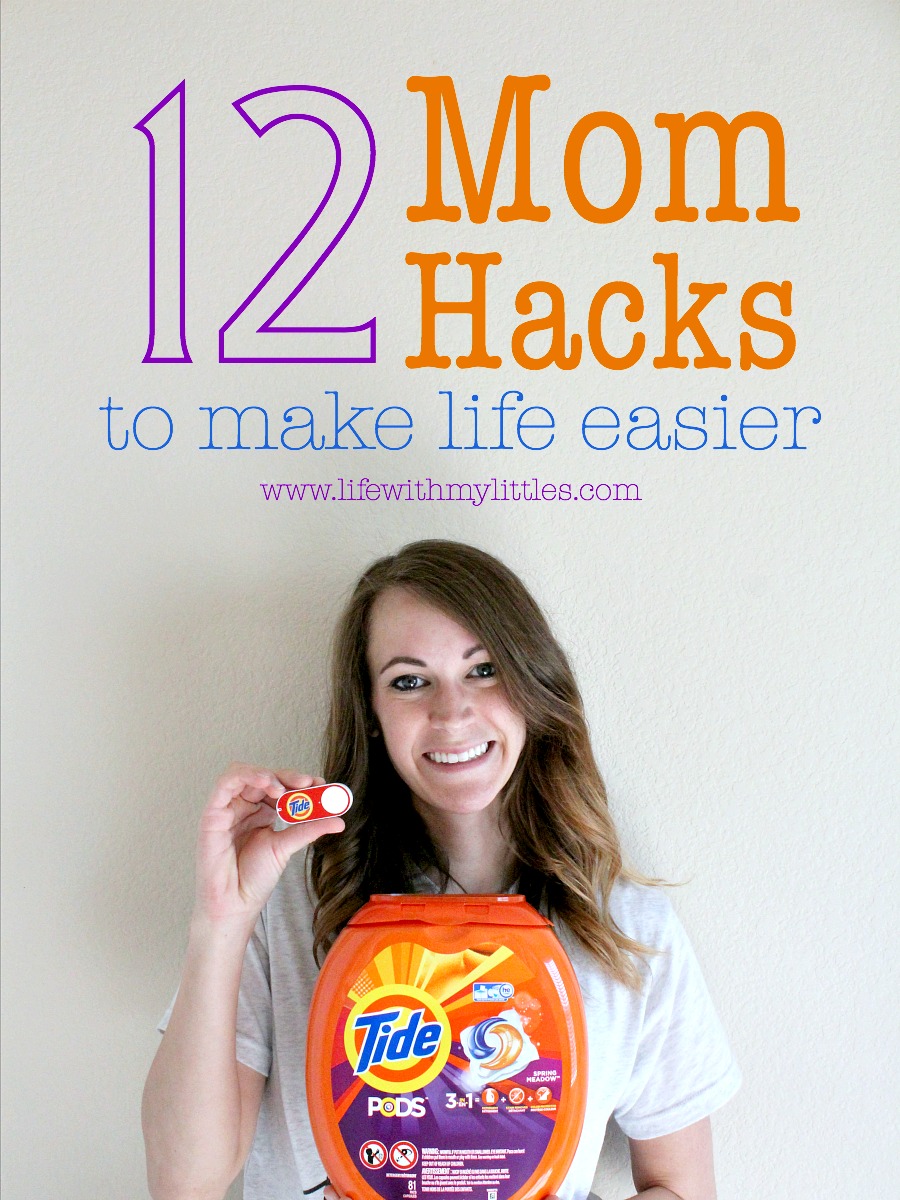 Ever since I became a mom I have been looking for ways to make life a little easier. Things that save me time, save me money, or just make things a little more simple are always good for my sanity. I mean being a mom is rough, so every little thing counts.
Today I want to share some of my favorite mom hacks. I use all of these things and if I could help even just one mom by passing on these amazing tricks and tips, then I'm happy!
1. The Amazon Dash Button. Oh man. This is a new one I've started using and it is fantastic! It's like the ultimate mom hack because it's so simple. Like, it is literally as simple as the push of a button. If you haven't heard about Amazon Dash Buttons, you are missing out. They are Wi-Fi connected devices that reorder everyday essentials with the press of a button. You can order things you need as soon as you realize you are getting low, which is a huge help to me because I am always forgetting to grab things at the store. Mom brain, am I right? You just press your Amazon Dash Button to automatically reorder an item at the same low prices they find sold by Amazon online and with free Prime shipping (yes, you do have to be an Amazon Prime member to use them).
Amazon Dash Buttons allow you to reorder from leading brands – including Bounty, Tide, Charmin, Clorox, Goldfish Crackers, Colgate, Gerber, Ziploc, Play-Doh, and many more (there are over 250 of them!). I have the Tide, Cascade, and Play-Doh buttons, and they are amazing and super handy! We do a lot of laundry and dishes and we play with a lot of Play-Doh, so being able to reorder those products quickly is a lifesaver.
Set up is super easy, too. Using the Amazon app, you connect your Amazon Dash Button to your Wi-Fi network, select which product you want the Amazon Dash Button to reorder (you get several choices for each brand), and then place your first order!
Amazon has also put some special safeguards in place, so Amazon Dash Buttons respond only to your first press until your order is shipped and arrives on your doorstep. You also receive an order notification (if you enable it on your app) for every order placed. You can use the Amazon App to check order status, make changes to orders or cancel orders (just in case little hands get ahold of it!). Amazon Dash Buttons are stress-free devices built to make your life easier.
And in case you're wondering, Amazon Dash Buttons are essentially free—with the first order through an Amazon Dash Button, members receive a $4.99 credit to their Amazon account. And in celebration of the two-year anniversary of the Amazon Dash Button, from March 31 – April 7, customers can buy an Amazon Dash Button for $0.99 and still receive a $4.99 credit back after their first press of the button, so you basically get a few dollars off whatever you order! I love our Amazon Dash Buttons and definitely think they are an amazing mom hack! You can learn more about them here.
2. Use a mesh garment bag for washing your children's socks. I've been doing this ever since Little J was a baby. Not only do you not loose any of your kids' socks in the washer or dryer, but it makes it easy to put their clean laundry away, too, since your socks are all together in one place and not hiding inside pants or shirts. You can save money on lost socks and time trying to keep them all together!
3. Utilize a grocery pick-up service, or order groceries online. I love using our local H-E-B's grocery pick-up service, as well as Walmart's grocery service, too. You can also use Amazon Pantry to get groceries delivered right to your door. Not only does this save me time (and money because you know, no impulse buying), but it saves my sanity because I don't have to try and grocery shop with THREE KIDS. Yikes.
4. Layer two waterproof mattress pads and two fitted sheets on your child's bed. This is another mom hack that I've been using ever since Little J was a newborn four years ago. You put a waterproof mattress pad on, then a fitted sheet, then another waterproof mattress pad, and then another fitted sheet. Why? Because this way, if your baby throws up or has a leaky diaper in the middle of the night, you can just pull off the top two layers and easily put them back to bed without having to wash the sheets and put them back on. This also works for kids who are potty training!

5. Use duct tape to hold on your toddler's diaper. We went through a phase where my oldest started pulling off his poopy diapers and making disgusting messes everywhere. So for a few weeks, we had to duct tape his diaper on so he wouldn't pull it off. It worked like a charm, and it saved me from having to clean up stinky, poopy messes. Also, my dad has wanted me to share this tip for almost two years, so there you go, Dad!
6. Use veggie squeezes to get your kids more vegetables. Okay, so obviously, eating whole, raw veggies is still the best way to get your kids to eat vegetables. But it's always a good idea to get your kids to eat more vegetables! I love buying the baby food pouches that have vegetables for my kids. They love them, and it's the perfect solution for traveling, eating out, or busy nights.
7. Use puppy potty pads for potty training. This sounds weird, but we just bought a new sofa and I fully intend on putting puppy potty pads on the sofa when we start potty training our daughter so she doesn't ruin our new sofa. You can also use them on any other upholstered furniture to protect it from any unwanted accidents!
8. Use a changing pad on a dresser instead of a changing table. We've never bought a changing table for our kids. Instead, we've used this dresser (that was actually mine as a child) with a changing pad on top. It doubles as storage for clothes (or extra diapers and wipes) and it also can be used long after your child is out of diapers.
9. Use a rolled up towel for bathing your baby. Babies are slippery, and bathing them in a plastic bath tub is hard. We like to use a rolled up hand towel underneath our baby's head instead. That way you can have both of your hands free (instead of trying to prop them up in the slippery tub). Much easier!
10. Freeze big recipes. Have you ever made a big recipe that was way too much food for your family and ended up throwing away half of it? Yeah, we used to do that all the time. So I started freezing half of the recipes for easy freezer meals! Some of my favorites are enchiladas, lasagna, and pasta bakes. It's a great way to save money by not throwing out food, and to save time because you have meals ready to go when you are busy and can't cook.

11. Know how to remove poopout stains. Not only can a bad blowout ruin your baby's clothes, it can be near impossible to clean! Follow this simple trick to get it out!

12. Pack outfits in plastic bags when traveling. Ever get frustrated trying to pack your kids' clothes when traveling? I like to pack outfits in gallon-size plastic bags so it's easy to grab one when getting my kids dressed on vacation. This also usually prevents tantrums because the outfits are chosen and I can just let my kids pick which one they want to wear.
Yes, being a mom is hard, but there are definitely ways to make it easier! Hopefully these 12 tips can help save you time and money, and help you keep your sanity in the process!