13 useful and unique gifts to bring a new mom, suggested by real moms! Such clever ideas! A must-read for anyone visiting a new mom!
This post contains affiliate links.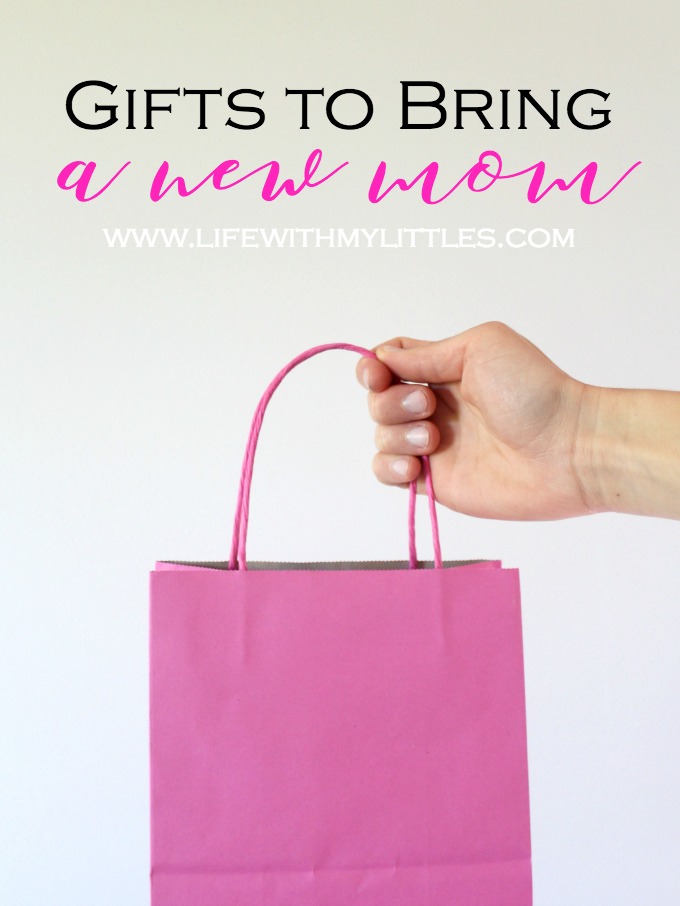 When you have a brand new baby, the last thing you want is someone knocking on your door empty-handed. If someone is coming over to visit and you have to take the time to put actual clothes on, they better be bringing something good!
Okay, I'm obviously kidding (a little), but in all seriousness, having a baby is rough, and if you're planning on visiting a new mom, you should absolutely bring her a gift! Not sure what to bring? Here are some suggestions of gifts to bring a new mom from real life moms (which, duh, includes me!):
1. A soft, nursing friendly robe. Something she can wear around the house, feel cute in, and be super comfortable in (something like this
).
2. Flowers. A bouquet, a pot, or even a cute succulent (I know, not technically flowers). Every woman likes getting flowers!
3. A meal. Whether it's a hot meal ready-to-serve, or a freezer meal she can heat up later, bringing a meal means one less meal she has to prepare!
4. Chocolate. Self-explanatory. I love these
.
5. A bath bomb or face mask. Something she can pamper herself with when baby is sleeping! This bath bomb gift box
and this Dead Sea mud mask
both have crazy good reviews on Amazon!
6. Diapers. Can't ever go wrong giving a new mom diapers! Our favorites for newborns are Pampers Swaddlers
!
7. A book. Newborns eat a LOT, and it is nice to have something to read while nursing! Some of my favorites are The Magic of Motherhood
, Is Everyone Hanging Out Without Me?
, and my own book, Preggers
.
8. Paper plates. One of my friends suggested this one and I thought it was GENIUS! Taking care of a newborn is exhausting, and when your baby is napping you absolutely don't want to be doing dishes. So give her some paper plates! Again, GENIUS!
9. Any kind of dessert. I know I already included chocolate on the list, but this deserves it's own suggestion. Cookies, brownies, cupcakes, really anything to satisfy her sweet tooth. They don't even have to be homemade!
10. A few groceries and recipes to make easy meals. Another friend suggested this, and I loved it! Bring some easy recipes and buy all the ingredients to make them so she doesn't have to go to the store and she can whip up something fast and easy. Another suggestion in this realm are rolls, deli meat and cheese, and fruit and veggie trays!
11. A giant caffeinated soda or coffee. Again, self-explanatory. You'll be a hero.
12. Anything to help postpartum. Tucks pads
, maxi pads, Dermoplast spray
. Check out this post for more ideas. Maybe only bring these ones to close friends, though!
13. An offer to sit with older kids so mom can get a break. You can even offer to take the older kids to the park or the zoo! My mom used to do this for ladies who had babies at church, and looking back now, I'm sure they appreciated the break!
There are tons of gifts to bring a new mom that will help her out and make the transition to life with a newborn a little easier. Hopefully at least one of these suggestions caught your eye! And remember, don't stay too long, either!!!