Having a baby is hard on your body! Here are 12 postpartum essentials to help you not only survive postpartum life, but thrive!
This post contains affiliate links.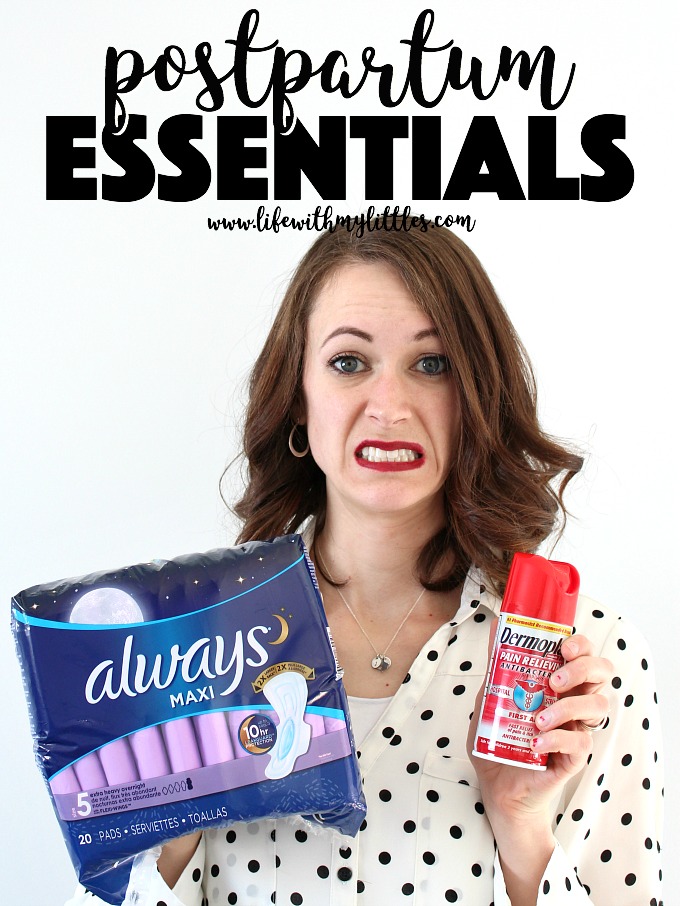 When I was pregnant with my first baby, I thought childbirth was going to be the hard part. I didn't have any idea what to expect postpartum, and honestly I thought it would be all rainbows and butterflies getting to snuggle my sweet newborn day and night.
Fast forward to today. I've had three kids and I know the realities of postpartum are brutal. Your lady parts hurt, your boobs hurt, you can't poop, you're exhausted, and you have a tiny human being to take care of. It can be brutal.
Having the right supplies on hand once you get home from the hospital can make a world of difference. You're definitely not going to want to be running to the store with a brand new baby as soon as you get home! Here are twelve postpartum essentials to help you get through the first few weeks of motherhood:
1. Extra long, extra absorbent maxi pads with wings.
Basically, you want as much coverage and protection as possible. They give you some at the hospital, but you're for sure going to want to have some ready to go once you get home. And I've heard that if you put a little bit of water and witch hazel on them and put them in the freezer for a bit, they feel divine.
2. Cooling nursing pads. Something like these
will really help your poor new mama boobies. Whether you plan on breastfeeding or not, your breasts and nipples are going to be sore. These are a lifesaver.
3. Nursing pads. I would definitely recommend going with disposable in the beginning while your supply is adjusting. You are going to feel super full, you'll probably leak, and you will need to change them at least every day. If you want a more eco-friendly option, you can use washable ones, but I wouldn't use them until you've adjusted and stopped leaking.
4. Witch hazel. Here is the exact thing
they sent me home from the hospital with when I had my first two babies. They are large circular pads that are pre-moistened with witch hazel. I didn't have these with my third, and I regretted it. The witch hazel helps soothe your sore lady parts which is a must right after you've just pushed a baby out of there.
5. Dermoplast
. This is a topical pain relieving spray they might give you in the hospital (they didn't for one of the times I was there) that you can spray down there and it helps relieve some of the pain. If you aren't sensing a trend here, you basically want all the pain relief you can get!
6. Comfy clothes. As much as you might want to be back into your skinny jeans and tight shirts after having a baby, it's going to take a while. After my third I bought some yoga pants to wear that were actually cute so I still felt like I looked good. Best decision ever.
7. Cheap undies. Another one of my favorite things the hospital gave me were mesh brief style undies
. They were super stretchy and light, held the giant maxi pads in place well, and I didn't feel bad about tossing them after my kids were born. I know they aren't the sexiest things in the world, but they are just what you need after having a baby.
8. Nursing bra with no underwire. Or if you aren't planning on nursing, just a regular bra without underwire. You're going to need something super soft and comfortable that's extra supportive for your new friends. It's recommended not to wear underwire for the first 3-4 months because it can cause plugged ducts and infections (which you obviously don't want), so just get one without underwire for the beginning.

9. Stool softener. I don't think this needs much of an explanation. I'll just let you know that you don't want to be straining postpartum.
10. Lanolin. If you're planning on breastfeeding, you're going to want a tube of this. I love the Lansinoh kind
because you can use such a small amount and it lasts forever. Definitely get some of this to protect those sore little nipples as they adjust to breastfeeding.
11. Peri bottle
. You aren't going to be able to wipe for a little bit, and with the postpartum "period" you'll get, you're going to want to stay clean. A peri bottle filled with warm water is a much better way to get clean!
12. Water bottle. This one might not seem like it's specific to postpartum, but you HAVE TO make sure you drink enough water. I didn't and I got kidney stones when my third was three months and it sucked. You absolutely do not want to get dehydrated. Honestly, I can't stress this one enough. DRINK WATER, MAMA!
Well there you have it! My complete list of postpartum essentials to help you survive that crazy postpartum life. Make sure you take care of yourself, listen to your body and that mama intuition, and enjoy having a newborn!