If you're pregnant and not sure how to handle visitors after birth, this post is for you! Great tips on what to do, what to say, and why you're in charge!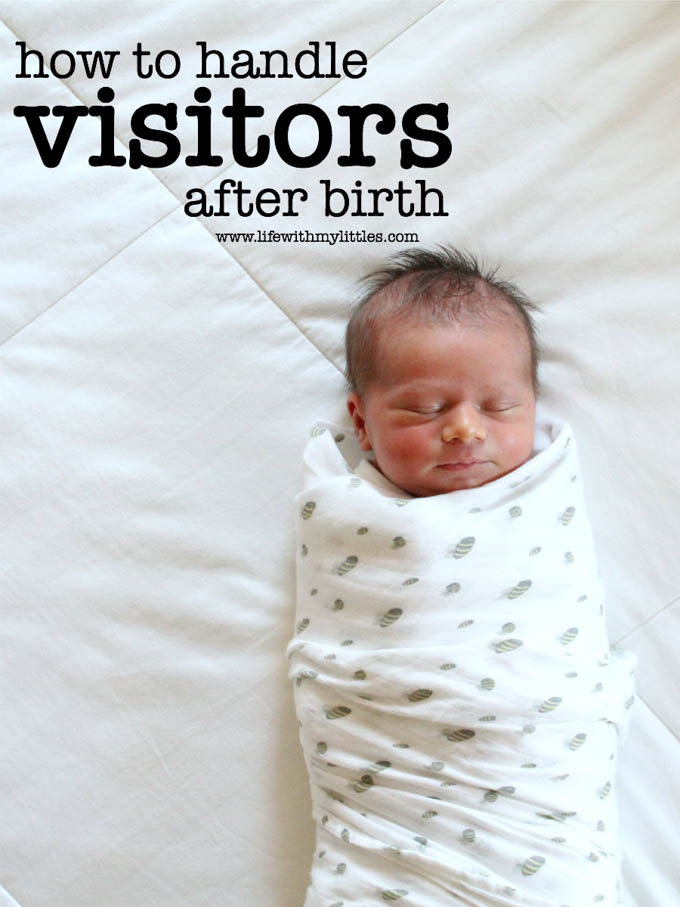 With each of my kids, the biggest thing I worried about in terms of having a baby wasn't the actual childbirth part. Sure, that watermelon is supposed to fit through a hole the size of a golf ball, but no big deal! I've got that! The part I was the most worried about was having visitors come meet my new baby. I know that might sound silly, but knowing how to handle visitors after birth can be tricky!
If you're like me and get stressed out trying not to offend your family and friends who want to meet your perfect, sweet baby, this post is for you. This is the post I wish I had read before each of my kids was born, and I hope it can help you if you're struggling with this, too!
Here are eight things to remember when navigating visitors after birth:
1. YOU are in charge. The most important thing I can remind you is that you're in charge. You're the one having a baby, you're the one who is going to be recovering, and you're the one who is the boss. Don't let the fear of hurting someone's feelings be the major factor in your decision of when to have visitors.
2. Decide what you want, not what they want. Similar to the first tip, but you need to hear this, too. Your visitors aren't the ones having a baby, you are. You get to make the decisions.
3. It's okay not to have visitors at the hospital. I personally am not a fan of having visitors at the hospital. My labors haven't been particularly long or hard, but regardless it still takes me some time to feel like myself again. Right after having a baby I don't want to worry about feeling all put together with my hair done and clothes on. You might be totally cool with having people come to the hospital, but you also might not want them there. Either way is fine, just make sure you communicate your decision.
4. It's okay to say no to visitors. If your best friend wants to come meet your baby but you aren't quite ready, that's okay. Just say not yet, or tell her to come a different day. I promise she'll still be your best friend. Some people take longer to recover and feel up to visitors than others.
5. Tell your visitors when they can come. If you're worried about having people come visit, just tell them when they can come and avoid them asking. Tell them you'd like to see them, but to give you a week to adjust first. Your baby is still going to be super sweet and cuddly a week after he's born.
6. Let your husband be a part of the decision. Honestly tell him how you feel, have an open decision about it, and if he's being stubborn, remind him that he's not the one who is going to be pushing our the baby. He'll deal.
7. Make plans BEFORE your baby is born. This is a big one. If you wait until you're in labor, your whole family might just show up. If that's what you want, then great. But decide before when you want people to come visit, especially if they're coming from out of town.
8. If your visitors are staying too long, just tell them you have to nurse your baby and thank them for coming. This is a sneaky way of kicking people out when you're ready for them to go.
Now that you've reached the bottom of the list, go back and read number one. And if you're reading this as a family member or friend of someone who is going to have a baby, remember that childbirth is super hard, physically, mentally, and emotionally. ASK when you can come and don't ever stay very long. Having a baby is emotional enough, and you don't want to add any stress to the mix!