If you're a first-time mom wondering what to expect during labor and delivery at the hospital, this post is for you! This mama of three reveals everything they won't tell you so you won't be surprised during childbirth!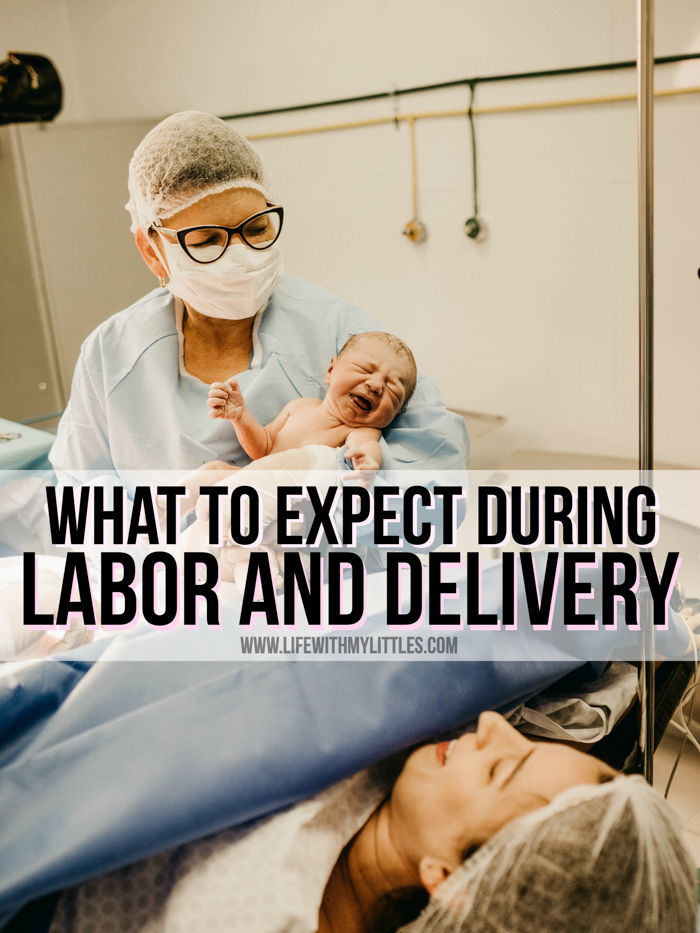 When I was pregnant with my first baby, I read a lot of books and articles about labor and delivery. I thought I was 100% ready for childbirth and that nothing was going to surprise me. Oh boy, was I wrong! I wish I had read more about what to expect during labor and delivery, because there were a lot of things that nobody had told me about that really caught me off guard!
I thought about things that I wasn't expecting, and I asked all of my mama friends what things surprised them that they wished they had known about, and I have come up with this big list of what to expect during labor and delivery. This is a great post to read if you're a first-time mom delivering at the hospital and you have no idea what to expect. This is basically what I would (and did!) tell my sister when she had her first baby!
What to Expect During Labor and Delivery
The mucus plug
Before you go into labor, you lose your mucus plug. It's basically like a giant booger in your underpants, and it's gross. It's a blob of mucus that has been in your cervix to block bacteria from getting in. It's not a great sign that labor is starting because it can "grow back," and you may lose it two or three times. But it is a sign that you're getting close!

The bloody show
The mucus plug is NOT to be confused with the bloody show. THEY ARE DIFFERENT! The bloody show is a better sign that labor is coming, because it means that your cervix is "ripening," getting ready for childbirth. It shouldn't be a ton of blood, and you might miss it if you go to the bathroom at night, and it usually happens after you lose your mucus plug.
Diarrhea
It's gross, but as your body gets ready for labor, you may get diarrhea, or at least runny poops. As your uterus starts contracting (even if you can't feel it yet), it irritates your bowel, which makes you poop a lot. So get ready.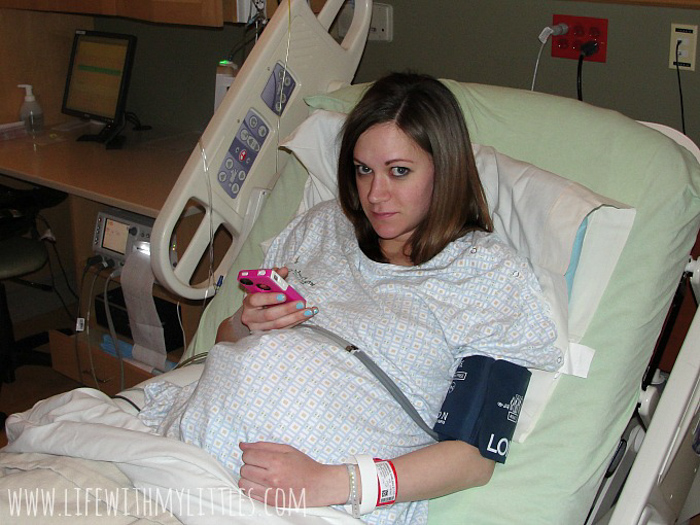 Water breaking
Your water doesn't always break on its own. I know in movies and on TV they always show pregnant women out in public and all of a sudden their water breaks and completely gushes all over and they're like "time to go to the hospital!" all happy and cheery. Nope. That's a pretty rare occurrence.
And when it does break, it is WEIRD. It feels like you're just peeing a ton and it's all warm and weird, and with each contraction a little more comes out.
Also, if there's "meconium" in your fluid, that means that your baby has pooped inside and the NICU team will probably have to be there at the delivery to make sure your baby is okay after they're born.
Checking in
Depending on the hospital you go to, you might have to go to a triage before getting admitted. The hospital I went to with my third baby, I had to go into a triage and get checked there before I was admitted. They were slow and took their sweet time, and I had to be 5cm dilated before they admitted me. The hospital I went to with my first two babies, I was immediately put into a private room where I was monitored.
Getting checked
Several times throughout labor you'll have to get checked. It's the same thing as at your OB appointments toward the end of pregnancy where they have you lay down with your knees bent and laying out to the side and they check to see how far dilated and effaced you are. It's uncomfortable. And it's even worse when you're in labor. Just be ready for it.
Monitoring
The way they monitor your baby and your contractions during labor is with two big circle things strapped to your belly. They move around a lot and in my experience, have to be adjusted pretty often. They make it hard to get comfortable, and you obviously can't get out of bed when they are on.
You can ask to be monitored intermittently, which is what I did with my third labor so I could walk around and help things progress. I just came back to the room every 30 or 45 minutes and they put the monitors on and made sure everything was still good. I much preferred this, but everyone is different!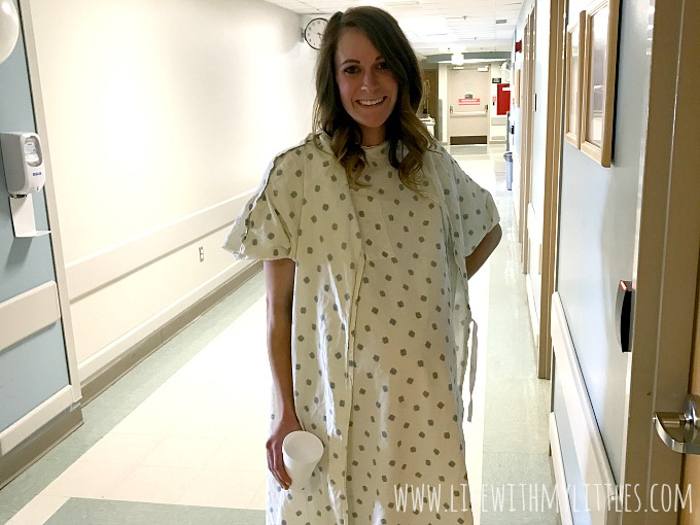 Getting induced
I was induced with my first and second babies, and both experiences were good for me. However, getting induced can prolong labor, and it can make your contractions even more painful. I know it's hard to wait until you go into labor naturally, but having been induced and having gone into labor on my own, I recommend trying to wait until your body goes into labor on its own (unless you have a medical reason for getting induced!).
Labor takes a long time
I guess in some situations it can go pretty fast, but in most cases (and especially for first-time moms), it takes a long time. There's a lot of waiting during labor, and it can be boring. Make sure you have something to do, like a book, a game on your phone, or a movie on your laptop. It can help pass the time and it helps when you're trying to relax so your body will do its part.
Throwing up
You might throw up during labor. Sometimes it's because of the pain, and sometimes it's because of pain medication. But just be warned that it can happen.
The epidural
It is dang hard to sit still for that epidural. You can't get it until you are dilated past a certain point because it can slow labor down, and usually when you are that far along it's already pretty painful. And then the anesthesiologist comes in and is like "sit on the edge of the bed and curl your back and don't move" and you're like "are you kidding me?" You have to sit there for a while and you'll probably have a few contractions during the process, and it's hard to sit still. It's a little scary, but once you have it in and the medicine is going, it's magic.
You should also know that if you do get an epidural, you have to get a catheter (basically a tube that continuously drains your bladder) and that feels really uncomfortable when it goes in.
Once you do get the epidural, you will probably have to switch sides and move positions a few times in order for it to balance out and spread evenly on both sides of your body. You'll need help to do this because your epidural will pretty much make it impossible to move from the waist down.
You might also experience shaking and chills when you get an epidural. My doctor husband told me that this is because the epidural medicine is cold, so when it goes in your body it feels cold and makes you feel cold.
One of my mama friends also told me that you can ask for a partial epidural instead of the full dosage, which if you want to be able to feel a little bit, might be a good option for you.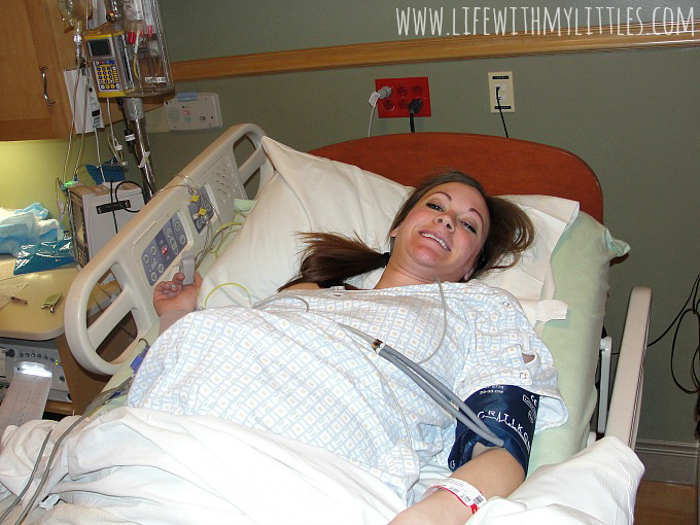 You can't eat during labor
Both of the hospitals that my babies were born at didn't allow women to eat during labor. The only thing they allowed was clear liquids (Sprite, water) and ice chips. I have heard that some hospitals don't even allow that. And since labor takes a long time, you should probably grab a bite to eat before heading to the hospital, and prepare to be starving after your baby is born.
Your nurse
She will be in and out of your room while you're there. You'll probably get a little button you can push to request her to come in. Nurses also change every 12 hours (in my experience), so you might not have the same nurse at delivery as you do when you get checked in.
You might poop
I know this sounds absolutely horrible and so incredibly embarrassing, but it's actually quite common. I wasn't able to find a statistic on it, but it happens all the time. Your doctor will have seen it, your nurses will have seen it, and it's really not a big deal.
I made my husband promise me that he would never tell me if I pooped during labor, and to this day I have no idea. But because your contractions stimulate your bowels, and you use the same muscles to poop as you do to push your baby out, it might happen.
There will be lots of people in the room
One thing that completely caught me off guard with my first baby's delivery was how many people were in the room when it was go time.
Besides the nurse (probably more than one) and the doctor, there were also medical students, nursing students, and the NICU team. Plus my husband was there. If you have any other family that you want there, they'll be there, too. It can get crowded real quick. And yes, you are allowed to request no students be in the room if you really care (but speaking as the wife of a doctor, that's how they learn!).
By the end of labor, you have zero modesty
With everything that goes on (lifting up your gown to fix the monitors, lifting up your gown to get checked, and pushing your baby out) during labor and childbirth, you'll have zero modesty by the end of it. You probably won't care about nursing your baby with the nurses and doctors in the room, and you certainly will get used to having people inspect your lady parts. I'm a pretty modest person and I don't even like nursing in public, but during childbirth, that's all thrown out the window.
Things don't always go according to plan
I had a formal, written birth plan with my first baby, and with my second and third babies, I just had an idea in my head of what I wanted my birth to be like. While I do think it's important to prepare as much as you can and know what kind of childbirth experience you would like, it's also important to remember that things don't always go according to plan. Your birth plan may have to be thrown out, so don't get 100% attached to it.
The #1 most important thing during childbirth is a healthy baby and a healthy mom. That might mean that you have to get an emergency C-section or that even though you wanted to go natural, you end up getting induced and getting an epidural. That's totally okay. There's no wrong way to have a baby (whether that's in the hospital with an epidural or at home in the water with a midwife). Mentally prepare yourself for things not going according to plan.
Along those lines, one of my mama friends recommended learning about natural labor techniques to manage the pain even if you're planning on getting an epidural, because sometimes you don't have time to get one and you have to go without!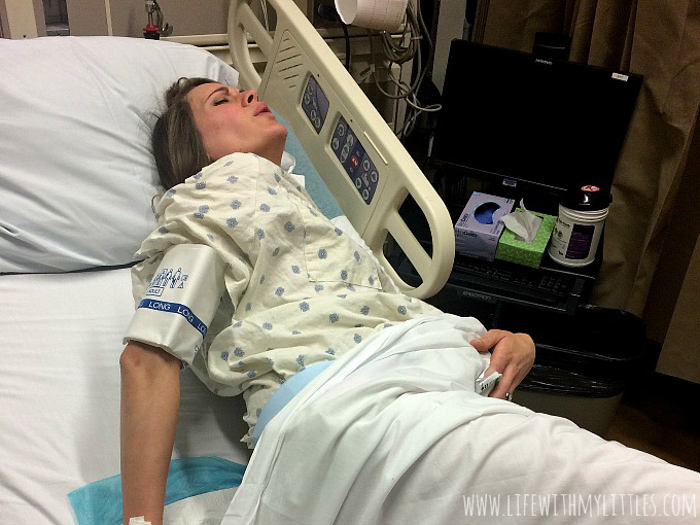 Stand up for yourself
I love listening to pregnancy and birth podcasts and one thing that I have heard several times is that moms wish they had stood up for themselves during labor. You might have an amazing doctor and amazing nurses who take great care of you and listen to your requests, but you also might end up with the doctor on call who you have never met and who just wants to go home.
There are good and bad doctors and nurses, just like in every profession. If you feel like you aren't being treated well, stand up for yourself. If your nurse is mega grumpy and rude to you, ask for a different one. Stand up for yourself. You want your baby's birth to be a good experience!
Pushing
Don't expect to push through two or three contractions and suddenly have your baby. Most women have to push for a long time before their babies are born. Don't push until your body is ready (you'll feel like you need to poop because of the pressure of your baby's head).
The best advice I can give you is to push like you're trying to poop. Yes, you might poop, but like I said, it's not a big deal and that's common. I have pushed out three babies and every time I've pushed using my lower ab muscles like I'm pooping and it has worked great for me.
The ring of fire
Ever hear someone talk about the ring of fire? The ring of fire is when your muscles and skin around your lady parts are stretching as far as they can as your baby's head comes out. It's also called crowning. I haven't felt it since I've had epidurals all three times, but I've heard it's incredibly painful and that even with an epidural, you can still feel it sometimes.
Take notes
If you're planning on writing down your baby's birth story, take notes. Write down when you start feeling contractions, your emotions, your nurses' names, when you get checked and how far you are, and anything else you can think of. Labor can be such a blur and at least for me, I can't remember the little details if I don't take notes.
Delivering the placenta
It might seem super obvious to some people but I completely forgot about delivering the placenta when my first baby was born. After your baby is born, you have to push again and deliver the placenta. It might be easy, it might be hard.
After my first baby it was easy, but after my second baby, the placenta broke inside of my uterus and the doctor had to scrape it out and push on my stomach to help free it up. That was very painful, even with the epidural I'd had. Hopefully it's easy for you, but just know that you still have a little work to do after your baby comes out.
Stitches
If you tear at all (I have with all three babies), you'll probably have to get a few stitches. The doctor will do it right after your baby and placenta are delivered, and the most I've ever felt is a little tugging while they did it. Depending on if you get an epidural or not, you might feel more or less.
Meeting your baby
Let your doctor and nurse know if you want to immediately hold your baby and delay weighing and cleaning. If your baby is healthy and there aren't any concerns, they should let you do skin-to-skin immediately. I wasn't able to do this with my first baby because there was meconium in my amniotic fluid and they had to make sure he hadn't ingested it, but I did with my second and third babies and it was magic.
Let them know what you want to do, and don't be too upset if you can't immediately hold your baby. Remember, a healthy baby (and healthy mama!) is the most important thing.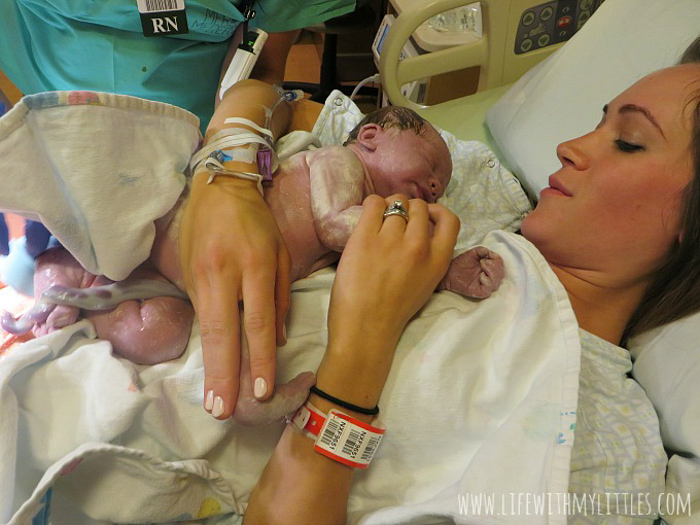 Going to the bathroom the first time
When you're all done and ready to change and get a little cleaned up, your sweet, sweet nurse will help you into the bathroom and she will show you how to take care of yourself postpartum. She'll help you get some of those nice mesh cotton undies on and help you get the big maxi pads in there. She'll show you how to gently rinse off after you go to the bathroom and how to use dermoplast spray to help ease the pain. Don't be shy and let her help you. You'll feel super awkward, but you need their help, and after you'll feel so grateful!
Peeing after the catheter
If you got an epidural and had to have a catheter, be warned that peeing after it comes out is hard at first.
Postpartum pooping
It's also hard to poop postpartum. Make sure you take those laxatives they give you, drink lots of water, and just relax. Try not to push very much.
Postpartum bleeding
You're basically going to have a heavy period for a week or two, and then lighter bleeding for 2-4 more weeks. Your doctor will tell you 4-6 weeks, but my last one was closer to 7 weeks before I stopped bleeding. DO NOT use a tampon, and just change those maxi pads often.
Squishy stomach
One of the weirdest things after my first was born was how squishy and jello-y my belly was after he was born. It was super weird.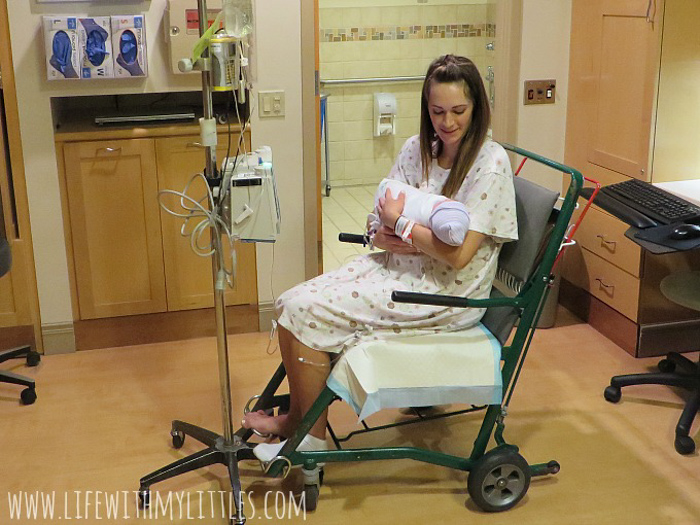 You may not want to shower or get dressed in the hospital
I brought my own clothes and shower stuff to the hospital with all three of my children's births, but I have not used them once. And that's totally okay if that's you.
You may just want to stay in hospital gowns the whole time you're there and wait to shower until you get home. You also might want to wear your own clothes. Either way, it's okay. Don't feel a ton of pressure to look your best. You just had a baby!
Sore boobs
Whether or not you choose to breastfeed, your breasts are going to hurt for a few days as your supply either adjust or dries up. One of my mama friends told me that having cabbage in your fridge to put on your boobs can really help with engorgement!
Having a baby is absolutely crazy. Our bodies are amazing and it's wild that they can grow a human baby and then push it out and we can get up and walk around so soon after. Hopefully this post was helpful and now you know a little more what to expect during labor and delivery at the hospital! Good luck, mamas!
This post was originally published October 11, 2017.