Did you know you don't have to wear the gross hospital gown when you deliver your baby? Here are 8 places to buy cute labor and delivery gowns so you can look and feel your best during childbirth!
This post contains affiliate links.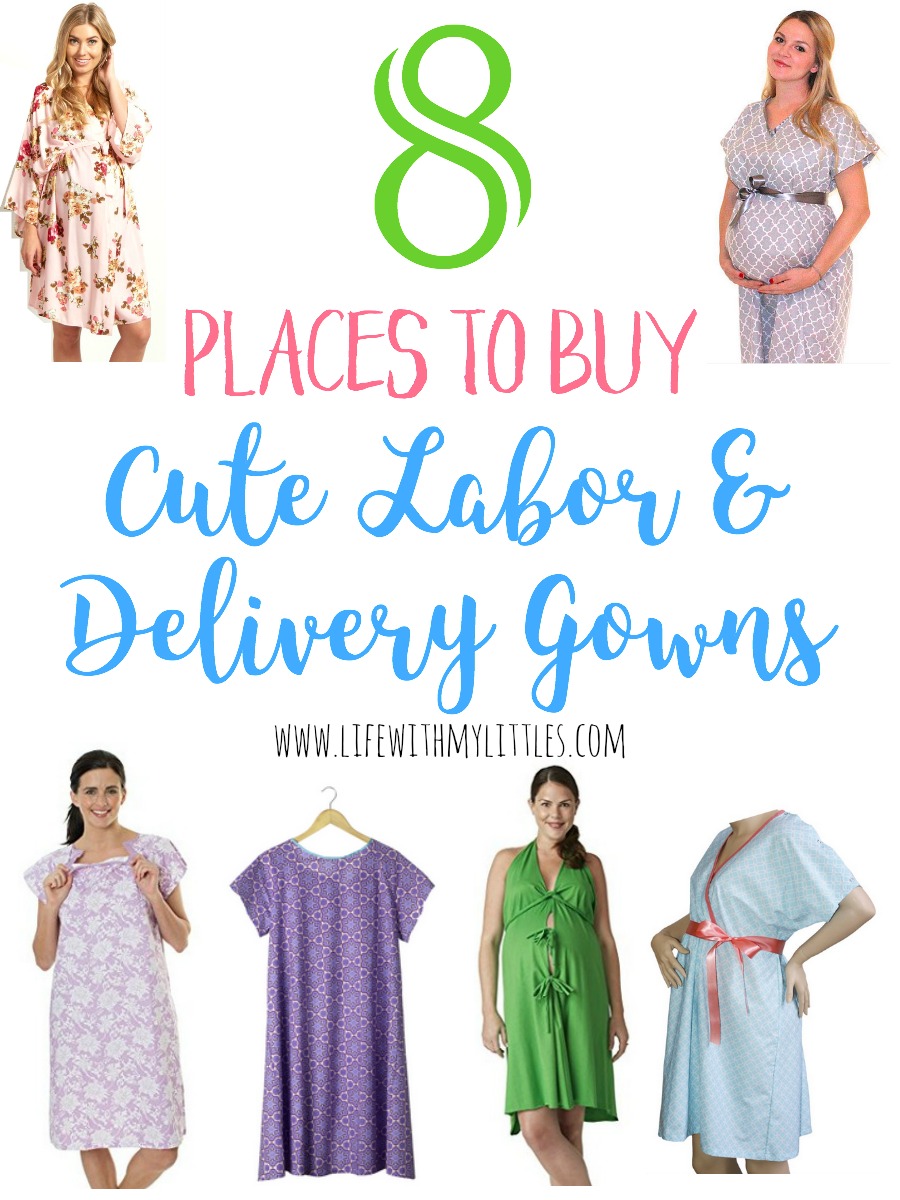 Did you know that you don't have to wear the gross, worn 1,000 times hospital gowns when you go to the hospital to have your baby? That there are lots of places to buy cute labor and delivery gowns that you can wear during your delivery?
Yeah, well I didn't have any idea up until a few months ago. I just always assumed that you had to wear the ugly, starchy, open-back gowns that the hospital provided. And while some hospitals do prefer that you wear their hospital gown for the actual delivery part (you'll have to check at the hospital you're delivering at), you can bring your own gown to wear once you have your baby and are in your postpartum recovery room! Hooray!
If you're choosing to take newborn pictures at the hospital, having a cute labor and delivery gown to wear is also a great idea. I love the pictures we took at the hospital with Little A, but I wish I had on something a little nicer than the gown they gave me to wear!
I have found eight great places to buy cute labor and delivery gowns from, and today I want to share them all with you! The styles range from traditional hospital gowns to dresses to flowy robes, so hopefully there's something here for everyone.
1. PinkBlush Maternity. It's not secret that I love PinkBlush Maternity, and their collection of nursing/delivery robes are absolutely gorgeous! They have patterns, solids, ones with crocheted edges, long ones, and short ones. I kind of want one just to wear around the house once little man is here!
2. Milkmaid Goods. I discovered Milkmaid goods a few months ago, and I'm already loving my swaddle/hat set for baby boy. But they just released their crossover robes that are perfect for labor and delivery. They come with 3/4 length sleeves, pockets, and a special stay covered buttonhole so you don't ever have to worry about your robe slipping down and uncovering you!
3. Gownies. These look more like traditional hospital gowns, but so much cuter! Gownies
come in beautiful patterns and have snaps at the shoulders so you can easily breastfeed after your baby is born. You'll definitely stand out wearing one of these at the hospital, and they have amazing reviews on Amazon
!
4. Pretty Pushers. These aren't my favorite, but I'm including them because I think they are very unique and some people might love them. They are very much gowns, and if you're super girly and feminine, you will probably love them. And Pretty Pushers
gowns open in the front so I'm sure they are perfect for pushing and delivery!
5. Annie and Isabel. These are more traditional, too, but they come in really nice patterns and have shoulder snaps that I really like. They are also longer (coming to mid-calf on most people) and have a pocket in the side. The Annie and Isabel gowns wrap around and tie on the side so your back is fully covered, too. Always a plus!
6. Dear Johnnie. These look very traditional, too, but again they have pretty patterns and you can even buy matching robes. The Dear Johnnie gowns tie in the back and have snaps at the shoulders that are perfect for breastfeeding. You can also get them monogrammed if that's your thing.
7. Push! The Push! delivery gowns are nice if you want one that ties at the side, has a crossover front, and has snaps on the shoulders. They are also an empire-waist style, and a few of the patterns have matching baby sleep gowns, too!
8. Stork Delivery Co.  Stork gowns are like traditional gowns, too, but cuter! They snap in the back and have snaps on the shoulders for breastfeeding, but they also have a ribbon at the waist (and loops to hold it in place!). A few of the patterns have matching baby accessories like hats, onesies, and blankets. The company also makes scrubs for daddy if they want to wear something fun for the delivery, too!
Hopefully one (if not several!) of these caught your eye and you have now decided you want to get a little fancier and wear one of these cute labor and delivery gowns for your hospital stay! I'm sure you'll get tons of compliments from nurses and other mamas! Good luck with your delivery!