Not sure how to prepare for childbirth? Here are ten things you can to do prepare mentally and physically so that you'll feel less anxious, more empowered and informed, and be able to make the best decisions for you and your baby!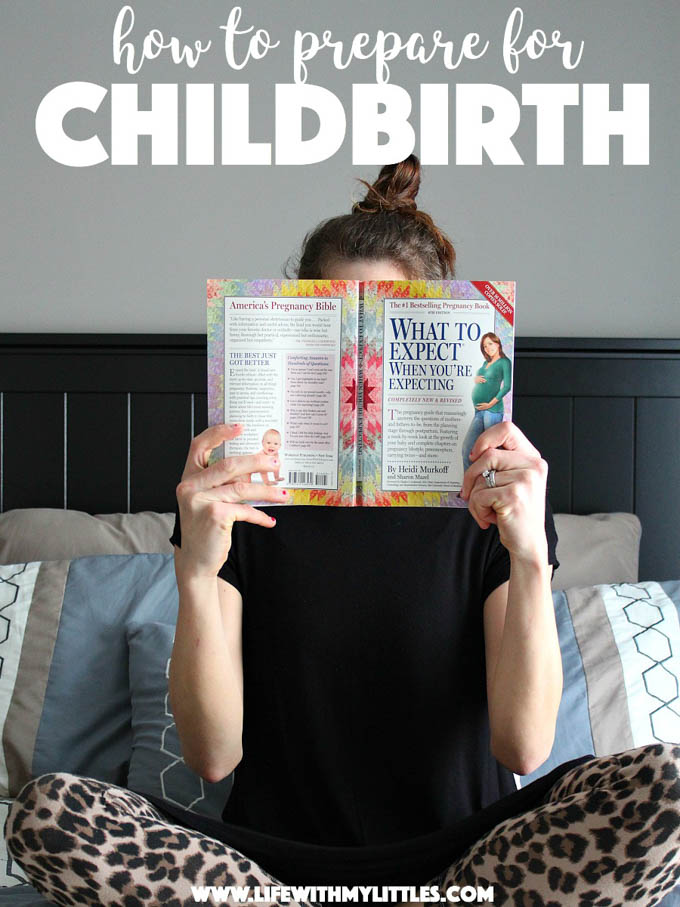 I think it's safe to say that the majority of pregnant women have at least some concerns about childbirth. I mean pushing a baby out of your lady parts is a pretty daunting task when you think about it. It's not something you can practice, and even if you've had a baby before, chances are things aren't going to go the same way. Childbirth never happens the exact same way twice.
So, if you're wondering how to prepare for childbirth, the good news is that there are lots of easy things you can do to get ready. You can prepare physically, mentally, and emotionally, and when you do, you'll feel a lot better when the big day arrives! Here are ten ideas ways to prepare for childbirth:
1. Do your research. Being informed about childbirth is such a big factor in the outcome of your baby's birth. It doesn't matter if you're planning on having a home birth or a birth at the hospital, read up about all kinds of birth. Plans often change, and you want to know your options if they do (this post on childbirth terms can be helpful!).
2. Make a birth plan. Whether it's a formal, written birth plan or just one you have in your head, it's important to go into birth with a plan, even though you might not be able to follow everything you want. Talk to your husband and make sure you are on the same page. Even if you don't write your birth plan down and bring it with you, it's a good idea to at least talk about what you would like to do in the event of a C-section, or if you want a mirror or soothing music during delivery. You can check out this post for some ideas of things to include if you don't know where to start. You can never be too prepared.
3. Read or listen to birth stories. I'm not even pregnant right now and I still love doing this one. Check out my Honest Birth series to read about different births, or listen to a podcast like The Birth Hour and hear women tell their childbirth stories. I love listening to The Birth Hour when I run, and one thing I hear women say a lot is that they wish they hadn't skipped the birth stories that were different than what they were planning. Again, learn about all kinds of birth, because your plans might change, and it helps a lot to know what's normal and what isn't.
4. Research all kinds of birth, even ones you aren't planning on. Yes, I've already said this, but I'm making it its own tip because it's so important. You never know what is going to happen during childbirth. Even though you planned on having your baby at a birth center, you may end up needing to go to the hospital because your baby is breech. Even though you plan on going into labor on your own, you may hit 41 or 42 weeks and have to be induced. Researching about all kinds of birth is important so that you are prepared, no matter what.
5. Practice pelvic floor exercises. Having a strong pelvic floor is important for not only childbirth, but also postpartum. When your healthcare provider tells you to do some kegels, they mean it, ladies. Look up videos on YouTube or just Google some. It really will make a difference when it comes time to push!
6. Pack your bags. Pack your hospital bag, pack your baby's hospital bag, and pack a bag for your husband (unless of course you are having a home birth). One thing that made me feel like I was ready to go whenever my body was was to have my bags packed and waiting for me by the door. That way I knew that when it was time to go, we could just grab our stuff and head out the door.
7. Learn about pain management. Yes, even if you are planning on having an epidural, learn about different types of natural pain management. Breathing techniques, massage, meditation, moving into different positions, and water therapy are all good things to study up on before you go into labor. My best friend had an epidural with her second baby but it didn't have time to kick in before it was time to have her baby, and she's told me that she wishes she had learned about other ways to manage pain besides medicine!
8. Buy postpartum supplies. Your body takes a while to recover physically after having a baby, and there are several helpful postpartum essentials that you should grab before having your baby. Things like extra maxi pads, cheap, cotton underwear, stool softener, and witch hazel pads are basically magic postpartum! You can check out a helpful list of things to buy here.
9. Take a hospital tour. One thing that I have done with each new hospital I've delivered at is take a hospital tour. It makes me feel so much more comfortable to know exactly where to go, what the rooms are going to look like, and what kinds of things I'll be provided when I'm there. If you aren't having your baby at a hospital, this might not be for you, but if you are, definitely do this. Plus you can time how long it takes you to get there so you'll know when you go into labor. And while you're there, make sure you ask any questions you have about delivery!
10. Practice birth ball exercises. I did this before my third baby was born, and it really helped me loosen my pelvic area so I wasn't so sore or tight. You can use a birth ball (basically just an exercise ball) to do different pregnancy exercises throughout pregnancy, and to help baby settle into a good position for delivery. There are a lot of benefits to using a birth ball, and I definitely would recommend using one to prepare for childbirth!
Knowing how to prepare for childbirth and getting yourself ready is going to make such a difference when it comes time to have your baby. You'll feel less anxious, more empowered and informed, and be able to make the best decisions for you and your baby. Good luck, mamas!