What I learned from having three epidurals. Getting an epidural is a very personal decision. Whether your'e trying to decide if you want one or you already know you do, these tips will help you during childbirth!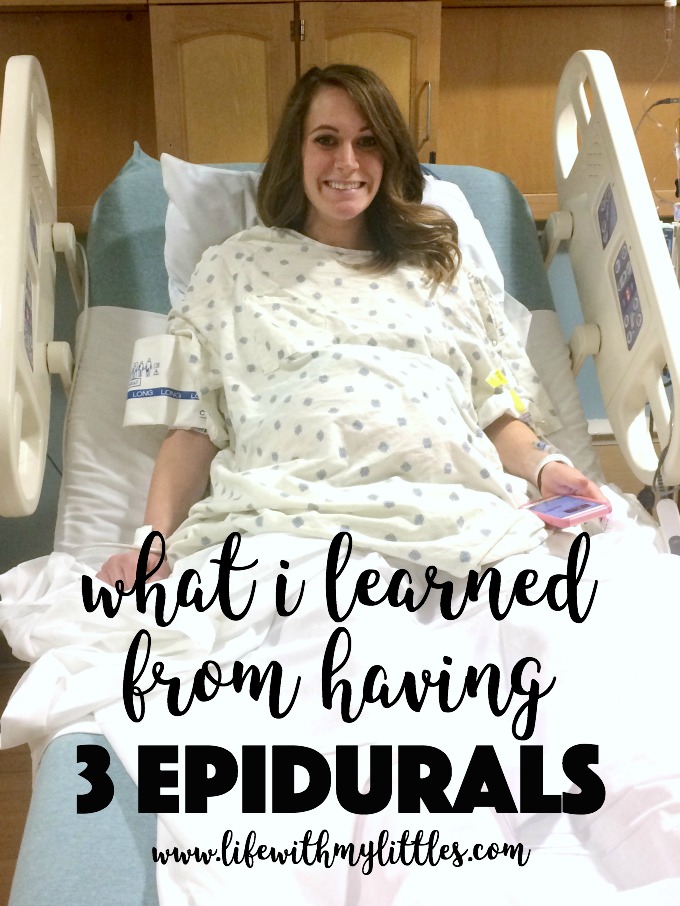 Even before I got pregnant, I knew that I was going to have an epidural. I'm not big on pain, and I knew that if there was a way I didn't have to feel a baby the size of a watermelon coming out of my body, I was going to jump on that. Now I've had three babies, and each time, I've had an epidural. I thought it might be helpful to share a few tips and insights for anyone who is thinking about getting one. Here's what I learned from having three epidurals:
1. Epidurals are not for everyone. If you're not someone who wants an epidural, that's absolutely okay! If you want to have a natural birth, good for you! Epidurals are not the answer for everyone, and that's okay.
2. Epidurals are not bad. Guys, they are fantastic! They aren't evil, they help so much, and they really are a fabulous medical invention.
3. Getting an epidural is a personal decision. Don't let other people influence your decision, one way or the other. And that being said, also don't judge people who make a different decision than you. You might choose not to get one, and you shouldn't hate on your friend who decides to get one. The only person who should be making the decision is the woman having the baby.
4. Getting an epidural doesn't mean you're weak. Just because you don't want to feel pain, or even if you try to go natural and end up getting an epidural before your baby is born, you are not a weak person! You're strong, you're amazing, and either way, you're pushing a baby out of your lady parts so props to you.
5. Epidurals helps you get rest during labor. My labors haven't been particularly long, but with my first, I was able to take a nap for a little over an hour before it was time to push. And for people who have long labors and who haven't slept in over 24 hours, an epidural is a great way to help you get some relief and rest before you have to tackle the feat of pushing your baby out.
6. Before you get an epidural, you have to sign lots of paperwork. It seems a little scary, but it's really not. There are lots of papers to sign no matter what when you go into a hospital, and don't let the epidural papers scare you and more than you let TV commercials for prescription drugs scare you ("May cause blindness, loss of feeling in limbs, or DEATH!"). Just be ready that it's another medical procedure that you are having, and you have to sign some more papers to get it.
7. When you get an epidural, you have to sit completely still on the side of the bed, and it's hard. I don't know what I was expecting, but I didn't realize that in order to get an epidural (which is basically put in through a long needle in your lower back), you have to sit on the edge of the bed, hunched over, and completely still. ALL WHILE STILL HAVING CONTRACTIONS. It's hard, but you've got to try your best to do it.
8. You can't move around when you get an epidural. Obviously, you're going to go numb from the waist down, so you aren't going to be able to move around. If you need to even roll over, you're going to need help from your nurse.
9. You have to have a catheter put in when you get an epidural. Since you aren't going to be able to get up to go pee, you're going to get a catheter inserted. It is a little weird and will make your first pee postpartum kind of weird, but it helps you not pee yourself so that's good.
10. You may have to lay on one side or the other to even out the medicine. Sometimes the medicine goes in and it isn't even in your lower body. One leg may be completely numb, and the other might be in your full control. In this case, your nurse will help you change positions and lay on one side to help even out the medicine. You want no feeling down there, not half.
11. Don't wait until it's too late to get one. If you know you're going to get one, just get one. You don't want to wait too long and then not be able to get one. After a certain point, you can't get an epidural, and if you get to that point and you want one, you're in trouble. I've always let my nurse know as soon as possible that I want one, and only once have I delayed getting one (I still got it, of course). So make a decision and go for it. Don't wait.
12. When the medicine starts going in, it's super cold. This caught me off guard the first time. The medicine feels like ice going in, and it's super weird. I got really shivery and it wasn't fun, but I couldn't feel the pain of contractions anymore so it was worth it.
13. Epidurals don't always work. Epidurals can have less of an effect on some people. They also might not be administered long enough to be able to work effectively. I think it's pretty rare for it not to work, but know that it does happen. I recommend that every pregnant woman learn about some natural pain management techniques too, just in case.
14. You can ask for a lower dose of the epidural medication. If you don't want to be completely numb but just want to take some of the pain away, you can ask for a low dose epidural. I personally haven't done this, but I know it's an option you have!
Hopefully what I learned from having three epidurals is helpful to you. Whether you're trying to decide if you want an epidural or you've already decided you want one, these tips can help you prepare and make the decision that's right for you! And remember tips 1-3 especially. Getting an epidural is okay if it's what you want to do!