Whether it's your first baby or your third, leaving the house with a newborn is stressful! Here are some helpful ways you can prepare so you can get out of the house and enjoy yourself!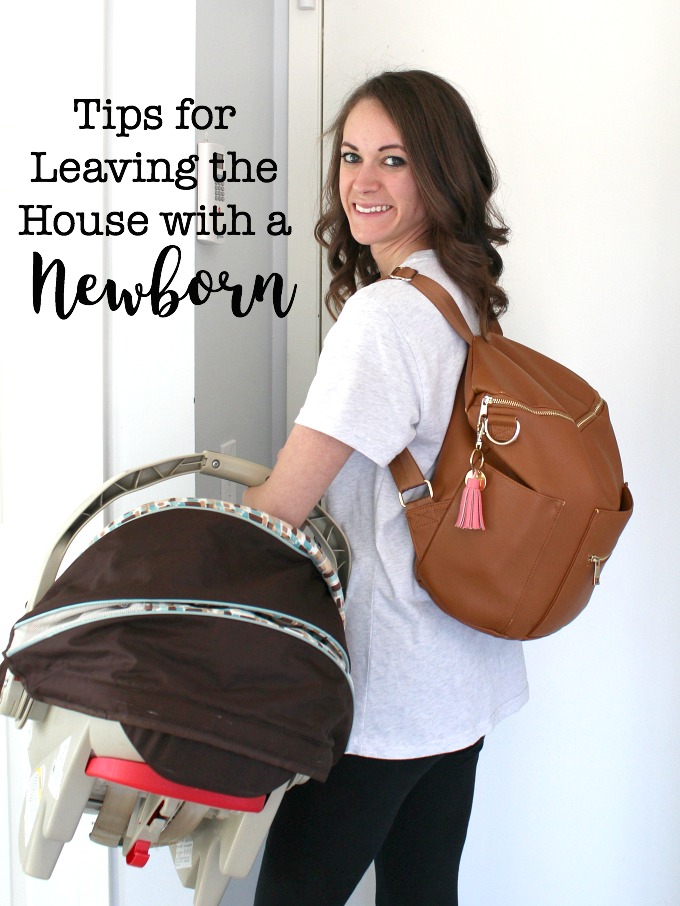 No matter how many kids you have, the newborn stage is always hard. You have a brand new tiny person to take care of who depends on you for absolutely everything, you're hormonal, your body is jiggly in all the wrong places, and you're probably completely exhausted from sleep deprivation and adjusting to your new life. Like I said, it's hard.
So when your husband asks if you want to head to dinner a week after your baby is born, it's understandable if you immediately start crying and sobbing, "no!" over and over again. Been there, girlfriend. Today I want to share some tips for leaving the house with a newborn so that you can handle the stress, feel prepared, and enjoy leaving the house and getting some fresh air with your new little babe!
1. Check your bag to make sure it's stocked EVERY TIME. I mean this. It's embarrassing how many times I've been out and realized that I don't have any diapers or I only have one wipe left. Poor Little R had to wear his big sister's size 4 diapers a few times as a newborn. I learned this one the hard way. So make sure you've got everything you need before you leave the house so you won't ever get stuck in a one-wipe-to-clean-up-a-massive-newborn-blowout kind of situation.
2. Bring an extra outfit, diapers, wipes, and plastic bag everywhere you go. I don't know if it's just my kids or maybe something I'm doing wrong or just bad timing, but each of my kids had an affinity for pooping out while we were in public. I can't even tell you how many times I had to change a poopout on the passenger seat of my van.
3. You'll probably have to feed your newborn when you're out, so be prepared. Either bring a bottle and formula or a nursing cover. Or if you don't care about being covered, just bring yourself. Just make sure you're ready to feed your baby because newborns eat a lot!
4. Bring sanitizer and sanitizing wipes. The only time I really stress about germs is when I have a newborn in the house. And going out of the house, where germs are everywhere, makes me nervous. So bring some sanitizer for yourself and some sanitizing wipes (in case you need to wipe something down). It will give you peace of mind and help you relax a little about your baby getting some awful disease.
5. Keep your trip short. This one kind of depends on you and your baby, but personally, with a newborn, I don't ever leave the house for more than a few hours. It's hard to be out with your baby that long, and I usually like to just go out while my baby sleeps in their car seat. Again, this is based on preference, but at least start with short trips and work your way up to longer ones.
6. Wear your baby or keep them in the car seat with a cover. People LOVE babies. It's fine, but when you have a really cute tiny newborn, people always want to reach out and touch them, which I am not fine with. So either wear your baby and keep them covered, or keep them in their car seat with a cover over it. That way, you won't tempt strangers with your cute, squishy baby.
7. Don't go somewhere super busy unless you think you can handle it. Let's get real here. The first place we went after Little R was born was Lowe's. He was a week old, and I was fine with it because it was close, not super busy, and it wasn't a huge outing. Three weeks after he was born, my mother-in-law came into town and she and my husband wanted to go downtown and check out the Riverwalk and see the Alamo and stuff. I thought I was going to be okay with it, but with Little R's colic and my sleep deprivation, I ended up having a breakdown in the car and realized that I absolutely could not handle the stress of going downtown with my newborn. Seriously, baby steps (with both time and type of trip) are key when you're going to go somewhere with a newborn. Start with small things and work up to the big things, otherwise, you might have a panic attack in the backseat of your minivan.
Hopefully those seven tips for leaving the house with a newborn help you out as you come home from the hospital and try to get into a routine with your perfect new baby! Having a newborn is incredible, and as long as you prepare, going places with them can be a nice way to get out of the house and get some fresh air! Good luck, mamas!