The best (and easiest) diy nursing cover you will ever sew. This really is the easiest tutorial for a full-coverage nursing cover. So much cheaper than buying a nursing poncho online, too! Five minutes and five dollars and you'll have your very own nursing cover!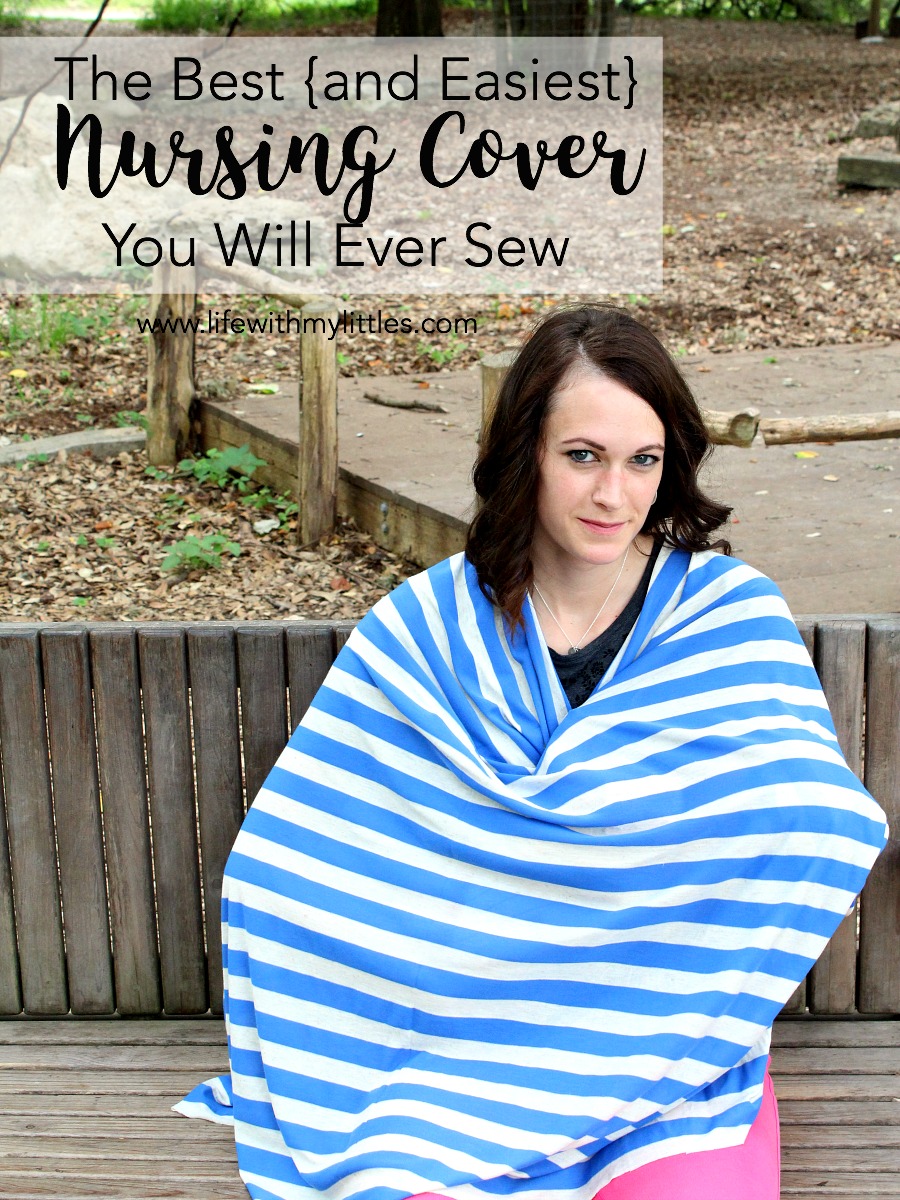 When my first was born, I made one of those nursing covers that has a strap you put over your head and it only covers the front of you. I hated it. I felt so exposed and never wanted to feed him in public. Then the nice full-coverage poncho nursing covers came out, but they were so dang expensive. When I was pregnant with my daughter and my best friend told me that you could easily make a full-coverage nursing cover for just a few dollars, I was sold. I made one before she was born and it really was the best (and easiest) nursing cover.
That nursing cover lasted me the whole time I nursed her, and I've been using it to nurse Little R in public, too. I feel so much more comfortable, there's no chance of exposure, and it fits easily in my diaper bag. Today I want to share the super easy tutorial with you guys! It takes less than 5 minutes and costs a lot less than the overpriced full-coverage nursing covers you can buy online!
All you need is 1 yard of stretchy knit fabric and all-purpose thread. Use a coupon and get it from Jo-Ann or Hobby Lobby and you'll only pay a few dollars!
Now I usually recommend pre-washing all fabric you are going to sew with, but you don't have to with this because you are sewing such a small amount of the fabric. I mean you can, but don't worry about it if you don't.
Now fold the fabric in half hamburger-style so you get more of a square shape.
Pin the edge.
Get out your sewing machine and sew 15″ from the open side in towards the fold, with a 1/2″ seam. You basically want to sew halfway so that you have a big poncho-like thing with a hole for your head on the inside. Watch the video if that's confusing.
Flip it right-side-out and you're all done! SO EASY! And look at that coverage! Nobody's getting a peek today! Not even of my back!
So there you have it. The best (and easiest) nursing cover you will ever sew. Sew easy (see what I did there?) and it is so much cheaper than buying an expensive $40 one online. Plus you can pick your own fabric! Hooray! Happy (covered) nursing, mamas!
And if you need some more easy tutorials, check out my easy burp rags and easy bibs!