Life with a newborn is hard! Here's how to survive that rough fourth trimester and take care of yourself postpartum!
This post contains affiliate links.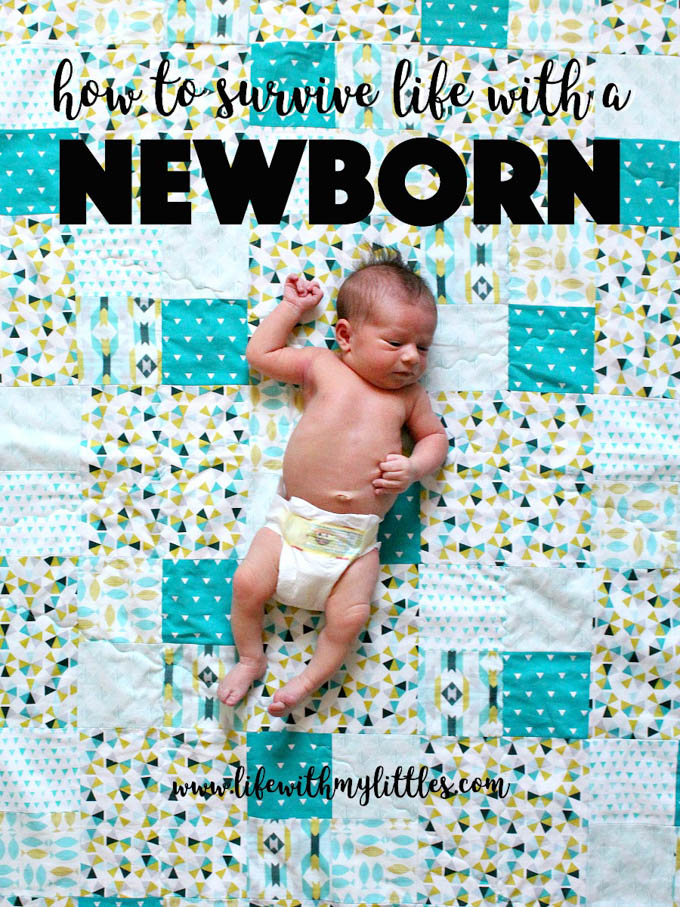 Having a newborn is hard. We're talking you-just-pushed-a-baby-out-of-your-lady-parts-and-now-you-can't-poop-or-get-any-sleep-and-you-have-a-tiny-helpless-human-to-take-care-of hard. It's amazing, but it's also a beast. And regardless of if you're on your first or your third kid, it's tough. Having a newborn can kick your butt, and knowing how to survive life with a newborn is something you're going to have to figure out pretty fast.
Lucky for you I've got some tips to help you out! It might take some time (and a lot of caffeine), but you'll get the hang of it!
1. Use dry shampoo or shower at night. Part of surviving life with a newborn is not falling apart, not matter how tired and sore you feel. I personally always feel better when I am clean and feel put together. So try using dry shampoo (this one
has amazing reviews) when you can't shower, or try showering at night right after your baby goes to sleep. You'll feel more presentable, and smell good!
2. Get yourself ready. This kind of goes with the first tip, but even if inside you feel like a zombie, taking care of your outside will at least make you seem like you're rocking life with a newborn. Try scaling back your makeup and doing just some quick mascara and eyeliner. I also have found that cutting my hair shorter after my babies are born makes doing my hair a lot faster and easier, and having a quick and easy hairstyle is a great way to encourage you to actually get ready!
3. Eat freezer meals. If you didn't make these before your baby was born, make a few now (or you could just as easily buy a few frozen lasagnas from the store). Freezer meals are a great way to have a home-cooked meal without taking the time to prep and wash a bunch of dishes. Which, once your baby is born, you don't have a lot of time to do! Here are some freezer meal tips and recipes to get you started.
4. Get that caffeine. Whether it's coffee, soda, or tea, get that caffeine! I'm a big fan of Diet Dr Pepper, and I swear some days that's the only reason I make it to bedtime. If you're really dragging and suffering from sleep-deprivation (which, let's face it, every new mama is), caffeine is one way to help you push through!
5. Give yourself some slack. Girl, you just had a baby. You don't need to be vacuuming the whole house, cleaning the bathrooms, making dinner, doing laundry, and feeding a baby every two hours all at the same time. It's okay to let a few things slide as you adjust to new mommy life. The fourth trimester is not the time to be a perfectionist. You're a boss, even if you haven't done laundry in two weeks.
6. Kegels. I've mentioned this before, but kegels really are important. That is, unless you want to accidentally pee your pants, and I wouldn't really consider that surviving the newborn stage. It really is important for your physical recovery to do those kegels and get your strength back down there. So get to squeezing!
7. Comfy tees, stretchy pants, and wireless nursing bras. Anything that you have to button or wear more than one layer to wear is out. As are tight waistbands, bras with wires in them, and anything that you just don't feel comfortable in. I love soft, stretchy tees, loose lounge pants, and comfy, cotton nursing bras. And yes, you can wear those things and still be cute! My friend Jessica once talked about how she was going to buy herself some comfy clothes that were also cute so she felt cute even when lounging around the house, and I honestly loved that. No more old tees and sweatpants for me! And it really does make a difference in how I feel about myself, which is especially important postpartum!
8. Write things down. Goodness, mommy brain is so real. It's like your brain becomes a colander and anything you're supposed to remember is water getting drained out. So write down feedings and diapers (if you need to), write down questions for the doctor, write down anything you need to do, and write down milestones and special moments. If it's something you probably don't want to forget, you better write it down.
9. Ask for help. A big tip on how to survive life with a newborn is to ask for help. You don't need to do this alone. Motherhood is hard, especially at first, and it's 100% okay to ask for help. If you need someone to bring you dinner, hold your baby while you take a nap, or even run to the store for some diapers, just ask! People would love to help you out, and there really is truth to the whole "it takes a village to raise a child" thing.
10. Learn The 5 S's. One of the best baby books I have read is The Happiest Baby on the Block
. In it, Dr. Karp gives The 5 S's. You can get all the details in the book, but basically, he says the secret to getting babies to stop crying is swaddling, stomach or side position, shushing, swinging, and sucking. Used together, it REALLY helped me, especially with our first baby! I definitely recommend trying them out when your baby cries!
11. Try to get some sleep. I know this might seem obvious, but it's really true. Everything is harder when you're sleep deprived, and it's okay to put some things off (see tip #5) in order to catch up on your sleep. I really struggled with this one with my third baby, and once I was finally able to sleep a little bit more, it made a big difference!
12. Try a baby carrier. There are lots of different baby carriers out there, which is lucky because every baby is different and every mama is different. You can try a wrap carrier (like this
), a chest carrier (this one
), or a ring sling carrier (like this
). Read reviews, talk to other mamas, and see if you can borrow someone's carrier and test it out. These things are amazing if you need your hands free but can't put your baby down!
13. Thick pads, cheap cotton underwear, and Dermoplast spray. Taking care of your lady parts postpartum can sound like a nightmare. Make sure you wear some thick maxi pads, cheap cotton underwear you can throw away if you ruin, and that miracle of all postpartum pain relievers, Dermoplast spray
. Your hospital will probably give you some of these, but you'll probably run out and want some more on hand.
Making it through the fourth trimester can be tough, but the good news is that it is guaranteed to only last three months! And if you think you may be struggling with postpartum depression, get checked out. It's very real, very common, and very treatable.
Good luck with those sweet newborns, mamas! You've got this!!