Not sure how to choose the right shoes for your baby? Here are ten tips to make sure you pick some that you and your baby will love!

This is a sponsored post written by me on behalf of Surprize by Stride Rite. All opinions are 100% mine.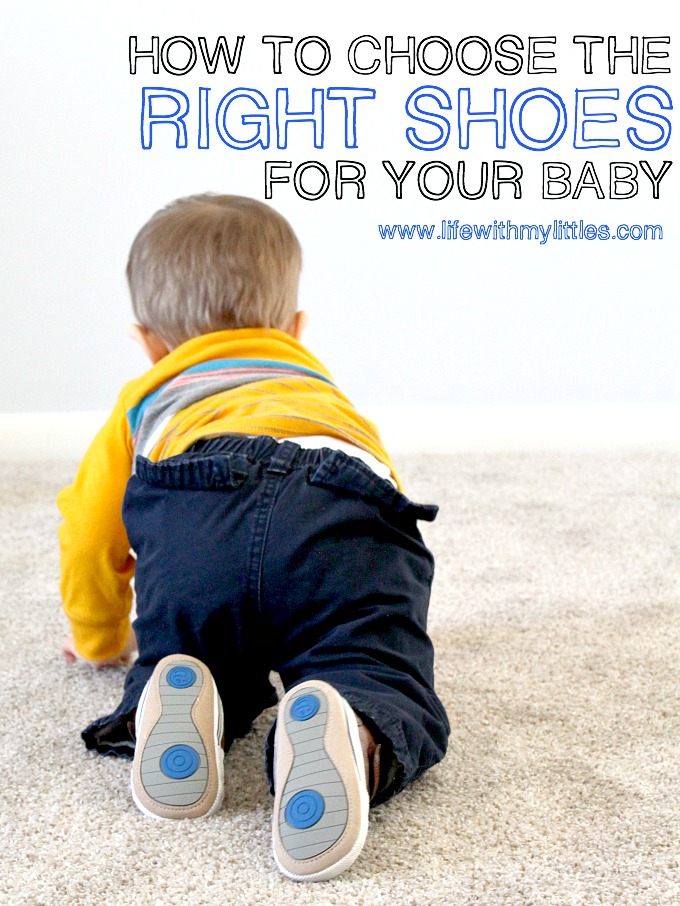 I think it's safe to say baby shoes are adorable. There's just something about tiny little shoes on tiny little feet that makes people go "awww!" when they see them. But not all baby shoes are created equal! Now that I'm on my third kid, I've realized that some baby shoes are definitely better than others. You don't want baby shoes that are hard to put on or stiff and heavy! Knowing how to choose the right shoes for your baby is important if you want them to look cute and feel comfortable!
We recently discovered Surprize by Stride Rite at Target, and we love them! They are the perfect line of baby shoes and you can tell that a lot of thought and actual product testing went into making them! Today I want to highlight these awesome new shoes and share some tips to help you choose the right shoes for your baby so you'll have some guidelines when you're picking your baby's first, second, or third pair of shoes!
1. Baby shoes need to be light weight. If you want your baby to be able to move in them (or if your baby is younger and you want them to enjoy having shoes on) then make sure their shoes are light weight! They aren't going to enjoy having big clunky shoes on!
2. Choose the right sole for your baby's activity. Obviously if your baby doesn't walk yet he's going to need different shoes than a baby who does walk. One thing I love about Surprize by Stride Rite is that there are three different stages of shoes, and each has a different sole for their activity. Stage 1 is for prewalkers (which is what Little R is currently) and it has a soft, but still durable sole. Stage 2 is for first walkers, and it's for cruising babies and wobbly walkers (which we're hoping Little R starts doing soon!). Stage 3 is for kids who are off and running, for those confident walkers and active preschoolers. Stages 2 and 3 have thicker, harder soles since your baby will be up and walking around! Make sure the shoe you choose has the right sole for your baby's activity!
3. Baby shoes need to be flexible. Even if your baby isn't going to be walking, you don't want their shoes to be stiff. Surprize by Stride Rite have flexible outsoles to fit the shape and movement of your baby's foot. Even babies who don't walk still move their toes around, so make sure you pick shoes that are flexible!
4. Choose shoes that are easy to put on. I can't tell you how many times I've gotten cute baby shoes only to get frustrated that it took five minutes to put them on. You're not going to want to put them on your baby if they're hard to get on (no matter how cute they are). Surprize by Stride Rite have simple closures for easy on and off, and they're also very easy to slide your baby's foot into. I was actually able to put Little R's shoes on one-handed, which is amazing! This is a HUGE tip when you are trying to choose the right shoes for your baby.
5. Don't choose baby shoes that will get stinky. My first son had super cute baby shoes once, but it was summer and after he wore them a few times, they started to stink. I tried washing them, but they started falling apart and were never the same. So choose baby shoes that won't get stinky! Surprize by Stride Rite have an anti-stink lining, so even if you forget to grab socks for your baby, you aren't going to ruin their cute shoes!
6. Choose shoes that will last a long time. If you're planning on passing shoes down through siblings, this is a huge tip. You want shoes that are going to be durable, and Surprize by Stride Rite fits the bill!
7. Choose shoes without slippery bottoms. There's a reason your shoes have rubber soles on the bottom, mamas! We would be slipping all over the place without the traction they provide! So make sure the shoes you choose for the baby have the same grip. Surprize by Stride Rite have traction pods to help reduce falls and tumbles, and as any mama of a newly-walking baby knows, that's a big deal!
8. Choose shoes that aren't too tight. Nobody likes wearing tight shoes, and that includes babies! Pick shoes that give your baby's foot room to breathe. I love the generous fit of Surprize by Stride Rite. They fit "most medium & wide widths," which is a plus when you have a baby with chunky little feet! One of my friends once told me that trying to put shoes on her baby was like trying to put a shoe on a tennis ball. That definitely isn't the case with these awesome baby shoes!
9. Choose shoes that are soft and comfy. You want what's best for your baby, so make sure the baby shoes you pick for them are soft and comfortable for them! Surprize by Stride Rite shoes have memory foam footbeds, so your baby won't even be able to tell they have them on!
10. Choose shoes that will go with everything. If you're going to spend money on baby shoes, make sure they go with the clothes your baby has! I love Little R's lighter brown Surprize by Stride Rite shoes because they go with jeans, khaki pants, grey pants, and even his little denim shorts (which I have yet to put on because winter). I also love his dark brown Surprize by Stride Rite shoes because they are the perfect shoe for spring and summer! There are a lot of adorable options in the Surpize by Stride Rite line, so pick the ones that will fit your baby's wardrobe!
I really genuinely love Surprize by Stride Rite shoes. Yes, this post is sponsored by them, but I really do like these shoes! I actually got Little R a pair of the stage 2 shoes too, so that we'll be ready when he starts walking! Not only are they affordable, but they are comfy, durable, and they fit amazingly. So next time you are buying baby shoes, head to Target (in the baby section) or Target.com and check them out!
Learning how to choose the right baby shoe is important whether you're picking your baby's first shoes or their fourth pair of shoes. Hopefully these tips will help you pick the right shoes for your baby, and help prevent you from wasting money on bad baby shoes!