Mama CiCi Nguyen-Wong of Momo and Bear shares the hospital C-section birth story of her fraternal twin boys on the Honest Birth birth story series! CiCi was induced at 38 weeks, and after two days of barely dilating, her boys were born via C-section.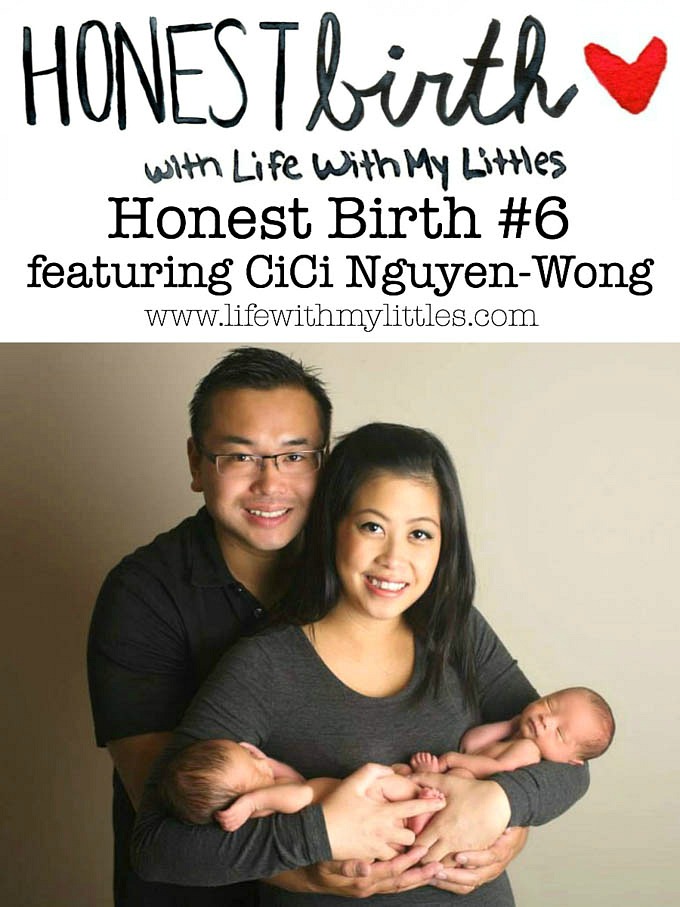 Hey mamas! Welcome to the sixth post in my Honest Birth series! I'm excited to share another real mama's birth story, because I think it's so important to share our childbirth experiences with each other. My goal with this series is to provide a place for women to share their birth stories without holding anything back, as well as compile stories for pregnant mamas to read in preparation for their own childbirth experiences. Every mama is different and every birth is different, and I believe that when we share our stories we help each other.
Today I am featuring my friend CiCi! We've followed each other on Instagram for I think almost two years, and in that time we've become good friends! She and her husband live in Canada with their twin three-year-old boys, Maximus and Logan. CiCi blogs at momoandbear.com and you can also follow her gorgeous Instagram feed here.
Ready to read our first twin birth story!? I'm so excited!
The Birth Story of Maximus and Logan
Hello! My name is CiCi Nguyen-Wong from momoandbear.com / @wongertwins on IG and I am mom to fraternal twin boys named Maximus and Logan. I am here to share my birth story!
Let's start with my pregnancy. The beginning was the worst. It's true. For the first trimester and half of the second, I was severely sick. I lost weight my first trimester and ate nothing for months. I didn't get an OBGYN appointment until I was well into a month and half of my pregnancy. I had no idea I was carrying twins. I learned that with twin pregnancies the HCG levels (pregnancy hormone) are much higher, so severe morning sickness is a huge struggle many moms of multiples face. A intimate relationship with my toilet was my introduction to pregnancy. Good times.
My sister in law was pregnant at the same time and I would watch her eat everything. I started to compare myself and began thinking very negatively about my own pregnancy and myself. Was I weak? Did I just suck at this whole pregnancy thing? While I was still unaware I was carrying two, I remember looking at my food like a savage, I would inhale a plate of pasta (I don't think I even chewed). Five minutes later, without fail, I was hugging my toilet with a full portion of fettuccine alfredo staring back at me. In terms of pregnancy, not being able to eat was the hardest part; that and suppressing a deeply rooted desire to clobber anyone enjoying their food. The severe sickness did finally subside late second trimester but I never regained a big appetite, eating only very small meals throughout my pregnancy.
As this was my first, I was blissfully ignorant to all the worry that should come with a multiple pregnancy. When you are carrying more than one, you will be fast tracked to high-risk country. You will be treated like patient zero and monitored closely like a zoo animal. And the never-ending ultrasounds! For single babies, you may have two to three ultrasounds to check progress. I had one ultrasound every several weeks and one every single week in the late stages of gestation. Also twin ultrasounds take over an hour. I quickly was on a first name basis with many of the lovely techs in our clinic.
The Birth
Let's start by saying I had no birth plan. Partly because I was very naïve and partly because I didn't really care about an actual plan. My "plan" was to get these babies out and in the safest manner possible. I also trusted my OBGYN immensely.
Most twin pregnancies are considered full term at 37 weeks; most women don't make it that far. I, however, was growing very stubborn babies who had no interest in vacating their warm home. I remember from 31 weeks, I would tell my husband every night "tonight's the night, I feel it! They're coming!" HA! My feelings and "intuition" were absolute garbage!! I carried my two mini melons all the way to 38 weeks. My doctors would've wanted the babies out at 37 but my primary OB was on vacation and asked if I could wait and so I did. Now at 38 weeks, I was the size of a whale. Sure enough, I was admitted to be induced the day my doctor flew home.
Being induced, I craved so much liquid. All I wanted was juice, jello, and popsicles. I drank so much water, but I didn't go pee. The nurses quickly realized there was something wrong with my bladder. There was a huge, oddly shaped bump right underneath where my pregnancy bump was. I literally thought that was where one of the babies was lying. However, it was not Max or Logan, it was what nurses and doctors fondly called a "bladder baby". My body already cramped with full term babies, imagine adding a huge, ready to burst bladder to that! With quick deliberation, the nurses decided to insert a catheter. I vehemently opposed to having a tube stuck up my lady bits (naïve remember?) so I begged to try and go pee. They entertained my request, removed all my monitors and let me try to pee…it did not work. I moped out of the washroom and promptly threw up on Steve's new shoes. Surprisingly, he did not divorce me. Absolutely defeated now, I laid down, a pee tube went in and my bladder baby was deflated. And that's as honest as it gets!
As for the inducing labor, I had a physical medication inserted. When that did not work, I was put on an oxytocin drip. After almost two days, I dilated barely 2 cm. Max, Loggie, and my uterus were in cohoots; they wanted nothing to do with giving birth naturally. My OB let me rest for an additional night and she came back to discuss my options. She said I could continue to stay on the drip and hope I will dilate. If there was a complication that arose, if the fetal heart rate dropped, I would get an emergency C-section with a doctor on call at the hospital. I opted to have my own doctor to do the C-section. We were prepped and wheeled into the OR an hour after making our decision. Here they come!
Any kind of shyness or modesty I had previous to being wheeled in, quickly dissipated. Delivering twins is no joke friends. Where I live, all multiple and high-risk births are done in an operating room, regardless of delivery method. At a twin birth, it's like a party room. There were 13-15 bodies in the OR that day. My obstetrician and a secondary surgeon, plus both had their med students and their scrub nurses, and then there were two peds teams led by two separate doctors for each baby, and each of them had their own student, and their nurses, and an anesthesiologist. All these people saw me
get sliced open that day. The sheer number of people alone made the experience very surreal. However, I felt very calm, protected, and cared for. My team was an amazing one. They were so kind, giving lots of reassurance, hugs, and arm rubs. It was a truly dream OR team. Steve was also very supportive, excited, and really happy to be there. If he was ever worried, he hid it well and I was grateful for that.
After they started cutting, I felt a strange, numb tug, and then I heard a wail. It was the most incredible sound. I can't explain the feeling when you hear your baby's first cry. It's truly surreal, mind-blowing, amazing. Two minutes later, another tug, and a push. Another push. And then, lots of pressure. Something was off, Steve watched the whole thing over the curtain but never let on that Loggie was stuck. I had no idea until weeks later when Steve told me Logan was stuck underneath my ribcage. He watched our OB, as she jerked forcefully to get Loggie unstuck. Obviously, as someone without any medical training, watching someone exert that much force on your newborn baby is jarring. Steve said he just froze watching her. Loggie finally broke free and cried. And a second happy and healthy baby was born. Both boys
were a mere one ounce apart from each other, Max weighed in at 5lb 4oz and Logan at 5lb 3oz.
Right after, when the boys were taken away to be cleaned and weighed, was when things went a bit awry. I started to become nauseated, violently shaking, and going in and out of consciousness. Steve said there was a bucket by his foot that housed my blood, he's never seen that much blood before and couldn't comprehend how someone so small could "leak" so much. As we said, we didn't know any better so Steve never asked. Our doctor finally told him for a woman of my size, I lost a lot of blood that day which was causing me to black out. And black out I did!
I have no recollection of holding my babies, getting wheeled into recovery, or into my room afterwards. I didn't wake up until early in the morning. I missed out on initial skin to skin and missed out on holding my babies right after they were born. Because I had no expectations or plans and my "go with the flow" mentality, I wasn't too disappointed things went a bit astray. I was just happy they were safe, healthy and crying. Yes, there was sooooo much crying.
The entire first 24 hours they wouldn't stop. They were fed, changed…we did everything we were supposed to do and they would just continue to holler. We tried everything to soothe them and nothing worked. A light bulb went off, we grabbed both babies and squished them into one tiny bassinet together. We couldn't believe our eyes and ears, it was INSTANT silence. They stopped crying because they were finally back, squished up next to one another. That was the coolest moment of my pregnancy and birth story. It was discovering so early on the bond my two boys have. They have an amazing connection and it was forged well before they came into the world. They shared one tiny space and only knew how to exist that way. And as grown toddlers now, they are still like that. They could be on a long couch and will always huddle up against the other. It's magic to witness. Going through a tougher pregnancy, a long labor, and painful recovery is just a blimp on the radar for me now. Being able to see Max and Logan come into the world and grow into the amazing tiny humans they are has eclipsed any hardship I went through to get them here. The hectic and scary nature of childbirth doesn't even come close to the magic of motherhood. I would do it again. In a heartbeat.
Thank you so much to CiCi for sharing the amazing birth story of her twins! I loved reading her story and seeing the differences between single births and twin births. Make sure you check out her blog and Instagram page and say thanks for sharing! I've got one more Honest Birth post coming this month, so make sure you check back soon!