If you're looking for ideas for your 101 things in 1001 days list, check out this post! Love her list!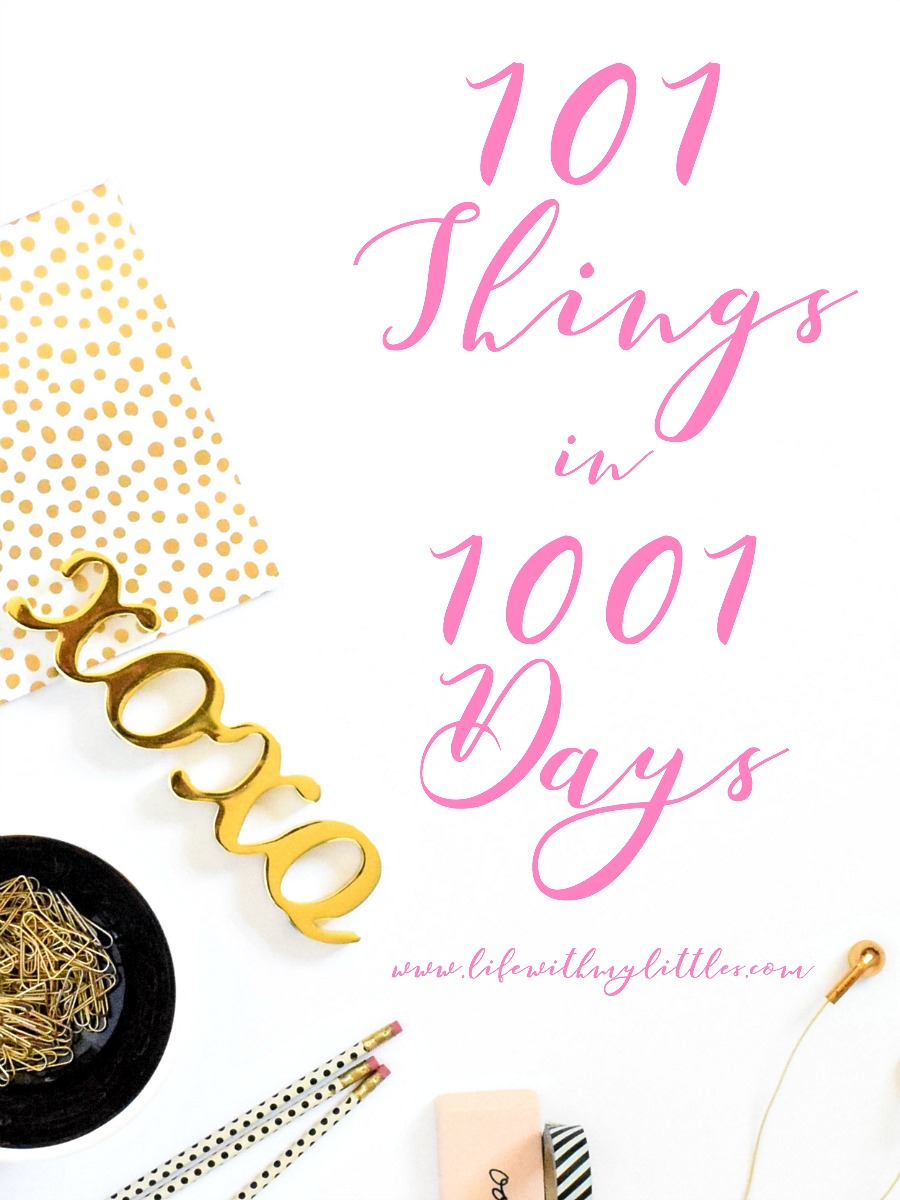 So last month I came across the 101 things in 1001 days idea. If you haven't heard about it, you basically try to accomplish 101 goals or tasks in 1001 days. The idea behind it is that 1001 days is a better time frame to accomplish your goals, and having more time makes it more manageable and gives you more of a chance to actually do the things on your list.
I fell in love with the idea and immediately started making my list. I put a lot of thought into my list and made sure each thing counted. A lot of people have things like "come up with 101 things" or "inspire someone to make their own list" and I feel like those are just filler things and not a good use of the list, so I didn't include those. I also had no desire to read 50 books, watch all the movies on IMDB's top movie list, or go a month without eating processed sugar, so you won't find those things on my list. But like I said, each thing on my list is something I truly want to do, and I'm excited to work on them all!
I'll try and come back and update the list as I finish things, and I plan on documenting the things I do on Instagram with #lwml101things, so check that out, too!
Start date: June 5th, 2017
End date: March 1st, 2020
101 Things in 1001 Days
Learn brush lettering.
Paint something I'm proud of. Done 8/22/17 (Painted a set of watercolor prints I LOVE)


Visit the Grand Canyon.
Do a Disney run. Done 11/11/17 (Thor 10k at Disneyland) and 04/07/19 (Star Wars Half Marathon at Disneyland)

Sew a dress I love.
Publish a book. Done 03/06/18 ("Preggers" is finally out!!)
Pick up a violin again.
Finish Personal Progress.
Take family pictures on the beach. Done 09/23/18 (On the banks of the Mississippi, I'm totally counting it)
Do a session with Dan in the Idaho Falls Temple.
Do sealings with Dan in the Idaho Falls Temple.
Do a mud run. Done 05/18/19 (ERX Extreme 5k)

Do a declutter challenge. Done 07/17 (this challenge)
Reread the Harry Potter series.
Swim with dolphins. Done 7/14/17 (Sea World San Antonio for my birthday!)


Memorize The Family: A Proclamation to the World.
Memorize The Living Christ.
Go to a drive in movie. Done 05/11/19
Go tent camping. Done Memorial Day Weekend 2018
Pay for someone else's meal.
Meet a blogging friend in person.
Send my mom flowers.
Send my mother-in-law flowers.
Eat the recommended serving of vegetables every day for a week.
Find the perfect lipstick. Done August 2018 (Maybelline Super Stay 24 Color in Loaded Latte)
Go to brunch with my lady friends.
Leave a 100% tip. Done 06/13/18 (My husband wanted to do this in lieu of a Father's Day gift <3 )
Send someone a box of sunshine.
Go a week without dessert.
Run a 5k. Done 8/19/17 Ran it in 31:11

Run a 10k. Done 11/11/17 (Thor 10k at Disneyland)
Donate blood.
Go rock climbing with Dan.
Make Dan a pecan pie.
Index 1,000 names on Family Search.
Order business cards. Done 10/02/18
Update 10 blog posts. Done 2018 (Updated ALL the Pinterest pictures)
Try making homemade baby food.
Make crepes. Done 12/22/17 (this recipe)
Make 72 hour kits.
Buy new skinny jeans. Done 11/18/18
Buy new lingerie.
Buy a new swimsuit. Done 02/17 (Three actually!)
Eat homemade jam on homemade bread. Done 10/03/18 (Strawberry jam on zucchini bread)
Go to a taping of a show.
Write our wills.
Stay at a bed and breakfast.
Learn how to do the splits.
Buy two new pairs of earrings. Done 11/24/17
Make a hydrangea wreath.
Read to the kids every day for a week. Done 01/01/18
Read to the kids every day for a month. Done April 2018
Plant flowers from my mom's house.
Learn how to tie a tie.
Memorize five scriptures.
Have a spa day.
Get a succulent and keep it alive. Done 11/18 (I even propogated it myself!)
Do a really good French braid for Little A.
Go to three Diners, Drive-ins, and Dives restaurants. Gordy's Hi-Hat 5/26/18 Q Fanatic BBQ and Grill 12/18 Andale Taqueria 8/7/19
Make macarons.
Make an ombré cake. Done 08/17 (for my nephew's blessing)
Clean up hard drive.
Back up hard drive online. Done July 2017 (invested in iCloud storage!)
Make 20 new recipes. Done (who knows when, but I'm always making new recipes)
Go through the kids' clothes. Done 11/25/17
Write a letter to myself to be opened at 40. Done 8/19
Finish baby books. Done 01/18
Get and write in a baby book for Little R. Done June 2017

Make yearly photo books.
Buy myself flowers. Done 01/10/18
Decorate the dining table. Done 12/28/17
Make rootbeer cupcakes.
Make homemade rootbeer. Done 03/15/18

Make homemade donuts. Done 05/06/18
Have FHE every week for two months. Done 2019 (Thanks, Come Follow Me!)
Organize the kids' papers. Done 04/26/18

Embroider something for our home. Done 04/16/18
Watch caterpillars turn into butterflies. Done August 2019
Do 10 real push-ups.
Finish my 52 Lists for Happiness book.
Go garage-saleing one day.
Throw a Harry Potter party.
Find the perfect chocolate chip cookie recipe.
Make Grandma Jolley's rolls. Done 04/22/19
Start a collection. Done 03/30/18 (Old stamps!)
Host a cookie swap at Christmas.
Watch a meteor shower.
Go to a lavender farm.
Eat a waffle sundae.
Go on a trip with Dan. Done March 2018 (We went on a cruise without the kids)
Subscribe to a magazine for a year. Done November 2017 (Subscribed to Parents)
Continue my weekly picture project.
Learn how to shoot Dan's gun.
Get together with my parents and sister's family. Done 7/30/17 (Brooks' Baby Blessing)


Get together with Dan's mom, brothers, sister-in-law, and niece. Done 8/2/17 (Island Park)
Make homemade pasta. Done 05/09/18 (Lasagna noodles)
Visit Magnolia. Done 7/22/17 (As we were moving from Texas to Minnesota)


Make a special kind of fudge. Done 12/11/17 (this white chocolate peppermint fudge)
Stand in two states at once.
Start a new blog series. Done 09/13/17 (Honest Birth)
So there you have it! A lot of those are easy, a lot of them are ambitious, but I think that I will really grow and learn a lot throughout this process. Here's to hoping I can get through all 101 things in 1001 days!!