Currently June 2017: What's going on this month for Life With My Littles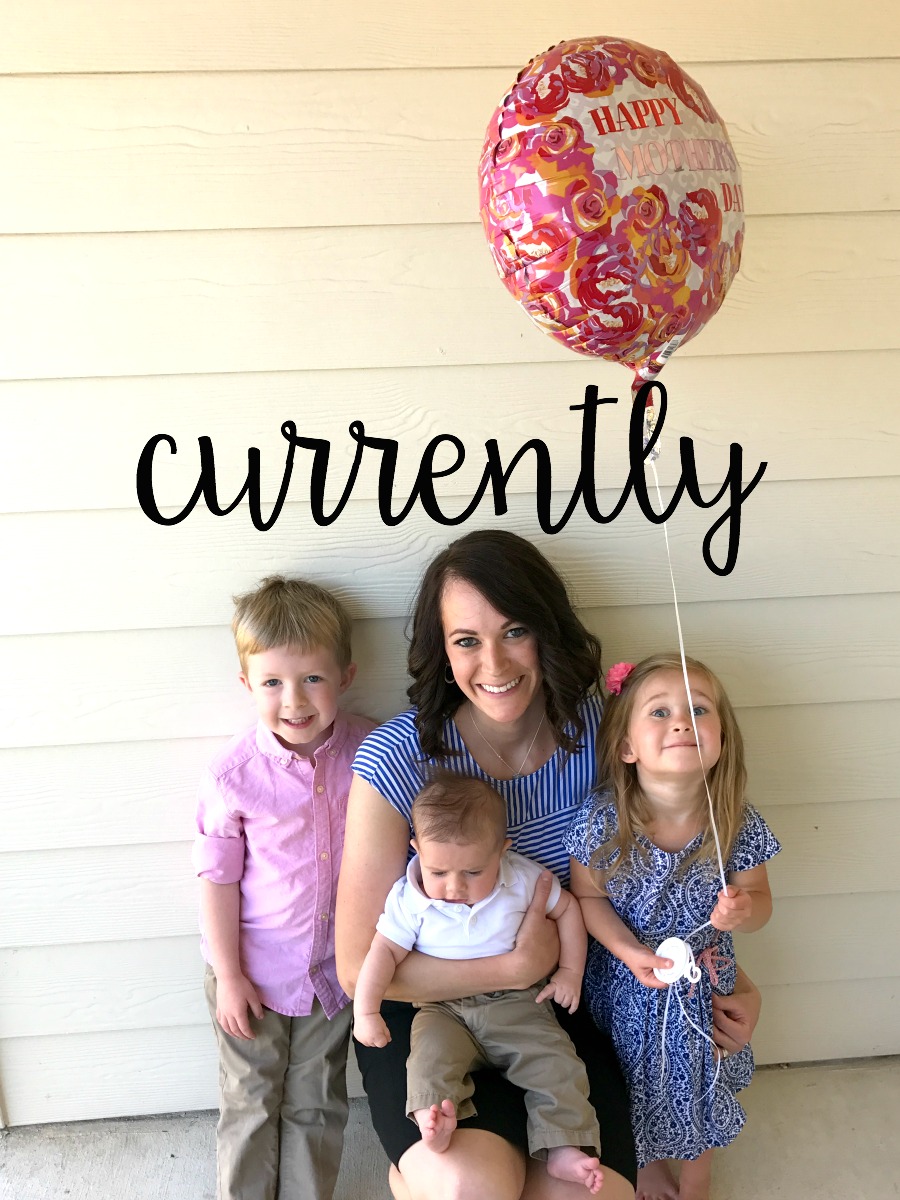 Happy June, mamas! How was everyone's May? We had such a fun month, despite my husband only getting four days off the whole month. Having only a few days off means that you really go all out on those few days!! This month we went camping (and I did a massive rope swing into the freezing cold river), we went strawberry and blackberry picking, we went to Sea World twice (and saw the new baby orca and got to sample some delicious food at the Seven Seas Food and Wine Festival). Little R also had his four month appointment. That kid is a chunk! He weighed in at 16 lbs even and is almost 26 inches long. We also hit our one year anniversary of moving to Texas last month and celebrated Mother's Day! And we spend a ton of time out in the backyard! It's getting pretty hot here, so we try and do some water activities a few times a week to stay cool! It was in the low 100s the last week of May and we were dying! The last few days I've been hit with a sore throat, losing my voice, a cold, a cough, and pink eye. Hopefully it goes away soon because it's tough to be a mama when you're sick!
Here's what's going on this month:
Counting down the days until Cars 3! It comes out in 11 days, not like we're counting or anything 🙂 We got our tickets last week and it's the one day in June I am requesting my husband take off. We've been buying all things Cars 3-related (macaroni, water bottles, Goldfish, toys, clothes, shoes) and watching all the trailers as soon as they hit the web. Yes, I may be a little more excited than my son is, and he's mega excited. But when your life has been all about Lightning McQueen and his friends for almost two years, you fall in love with it, too. Plus, Cars is such a good movie!
Trying to get in shape. I was going to say "lose the baby weight," but I recently came to the realization that my body is freaking amazing for having THREE KIDS and I am going to be patient with it and just do my best to eat healthy and exercise. I've been going to the gym 3x a week and loving it. I am super proud of myself because two weeks ago I even ran a 5k on the treadmill without stopping. Boss. I just need to relax and be patient and take care of myself. The number on the scale doesn't matter as long as I feel good about myself.
Waiting for Little A to be ready to potty train. Last month I mentioned that we were going to start potty training Little A (she'll be 3 in September). Well I tried two days, she didn't go in the potty once, and I gave up. She just isn't ready. She doesn't care if she goes in her diaper AT ALL. And honestly, I don't think I'm completely ready to try and potty train her and clean up accidents all the time with a 4-month-old to also take care of. So I'm going to just wait until she's ready. It will happen.
Anticipating the birth of my new nephew!! My little sister (my only sibling) is getting induced this morning and I seriously could not be more excited. It was fun to be pregnant at the same time (even if it only was for a few months and we only saw each other once), and I am so thrilled for her and her husband to become parents. Plus Little R is getting an automatic friend because they'll only be four months apart! Fun!!
Figuring out a schedule that works. Still. We've gotten into a little more of a routine with Little R, but I'm still trying to figure out how to handle quiet time and when to do the work I need to do for my blog. I don't get enough done during the day so I think I might start trying to work on blog stuff after the kids go to bed. We'll see.
Working on a 101 in 1001 days list. I recently came across an idea to create 101 goals to accomplish in 1001 days. The idea really intrigued me, so I've been coming up with my list. As soon as I finish it, I'll start working on it. I'm trying to really pick things I want to do and will be excited about. I'll do a full blog post when I start and share my list, but for now, just know I'm excited and I'm getting it all together!
That's what's going on this month! Make sure you follow along on Instagram to see more!