These patriotic popsicles are the perfect Fourth of July dessert! Red, white, and blue creamsicles with strawberry and blackberry inside! Yum!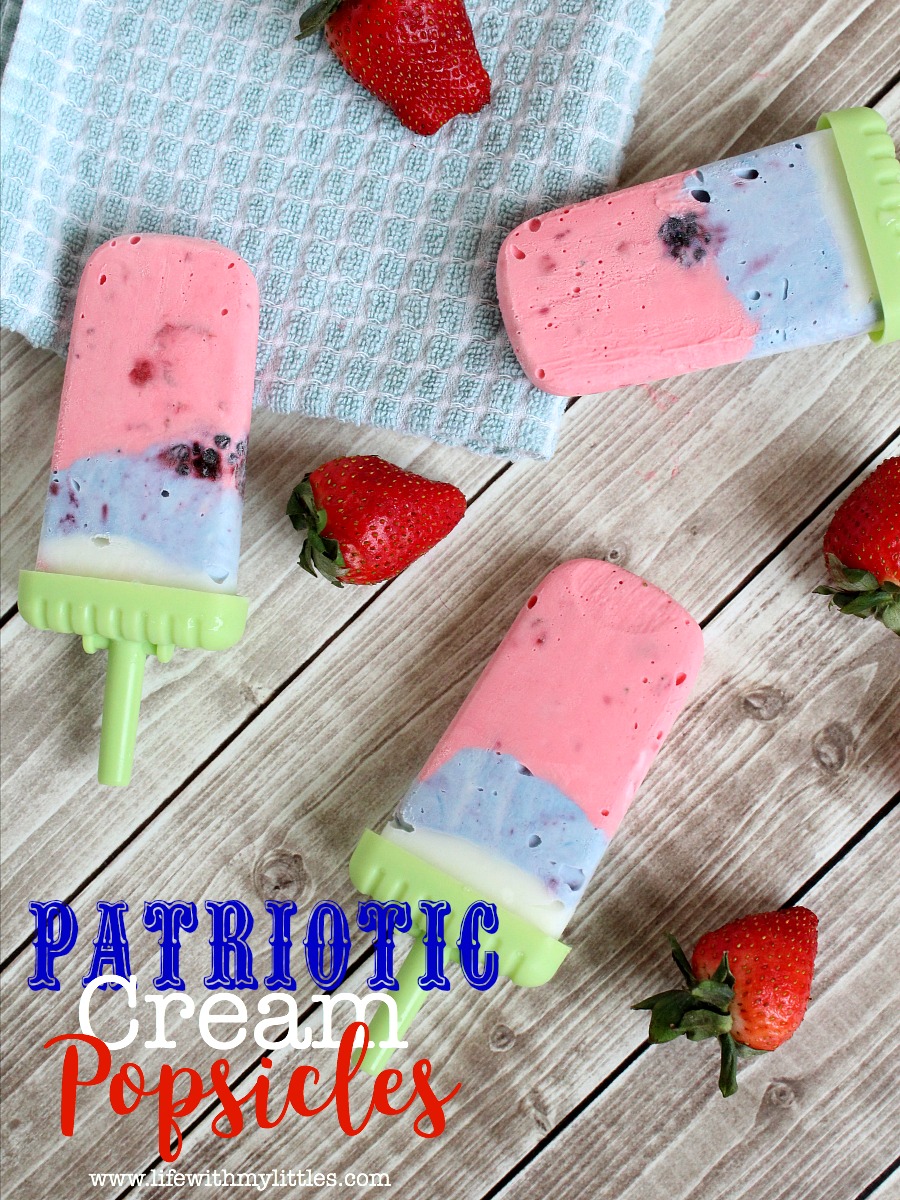 Hey guys! I am so thrilled to be posting for the third year in a row in the Red, White, and Blue series hosted by my friend Mandy at Sugar Bee Crafts! The Fourth of July is one of my favorite holidays because it's my dad's birthday and because I just love all things patriotic. Plus, fireworks! Today I'm going to be sharing a super easy recipe for patriotic popsicles that are perfect to cool you down during those hot Fourth of July barbecues!
A few weeks ago, we went berry picking at a farm an hour away. It was the CUTEST little place, and it was so much fun. We picked strawberries and blackberries, and even brought home some peaches and red onions!
When we got home, I needed to come up with something yummy to make with all of those berries. Since it's summer and it's basically already 1,000 degrees here in Texas, I thought popsicles would be perfect!
These popsicles were a big hit at our house, and I am definitely going to be making this recipe again as we get closer to the 4th of July!
Patriotic Popsicles
Ingredients
8 oz softened cream cheese
¼ cup white sugar
1 tsp vanilla
6 or 7 fresh strawberries, mashed
10 frozen blackberries
blue food coloring
8 oz container vanilla yogurt
Instructions
Blend cream cheese, sugar, and vanilla untill creamy.
Divide cream cheese mixture in two.
In one half of the mixture, stir in strawberries until blended. Fill popsicle molds ½ full.
In the other half, stir in a few drops of blue food coloring and frozen blackberries. Spoon on top of the first layer in the popsicle molds.
Finish it off by adding a few scoops of vanilla yogurt in each mold.
Close your molds (or use sticks, whatever your popsicle mold uses) and freeze at least 4 hours.
Happy 4th of July and yay America!!!