What is Tot School? An intro to the perfect pre-preschool and how it keeps moms and kids from being bored at home. Plus, a free printable weekly planning sheet!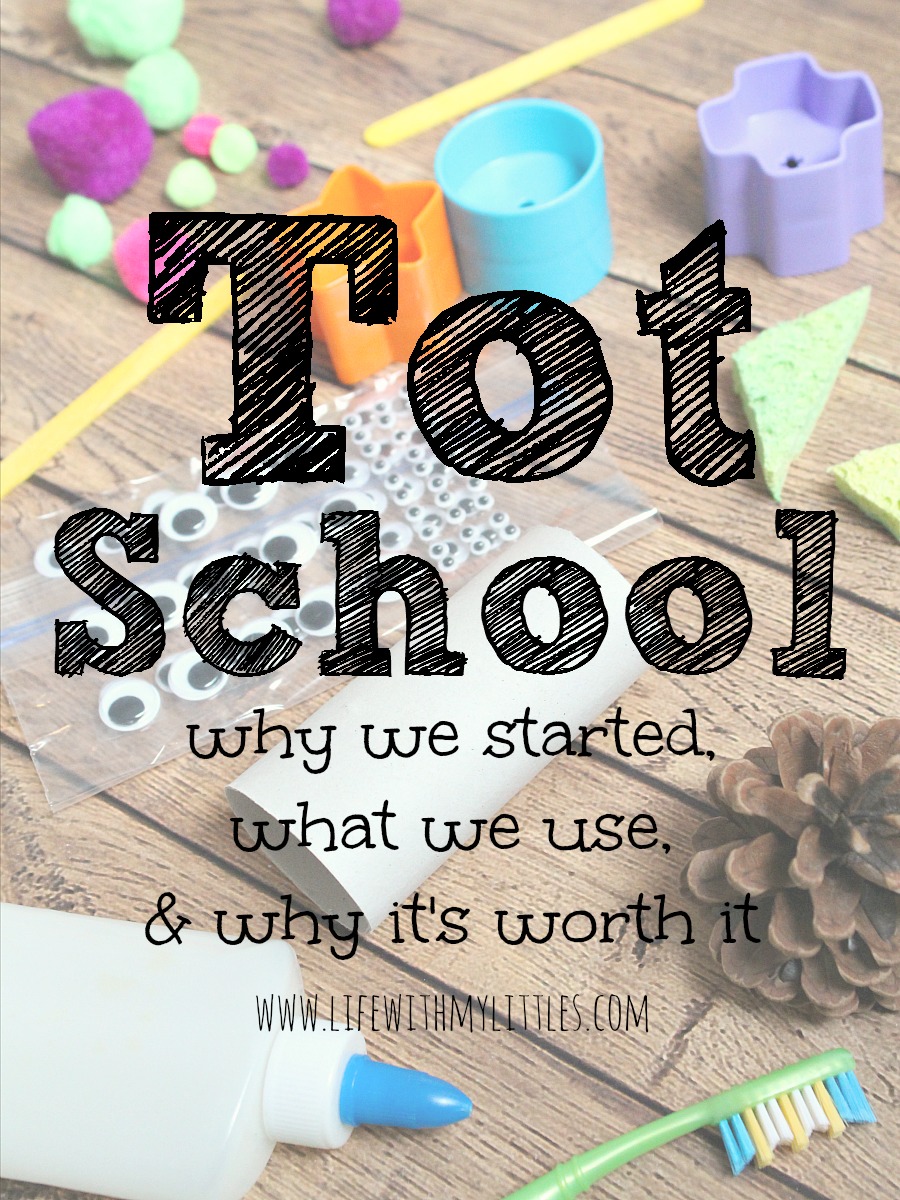 A few months ago I realized I was bored. My kids and I were watching too much TV and I was spending too much time on my phone. We would have so much free time, and as someone who doesn't do well just sitting down for more than ten minutes, it was rough.
I'm not sure how it happened, but one day I came across the website Let's Tot School. I was in love with how intentional she was with her toddler's play and learning every day, and I knew I wanted to do it, too.
Tot School is different than preschool because it's not quite as official or formal, and obviously it's geared towards toddlers. It's kind of like pre-preschool.
My son's not quite ready for preschool, and I really wanted a more organized and structured way to teach him that didn't feel like I was teaching him. I still want him to be able to play and have fun, but I also want to teach him things like shapes and colors and letters and numbers.
Every Sunday night, I pick a theme for the week. I plan 1-2 activities/snacks around that theme to do M-F. I also research books to go with that theme and then we go to the library on Monday and check them out for the week. It's sort of like themed-play/reading. And since we get groceries on Mondays, I get any extra craft/food things that we will need to go along with our weekly theme.
Now I know what you're thinking. I'm not creative and I don't have a lot of time! How can I plan 5-10 activities WEEKLY for my kid!?
Guys, it's so easy. Pinterest is there for a reason, and it's definitely not there just to help crafty people. It's so easy to just search "pumpkin activities for toddlers" and then BAM a ton of awesome, easy crafts come up. Busy Toddler is another great resource for activities for toddlers that I love.
Activities can take five minutes or 30 minutes. It's really up to you and how much you want to put into it. That's one of the best parts.
That's kind of the what and how of Tot School, but now you might be wondering what we use. I try and use toys that we already have (like puzzles or stuffed animals or cars or blocks), and I have a storage bin full of all our crafty supplies that we use every day. Here's a list of what's in my bin:
Paper plates (good for crafts and for paint/glue)
Glue
Popsicle sticks
Toilet paper rolls
Sponges
Pom-poms
Googly eyes
Paint
Tissue paper
Contact paper
Construction paper
Crayons and markers
Buttons
Pipe cleaners
Paper bags
Feathers
Toothbrush
It's kind of up to you how much you want to put in to your activities, but those things have been great for us so far. We also have a black bean sensory bin that we add things to depending on our theme for the week. Ideally I'd like to add more things to my bin as we go on, but you don't need a lot of things to start!
Also, having a library card is a must! I love checking out new books every week and teaching my kids to love reading while they are young. And when we find a book that we really like, I add it to my wishlist of books! We got a few of them for Christmas and my kids were so excited!
We started doing Tot School in October, and even though we sort of fell of the wagon during December, it really has made a huge difference! I look forward to doing out activities, we get to make fun little crafts and pictures, and it helps us have a designated reading time every day. Little J loves it, and I'm excited to involve Little A more as she gets older.
If you haven't picked up on it yet, I love doing Tot School. We're actually in Minnesota for the month and I brought our Tot School bin with me so that we can still do our activities. Until you've tried it yourself, you might think that it seems like it takes a lot of time and energy, and yes, you do need to plan, but doing Tot School gives me a chance to work 1-on-1 with my son, teach him the basics and help him grow a little every day, and it helps us from going crazy and being bored at home!
And since I love doing Tot School so much and really do want you guys to try it, I've made a printable Tot School weekly planning page so you can plan out your theme, books, supplies you might need to buy, activities, and even snacks if you want to get that into it (for example if you're doing an animal theme, do animal crackers, or if you're doing a color theme, give them different colored snacks each day). You can download it for free here. It won't have the big watermark across it when you download it.
So now that I've given you all the resources and a planning sheet and tons of great reasons why you should start doing Tot School, you pretty much have no excuse not to, right? I promise you won't regret it, your kids will love it and look forward to it every day, and it will definitely help get you out of that "slump" that we fall into way too often.