Ten reasons to get pregnant again: a hilarious look at some of the perks of pregnancy! If you're on the fence about getting pregnant again, this will definitely change your mind!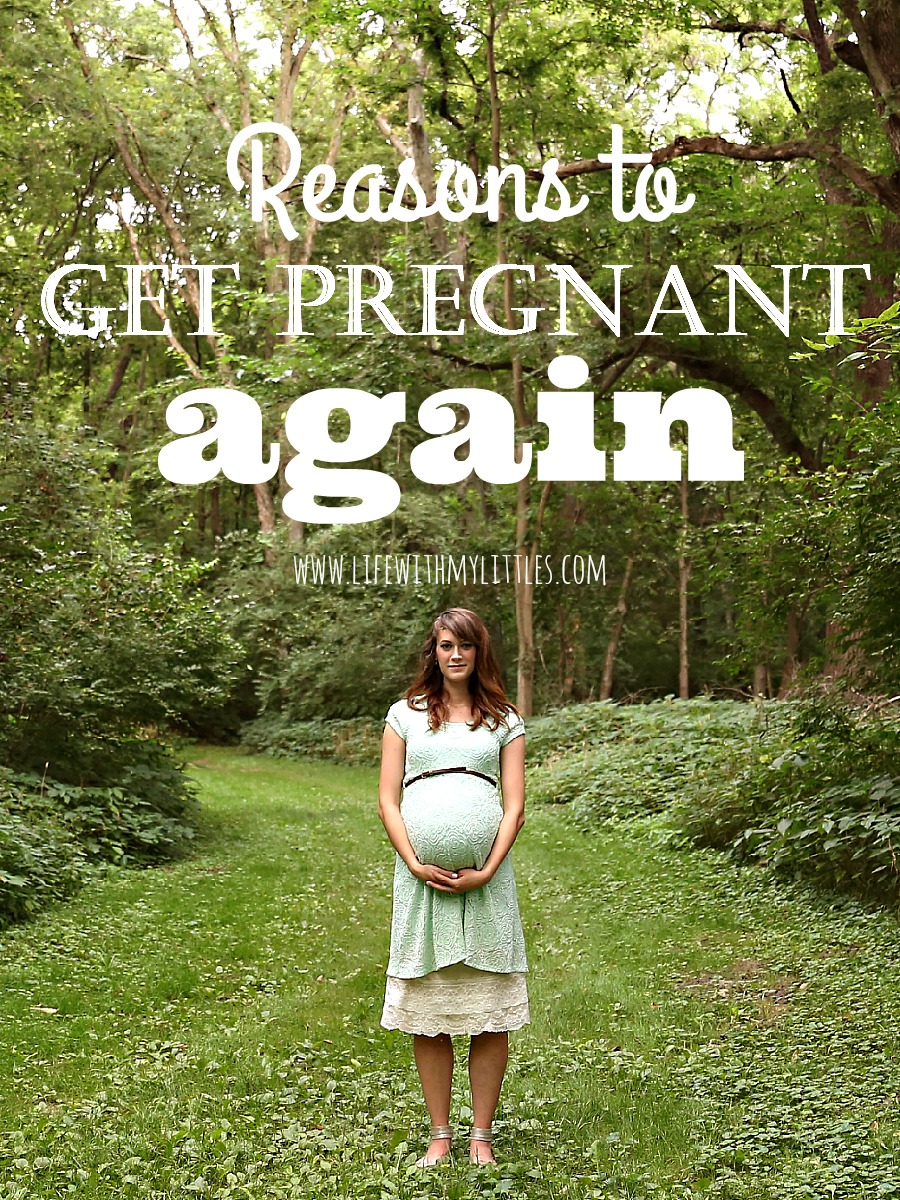 If you're on the fence about getting pregnant again, I understand. Nine months is a long time. In elementary school that's an entire school year. So if you're going to sign up to be miserable and uncomfortable for that long, there better be a good payoff, right?
Well I've got some good news for you. There are some awesome perks to being pregnant. I wouldn't judge you at all if you decided to get pregnant just for some of the special treatment pregnant women get–I'm actually thinking about it myself.
Here are ten reasons why you should definitely get pregnant again:
1. You can blame things on pregnancy. Let a toot slip? Just say there was so much pressure in your abdomen from your growing uterus that you just couldn't hold it in. Fall asleep at 6pm and wake up at 10am? Just blame it on all the energy you spent during the day creating a human being. You can pretty much do what you want and people won't even question you.
2. People are extra nice. Normally, it can be sort of creepy when random people smile at you at the grocery store, but when you're pregnant, you get it all the time. People comment on how cute your bump is or how amazing you look. Seriously, if you're tired of opening your own doors, just get pregnant and people will go out of their way to help you out.
3. Bigger boobs. This might be more for my husband than for me, but going from an A cup to a C cup is a real treat, even if it only lasts through breastfeeding. You might even have to buy separate bras for pregnancy and normal time because of the difference. True story, guys.
4. Priority parking. When I'm not pregnant and I go to the mall, the parking lots are always packed and I end up parking in the back and basically walking miles to get to the door. And on my way to the door, when I pass that very first parking spot on my way inside, the one with the  "Expectant Mother Parking" sign, my uterus contracts and I longingly wish that I could save those extra steps and park in that spot.
5. Stretchy pants with no judgement. If you're anything like me, you probably change into sweatpants/yoga pants/leggings as soon as you get home from running errands. Sadly, people are still coming around to the idea of normal women wearing stretchy pants in public, but when you are pregnant, nobody even cares. All their eyes are drawn to is your bump, so you can get away with wearing stretchy pants anywhere you want.
6. No pressure to diet or lose weight. Before you get pregnant, you might feel like you want to lose a few pounds. After your baby is born, you definitely feel like you want to use a few pounds. But when you're pregnant, people are always telling you to gain some weight. They give you extra servings and they don't comment when you order the larger portion of pasta. It's basically what heaven is like.
7. You can use your stomach as a table. Have you ever been in a situation where you're eating something and you just wish you had a table to set your plate down on? When you're pregnant, you have a built-in table everywhere you go. Eating in the living room has never been so easy.
8. Hair of a goddess. Thanks to those wonderful pregnancy hormones, your hair grows faster and thicker during pregnancy. It looks shinier and healthier, and you'll probably want to whip it around like you're in a 90s Herbal Essences commercial. Yes! Yes! Yes!
9. No period. I would do pretty much anything to get away with not having lady time for nine months. And that includes getting pregnant again.
10. A baby at the end. Obviously the best reason to get pregnant again is because you get a chubby, squishy newborn at the end of it all. Even without all the other reasons to get pregnant again, snuggling that tiny little bundle makes every second of those nine months worth it. And is there anything better in this world than the smell of a newborn baby?