Not sure how to prepare your child for preschool? Here are seven easy things to do to make sure they'll get started on the right foot!
This is a sponsored conversation written by me on behalf of Kellogg's. The opinions and text are all mine.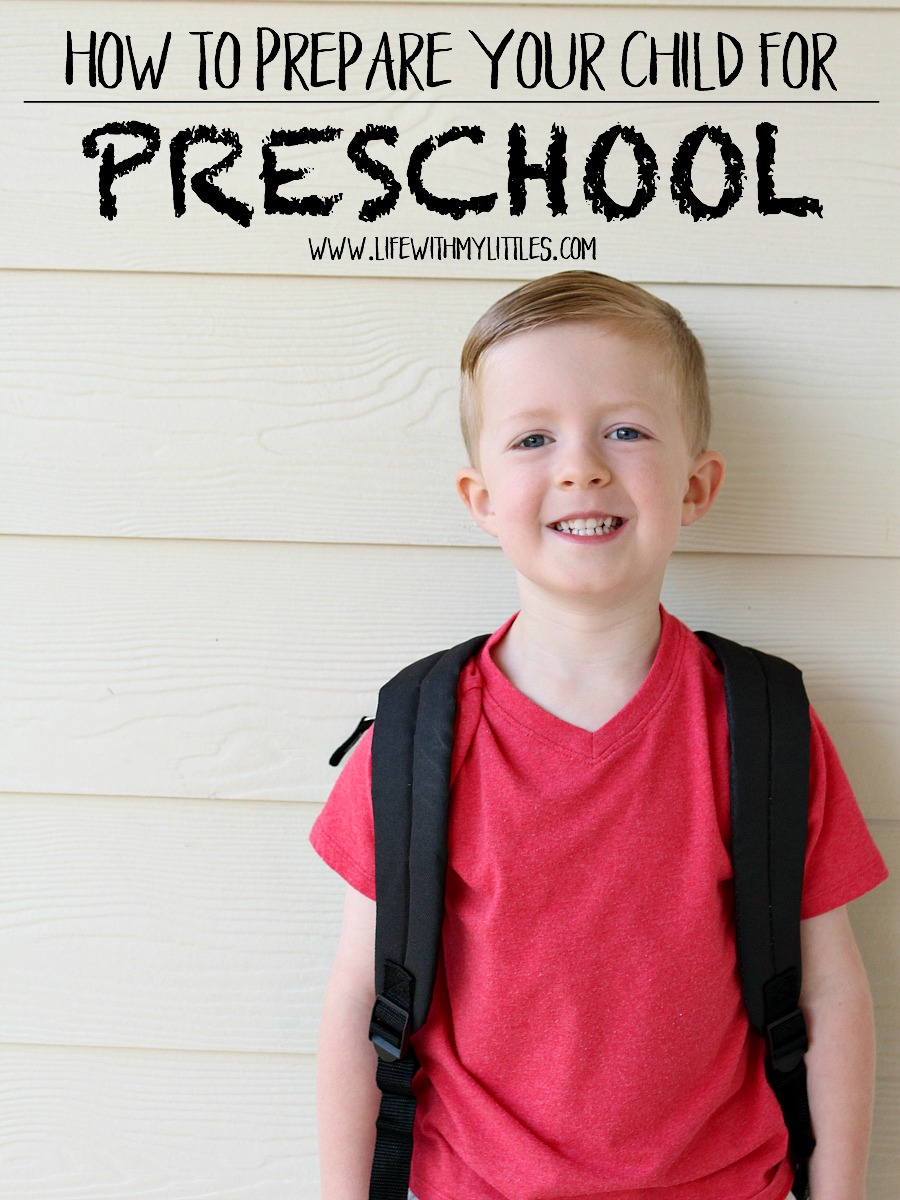 In just two months my oldest starts preschool. He's been looking forward to it for a long time, and I know he's going to have so much fun and do great in his class. He's always loved reading and learning, and over the last few months we've been doing things to help prepare him so he'll be ready. Today I want to share all the different things we've been doing so you know how to help your children get ready for preschool, too!
1. Surround them with books. Even before my son was born, we've been collecting books for our home library. My baby shower had a book theme, and I've always tried to fill our home library with books of different lengths, genres, and reading levels so my kids can discover the right book, at the right time. We have board books, picture books, beginning reading books, and books on all different topics. No matter how old your kids are, you can read to them, and I've always tried to do this. We have an entire bookshelf filled with books for our kids. And one way we are adding to our collection is with the Fantastic Scholastic Book Giveaway Program that just launched in Walmart stores everywhere. One box equals one book with purchase of participating products at Walmart stores. It only takes three steps to redeem, and it's super easy, especially if you're already used uploading receipts and sending them through other rewards programs like IBOTTA or EBates. You just buy a participating Kellogg's product, send a picture of the receipt via text (to 89332 with keyword BOOK) or email (to book@kfr.com), and then you get a free book credit to redeem for a free book of your choice at www.KFR.com/FreeScholasticBook! There are over 80 full-length Scholastic titles for beginning readers to teens, and you can collect up to 90 titles to build your home library (or even donate them to a school or library!). It's so easy to buy, send, and get a free Scholastic book, and it's such a simple way to build up your home library and get rewarded for things you're probably already buying! My son loves picking out books to read, and I know that because he has so many options, he has developed a love of reading and will enjoy beginning to learn how to read on his own in preschool.
2. Talk about preschool, what it's going to be like, and any fears or worries they may have. Not every kid is going to be excited about preschool. I'm sure as we get closer to the first day, my son is probably going to get a little nervous. And that's totally fine! Talk to your children about what a typical morning, afternoon, or day at preschool will be like, what days they'll go, and what they'll get to do there. Talk about how much fun it's going to be and how they'll get to go on field trips and have class parties (if your preschool does that). Talking about preschool and the things your children are worried about before they start is going to make that first day (and first few weeks) a lot easier!
3. Start a morning routine if you don't already have one. Depending on if your children will go to preschool in the morning or afternoon, start a routine to help them get used to waking up, getting dressed, and eating breakfast at a certain time, That way it will be familiar and normal to be ready by the time you have to leave for preschool, and it won't feel strange to them to have to be ready at a certain time. This is especially important if your child is the oldest and has never had to get ready in the mornings before!
4. Go school shopping. This one I am super pumped for. Growing up I always loved going school shopping, and I know as a mom I'm going to love taking my son school shopping, too! Ask your preschool teacher for a list of supplies (if you don't already have them), head to Walmart, and bring your preschoolers! Have them help you pick out clothes, a backpack, a lunch box (if they need one), crayons, pencils, folders, and anything else they might need. And while you're there, don't forget to purchase participating Kellogg's products to get a free Scholastic book as part of your back-to- school shopping at Walmart. You have to purchase products by 9/30/17, send the receipt by 10/30/17, and redeem your credits by 11/30/17, so you have plenty of time to stock up on free books!
5. Get them used to being away from you. If you stay at home and your children have rarely been apart from you, now is the time to get them used to it. My son is fine being away from me for a while because he goes to child watch at the gym and would go to friends' houses when I had my OB appointments last year. But if that's not something you do very often, start now! Arrange a playdate and help your children get used to being away from you so that when preschool starts, they won't have a meltdown when you drop them off the first day!
6. Attend a back-to-school night where they can meet their teacher and other kids in the class. Little J's preschool has a meet-the-teacher night that we are planning on going to, and since he has a small class, he already knows more than half the kids he's going to be going to school with. Going to back-to-school night is all about helping them feel comfortable in a new place and with new people, so take advantage of it if your preschool has one. And if not, see if you can schedule a time to come in and meet the teacher before school starts!
7. Read stories about going to preschool. One more way to prepare your child for preschool is to read stories all about going to preschool. We've used this trick when we had our second (and third) baby for potty training, and it works great! Reading books that show your children they aren't the only ones who get ready and go to preschool helps them see what it's like and that it's fun! Finding the right book at the right time (like a preschool book when they are about to start preschool) can light an emotional spark within children that motivates them to read more, understand more, and read joyfully. You want them to always love reading, since they'll be doing it ALL THE TIME throughout school and hopefully their lives. It's never too early to get them excited about reading and learning, and this time in their lives is so important in building the foundation to help them be successful in their lives.
I know Little J is going to love preschool and I'm loving doing all of these things with him so that he'll be ready on the first day. And hopefully now you know how to prepare your children for preschool, too! I'm so grateful for the Fantastic Scholastic Book Giveaway Program and for how simple it makes it to put free books in kids' hands. As your children begin learning how to read, help encourage them to choose books that inspire them, and make reading a happy lifelong habit at home. A love of reading is one of the most important gifts you can give your children, and it can start right now at home.
This is a sponsored conversation written by me on behalf of Kellogg's. The opinions and text are all mine.