Here are seven ways to stay connected with friends and family if you're one of the many feeling isolated while stuck at home.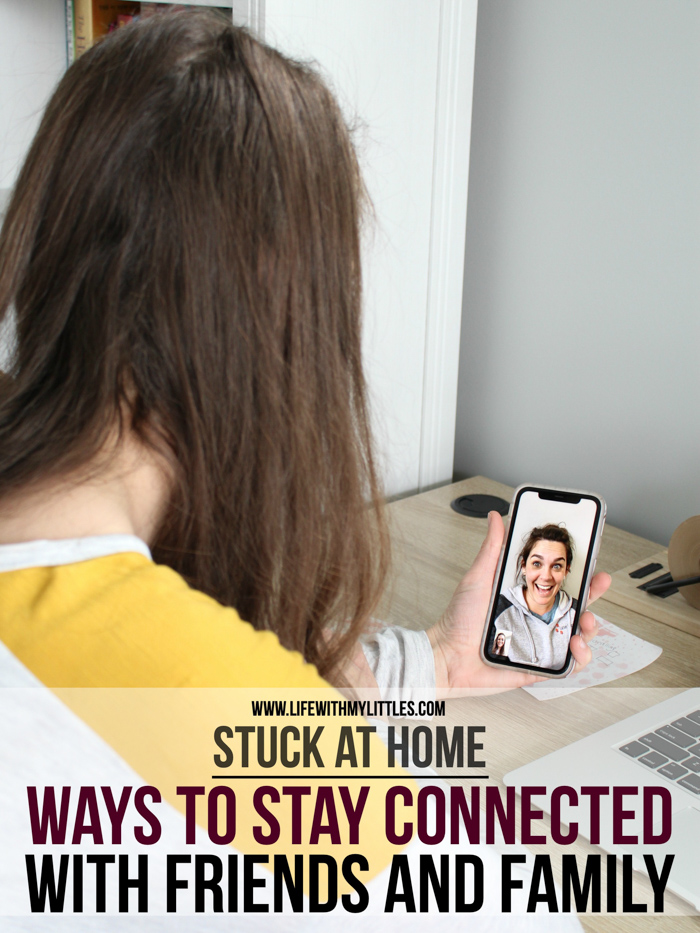 It wasn't until the last few years that I've realized how much I enjoy connection with other people.
I used to think of myself as very introverted, and I am, but I've discovered that talking to friends frequently and feeling the bonds of sisterhood really bring me joy (as cheesy as that sounds).
Of course right after I've embraced this about myself, this whole pandemic happens and hanging out with friends becomes forbidden.
Luckily, there are still ways to stay connected with friends and family when you're stuck at home. If you're struggling to feel connection with other adults like I have been the last month, here are some ideas to help:
Ways to Stay Connected When You're Stuck at Home
One-on-One Video Chat
FaceTime, Google Duo, or Skype are all great ways to video chat with friends when you can't see them in person. I've called a few friends on FaceTime and it's been great to see their faces and check in on them!
Phone Games
I don't usually play games on my phone, but I do like ones where you can play with people you actually know. My sister and I play the game called Draw Something, kind of like pictionary, and it helps us feel connected even though we're far away.
Netflix Party
Have you heard of the Netflix Party? You can watch synchronized Netflix shows and movies with people in your own homes! There's a group chat so you can talk about what you're watching, host long-distance movie nights, and binge shows together! If you normally get together regularly and watching things, this is a way you sort of still can!
Marco Polo
Marco Polo is an app that my family tried to get me to download for a few years, but I didn't until we got stuck at home last month. Basically you send short videos back and forth, you can watch them in real time, and you can add filters or change your voice. It's kind of like a video chat but you can watch the videos at your leisure so you can have conversations all day long and actually see your friends' faces!
Google Hangout or Zoom Meetings
If you want to talk to multiple people at once (like your family or a group of friends), try using Google Hangouts or Zoom meetings! You can even use a virtual background if you have a plain background or a green screen behind you. I've done this a few times with friends from church, and even though we were having meetings, it was still so good to chat with each other!
Drive By and Say Hi in the Car
Just because you can't get closer than six feet doesn't mean you can't still see each other in person! So hop in your car and drive to their house or to a park or something and just chat in your cars! You can even have a car picnic and eat lunch in your own car while talking!
Mail Letters
I know this takes a little longer, but getting handwritten letters is so fun! Decide to become temporary pen pals with someone and send letters back and forth! It'll brighten your day when you get their responses and help you feel connected!
There are lots of ways to stay connected with friends and family, even if you can't be closer than 6 feet away! It's a bummer and it's definitely weird to not be able to get closer than that, but it's not going to be forever!
If you've been feeling isolated and lonely, try one or two of these ways to stay connected and reach out to your friends. I bet they're feeling the same way!
Check out the other posts in my Stuck at Home series here: