These 10 things to watch with kids are such a great alternative to regular TV you might be burned out on! Check out this great resource while you're stuck at home and find something besides the same old TV shows and movies!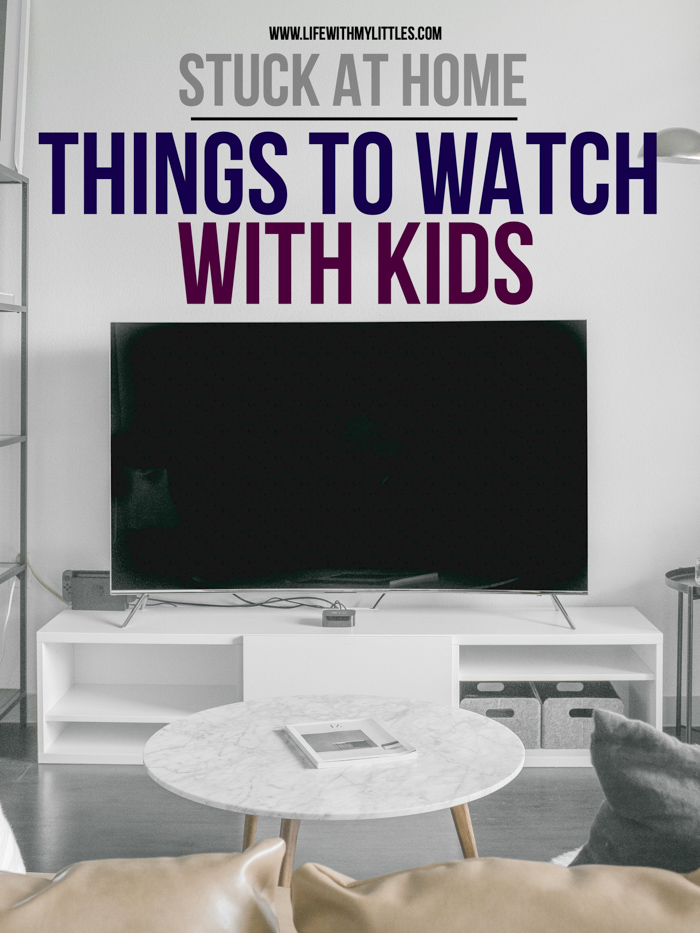 This whole distance learning combined with social distancing and staying home thing has been kicking my butt.
I meant to get a bunch of posts up in this "Stuck at Home" series before we moved, but like I said, things have been complicated lately.
But today I'm finally posting another resource (better late than never!) full of fun things to watch at home with your kids while you're stuck there. Sometimes it can get repetitive watching the same TV shows or movies over and over, and these videos are a great way to mix things up while we're all confined to our houses!
Live Videos
The author of Pete the Cat, James Dean, does Instagram Live videos every weekday, and they are so fun! He teaches kids to draw characters from his books, talks about art, and reads one of his books. He's affectionately nicknamed his following the "Pete the Cat Club" and we love it!
The Cincinnati Zoo hosts home safaris on their Facebook Lives every day at 3pm EDT. They highlight one of their animals in the videos, and then suggest a fun activity for you to do at home!
Ocean's Initiative has been hosting a Virtual Marine Biology Camp on Facebook Live twice a week, on Mondays and Thursdays at 2pm EDT. They've done episodes about seals, dolphins, whales, and even sounds in the ocean! If your child is interested in marine life, it's a great educational resource!
YouTube Videos
National Geographic Kids has an awesome channel with a few different video series. They have series like "Weird, but True," "Explorer Academy," "Destination World," "Best Job Ever," and "Are We There Yet." If you are in the mood to learn something new, check out NatGeo Kids!
Dude Perfect isn't an educational channel, but my kids LOVE their videos! They're a bunch of guys who started off doing crazy trick shots and now they have all kinds of fun videos, including funny stereotypes (that are always spot on), battles, and a show called "Overtime."
DoleTube is one of my new favorites because we've been able to learn about some of our favorite fruits, how they grow, and how they make it to our stores! I wouldn't recommend all the videos, but the ones about bananas are so cool!
Exercise Videos
You may be living under a rock if you've never heard of Cosmic Kids Yoga. The videos feature yoga, mindfulness, and guided relaxation, and are designed specially for kids aged 3 and up. My kids' favorite is the Frozen yoga video. She goes through the story and they do yoga moves along with her! A lot better than sitting on the couch!
Disney Family has a series of exercise videos on YouTube called "Get Moving with Disney Family" where, similar to Cosmic Kids yoga videos, you do exercises that go along with different Disney movies. There's Peter Pan, Moana, The Jungle Book, The Incredibles, The Lion King, and Mulan.
Little Sports is another channel that has a bunch of exercise videos for kids. They're animated, and not all of them are great, but they have them for all body types and they can keep your kiddos active while at home!
Okay, so KidzBop isn't necessarily "exercise" but their channel has tons of dance-along videos for kids to watch and dance along to! They also have "Daily Dance Breaks" every day at 3pm EDT.
Books Being Read by Authors and Celebrities
Storylineonline.net is a website with a bunch of videos of celebrities reading books out loud. There are TONS of books to listen to, and even one with the child actors from This Is Us! Adorable!
The Instagram account @savewithstories has more videos of celebrities reading books. The best part is that there's a great mission behind the account, too! In partnership with Save the Children and No Kid Hungry, they offering stories to provide fun and education to kids and parents stuck at home during the coronavirus outbreak. It's free, but you can also donate to help make sure schools and community programs have the support they need to keep brains and bellies full. You're also supporting our important work to meet the health, education and nutrition needs of kids in other countries impacted by coronavirus. How cool is that?!
The hashtag #operationstorytime also has lots of videos on Instagram of authors and other celebrities reading books. Maybe you can find your child's favorite book!
Cooking Shows
There are lots of great shows about cooking, both that you can just watch and enjoy, and that you can cook along with at home. My kids love Kids' Baking Championship, Cupcake Wars, and Girl Scout Cookie Championship. Taste Buds Kitchen started a free at-home cooking club you can sign up for that features videos of easy recipes with simple ingredients you probably already have, every Tuesday and Thursday at 2pm EST. And for every sign up, they donate $1 to No Kid Hungry!
GoNoodle
GoNoodle is an app, a website, and a YouTube channel, but I'm giving it its own category because it offers so many different things. Your child likely has had experience with GoNoodle in their classroom, so they can probably tell you about it! They have lots of different options for active screen time, from dance parties, yoga sessions, mindfulness activities, and game sessions. We have the app on our Roku and the kids love doing the videos!
Competition Shows
I know I already had two competition shows listed in my cooking show section, but I have more to tell you about! LEGO Masters is one my first-grader especially loves, and of course American Ninja Warrior is always fun to watch!
Your Favorite Movies and TV Shows From When You Were a Kid
Now I can't promise they'll all be as good as you remember, or that they'll all be as innocent as you remember, and there's a chance your kids won't like every movie or TV show you show them, but now's the time to watch those classics you've always wanted to show your kids! If you don't have a subscription to a streaming service that features a lot of old movies and shows (like Disney+ or Amazon Prime), you can usually rent movies and TV shows online for a few dollars!
Drawing Videos
Mo Willems, author of the Elephant and Piggie series, is the Education Artist-in-Residence at the Kennedy Center, and for three weeks he hosted "Lunch Doodles" where he showed kids how to draw! There are 15 episodes and you can watch them all on the Kennedy Center website.
Joe Wos is a cartoonist who has a YouTube channel called "How To Toon" where he shares all kinds of video tutorials to teach kids how to draw cartoons! He's been doing daily live streams that you can check out on his channel. If your kid likes to draw, they might enjoy his videos!
My kids also love Art for Kids Hub on YouTube. They have hundreds of drawing videos, from preschool-level to advanced.
Animal Shows
Disneynature has some great animal movies. We just watched Dolphin Reef, and are in the middle of Diving with Dolphins. There's also Elephants, Penguins, Bears, Chimpanzee, African Cats, and several others. They are fun to watch because the footage is incredible and you get to learn about animals!
The series Planet Earth is great for learning about animals, too! If you don't have a copy, you can watch it on Discovery!
Our Planet is a show similar to Planet Earth that's available on Netflix and is narrated by the same person as Planet Earth. It's like, the streamable version of Planet Earth!
If you're burned out from watching too many episodes of My Little Pony or Mickey and the Roadster Racers, hopefully you can turn to one of these fun things to watch with kids while you're stuck at home!
Remember, this social distancing madness won't last forever, and things will go back to normal. If you're spending a lot of time in front of the TV, don't feel too guilty about it. We're all just in survival mode right now, and doing what we have to to make it through the day! You've got this, mama!
Check out the other posts in my Stuck at Home series here: