It can be hard to find time to get things done as a mom! Here are 8 ways to occupy your kids without TV that are free, easy, and require minimal supplies!
Thank you to GoNoodle for sponsoring this post.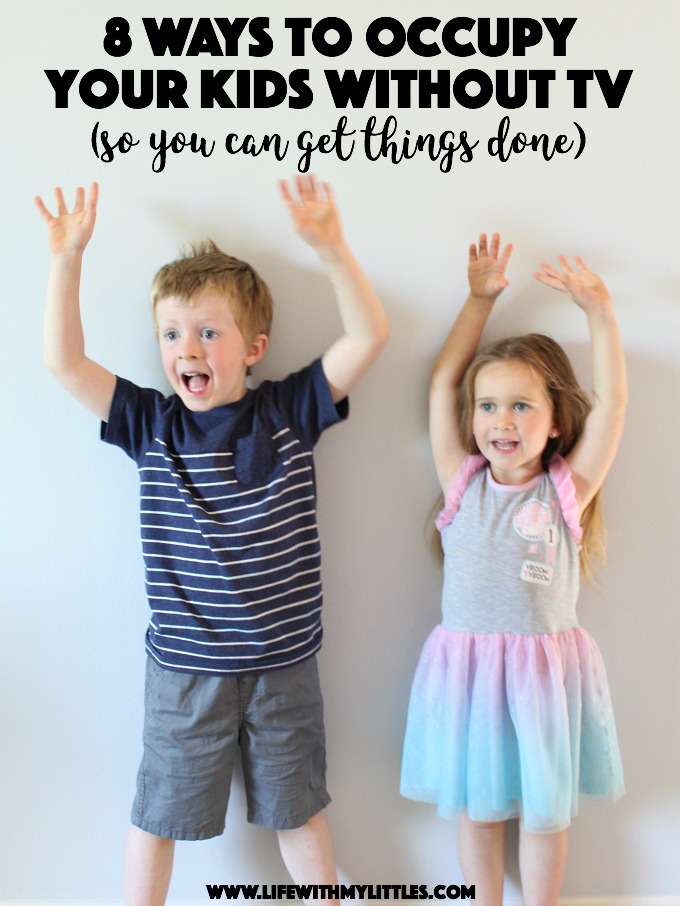 Having three kids under six means that I am a busy mama. There's always someone to help or a mess to clean up. Needless to say, it can be hard to get things done, especially when my to-do list feels like it's 1,000 miles long. Lucky for me, I have a few tricks up my sleeve to occupy my kids and keep them out of my way so I can get things done! And guess what? None of them involve TV!
These 8 ways to occupy your kids without TV are perfect when you need to do something like clean the bathroom, make dinner, or even shower! They're easy, you probably either have them on hand or you can get them in ten seconds, and they involve very little effort on your part!
1. GoNoodle. My favorite of these eight ways to occupy kids without TV is the app GoNoodle Kids. I first heard about GoNoodle from my preschooler. I would pick him up from school and he would go on and on about "GoNoodle," which I had no idea about. Eventually I Googled it (because that's what you do, right?) and discovered that it's a free kids app with dance-alongs, yoga videos, mindfulness activities, and other awesomely active and fun ways to move! Everything in GoNoodle is meant to energize or calm the mind and body. It makes sense why my son's teacher used it in a classroom full of preschoolers! In fact, GoNoodle has been used in 80% of U.S. elementary schools this year!
GoNoodle is safe, active, and turns traditional screen time into active time. All of the content is Y-7, and I love that all of the videos help kids be more active, calm down and be their best selves instead of just sitting on their bums blankly staring at a screen. You can download the app for iOS or Android devices, or visit GoNoodle online to create an account, and the best part is that it's free!
And something extra cool about GoNoodle is that this summer, families can join GoNoodle GoSummer daily wherever they are. Just log on weekdays at 11am EST or 7pm EST for special LIVE sing-alongs, dance-alongs, and stretch-alongs with GoNoodle! There are even sweepstakes prizes for participating! And as if that wasn't cool enough, during GoNoodle GoSummer, new songs like "Bye, Bye, Bye," "Larger Than Life," and "The Fresh Prince of Bel-Air" are going to be featured in fun throwback videos! You know I'll be dancing along with my kids to those ones while I'm cooking!
My kids love GoNoodling while I make dinner, iron, or change my youngest son's diaper. Sometimes I even join in when I'm done! And with the app, now you can GoNoodle wherever you are, at home, at the beach, even in line at the supermarket. GoNoodle is screen time that I can trust and appreciate, and it's a great way to occupy your kids so you can get things done!
2. Coloring. What little kid doesn't like to color? My kids can color for at least an hour before I even have to intervene. If you don't have a coloring book, just grab some white paper and they'll be thrilled!
3. Stickers. Another super easy one that my kids LOVE. It doesn't even matter if they're plain round dots or if they're stickers featuring their favorite characters. They'll stick them on paper, their clothes, or even their own faces.
4. Magnets. We have alphabet magnets and plain round magnets, and my kids love them. My one-year-old especially loves the alphabet ones because they come with a little singing bus. You can use them on the fridge, or if you want your kids out of the kitchen while you cook, you can stick them on a cookie sheet!
5. Matching cards. You can pick up super cheap sets from the store, or you can even make some yourself! I've made a few color matching cards and some pumpkin face matching cards that were really easy. If you make them yourself, make sure you laminate them so they don't get destroyed!
6. Building toys. There are so many different brick building systems ranging in different sizes and for different ages. We have a few and when I get them out, my one-year-old and my five-year-old occupy themselves while I get things done.
7. Books. And no, I don't mean you reading them, because obviously you wouldn't be able to get anything done if you're reading to your kids. Let them pick out a few books (or even have free reign of the bookshelf) and read them on their own. Just make sure that if your child has a tendency to rip out pages if left unattended that you give them board books and not picture books. Lesson learned.
8. Snacks. This one might not be the way to go if you're making dinner, but if it's the middle of the day, a snack is a great way to get your kids to sit down and stay out of your way!
There are lots of ways to occupy your kids without TV that are simple, fast to throw together, and free! Now that you've got these easy mom hacks, put one of them to use and go get some stuff done! Good luck!
This is a sponsored post written by me on behalf of GoNoodle.