Going to Valleyfair with babies, toddlers, and preschoolers is so much fun and absolutely worth it! If you're planning a trip, check out these tips for going to Valleyfair with young kids!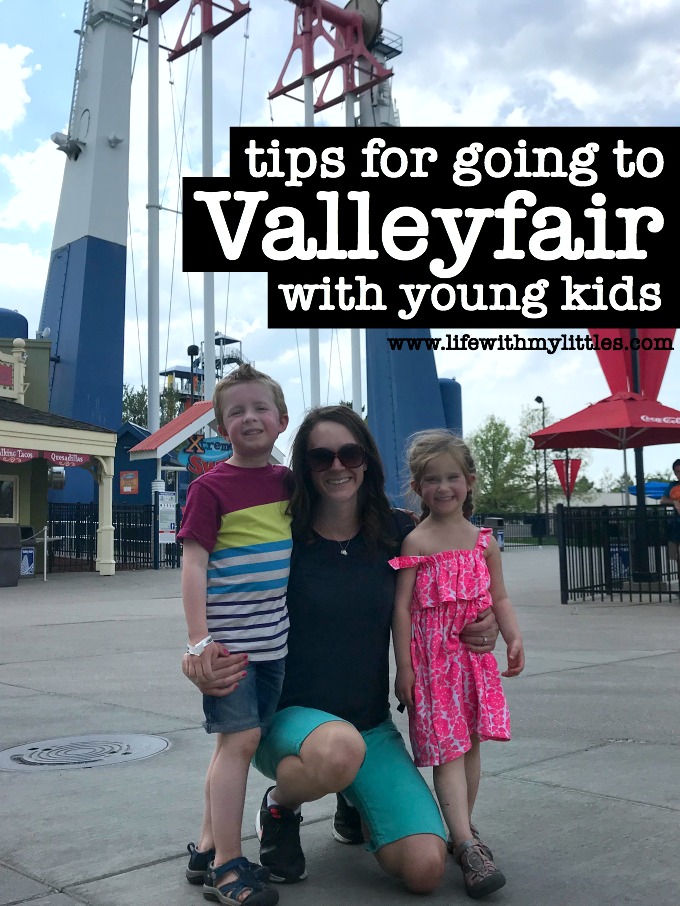 This is a sponsored post written by me on behalf of Valleyfair.
Last month we took our first visit with our three kids to Valleyfair here in the Twin Cities. We had so much fun! We had never taken them to an amusement park with so many big roller coasters and adult rides before, and I was a little worried at first that they weren't going to have a lot to do. Fortunately, they had a blast! Valleyfair has thrills in all sizes and TONS of fun things for young kids. We even made it through the day without any crying or whining! Which, when you have three kids under six, is a big deal!
While we were there we picked up a few tips for going to Valleyfair with young kids. Here are a few tips if you're planning on going with babies, toddlers, or preschoolers in tow:
1. Bring a stroller. We brought our double stroller because it is super easy to push, has shade canopies that extend, the seats can recline, and it has a big storage area on the bottom. If you don't have a stroller, or you just don't want to bring yours, you can rent single and double strollers inside the park. Either way, you're going to use one while you're walking around all day!
2. Bring a friend. We went with our best friends and it was perfect because we were able to take turns going on rides with the kids, and we were able to swap watching the kids and go on a few adult rides, too. My husband and I don't get to ride roller coasters together very often, so it was fun to be able to go together while our friends watched our kids! There's also a new family thrill ride this year called Delirious that features ten revolutions in less than a minute. Kids have to be at least 48″ tall, so it might be one you ride without them!
3. If you can't bring a friend, take advantage of Valleyfair's parent swap service. You can get a slip from guest services (located at the front of the park) and one parent can ride while the other parent watches the kids, and then you swap and the other parent gets to ride while the parent who rode first watches the kids. I love when amusement parks offer this, and I don't think a lot of people take advantage of it when they should!
4. Bring sunscreen and apply it a few times. This is a must when you have littles with delicate skin! Make sure you apply it every few hours, especially if you're going to the waterpark or riding water rides!
5. Bring extra clothes or a swimsuit if you're planning on getting wet. Valleyfair has a great waterpark called Soak City that is included in the price of your admission (two parks for the price of one!). If you want, you can spend all morning riding rides and then spend the afternoon cooling off on the waterslides! The waterpark wasn't open when we went so we just wore regular clothes, but if you're planning on going to the waterpark (or riding any of the water rides and don't want to be wet), bring some extra clothes or your swimsuit. There are also a few water rides outside of the waterpark, too, so just be prepared!
6. Bring a sippy cup or water bottle. The last thing you want is a dehydrated child, so make sure you bring either a sippy cup or a water bottle. You can fill it up with ice water at several locations around the park, and you're going to need to a few times if you're there all day!
7. Look at the height requirements before you go. There is a whole area for young kids called Planet Snoopy (did you know Charles Schulz was from Minneapolis!?) that has rides even toddlers can ride with an adult, as long as they can walk (Little R couldn't do any of the rides because we're still working on that last part!). But there are also lots of other rides around the park that kids can do either with an adult or without. Seriously, our kids rode rides all day long and there were only a few that they rode twice because there were so many for them to ride. But make sure you look at the height requirements before you go because you don't want to tell your child they can go on a ride and then find out that they are too short!
8. Take advantage of the Pre-K Pass. Valleyfair offers a free Pre-K Pass that grants complimentary admission to kids 3-5. For the 2018 season you have to register online by June 10th and bring in your voucher before June 29th. If you are reading this after those dates, just make a note and sign up next year!
9. Use the Family Care Center. I probably went in here three or four times! It's amazing! Located in Planet Snoopy, the Family Care Center has a room with a TV and bean bags for kids to lounge in, a kitchen with a microwave and high chairs, private nursing rooms, two family bathrooms, and a room with two changing tables. Plus, it's air conditioned and so, so nice. I definitely would recommend it to all families with young kids!
10. Do adult rides in the afternoon when kids are tired. We spent all morning doing kid rides, and then mixed in a few adult rides in the afternoon after we'd had lunch and the kids needed a break. Little R even took a quick nap in the stroller while we were on the Xtreme Swing!
11. Bring a backpack diaper bag. I'm assuming that if you're reading this post you probably use a diaper bag. I recommend bringing one that is a backpack style so you don't have to worry about keeping it on your shoulder or it falling off while you're walking around. You can of course put it in your stroller if you have room, but I like to have mine close and easily accessible.
12. Go during the week (if you can). In my experience, parks are always less crowded during the week, and if you're going with kids, you want to maximize your ride time because they can be impatient!
13. Get the refillable drink cup. One of my favorite things to do at parks we go to often is to get their refillable drink cups. Valleyfair has an All Season Bottle that allows you to get free soda refills all day and free soda refills throughout the entire 2018 season! It's absolutely worth it in my opinion, and you get a cool souvenir cup!
14. Plan on dining in the park. Valleyfair has a lot of delicious dining options, from snacks and treats to full meals. We did the All Day Dining Plan, which allows you to get an entree and a side when you go to the participating restaurants at the park. I loved the pizza and breadsticks from Mama Chetta's Pizzeria. I heard good things about Nordic Waffles, too, but didn't get a chance to try them. Valleyfair also has several Minnesota-themed food events where you can taste local flavors throughout the season, including Food Truck Fridays, Minnesota Eats, Corn Feast, and Hot Dish & Hops. It's definitely worth checking out!
15. Use the app. Having a physical map is great, but the app has several features that I thought were useful for going with kids, including the Friend Finder (in case your group splits up), rides broken down into categories like thrill rides, family rides, or rides in Planet Snoopy, and a map that tells you where you are and what rides and dining options are close to you! My kids also always argue over who gets to hold the map (and then we eventually lose it), so I'm glad I downloaded the app before we went!
16. Go to the character meet and greets and shows in the summer. Not only can you take pictures with the PEANUTS™ characters in Planet Snoopy, but you can also enjoy several shows during the summer! There's a stunt dog show, a sing-a-long show, a dance party with the PEANUTS™ gang, marching band shows, and several different shows on the Midway Stage. Shows are a great way to take a break while you're there and sit down for a few minutes!
17. Bring a carrier for your baby. I don't know about you, but when my kids were babies, they got tired of the stroller easily so we would have to switch them to a baby carrier when we were out for long lengths of time. If that sounds like your baby, make sure you bring a baby carrier so you can keep your little one happy!
18. Bring hand sanitizer or sanitizing wipes. Don't worry too much about this one, but just clean little hands before they eat.
19. Go to the PEANUTSTM Playhouse. I think my kids' favorite part of Valleyfair was the PEANUTS™ Playhouse. It's basically a big indoor, air-conditioned playground with soft balls and plenty of space to run around. There are even benches for parents! We went in here a few times during the day, and all of the kids (ages 1-5) loved it.
20. If you have a child with sensory processing concerns, use the Multi-Sensory Room. I didn't get a chance to look at this before we left, but I read about it on the map and think it's worth mentioning. Valleyfair provides a room next to guest services that has tools for families to either intensify or reduce sensory stimulation in a controlled environment. A day at a theme park can be a lot for some kids, and I think it's awesome that they have this special room!
21. Register for Kidtrack. I also didn't get a chance to check this out, but it's a free program that assists in quickly reuniting lost children with their parents. If you've got kids who won't be in the stroller or you're going when it's going to be busier, this is something you might want to take advantage of! You can register for this safety system Guest Services or the Family Care Center.
Valleyfair is a lot of fun, no matter how old your kids are. It's such a big park and there are tons of rides and shows for every member of the family. You definitely don't need to wait to go until your kids are older, and you can bet we'll be back a few times this summer (especially for some of those special food events!). Plan ahead, use these tips for going to Valleyfair with young kids, and you'll have a great time!
This is a sponsored post written by me on behalf of Valleyfair.