5 ways meal planning simplifies my life: why meal planning is super easy and why everyone should try it!"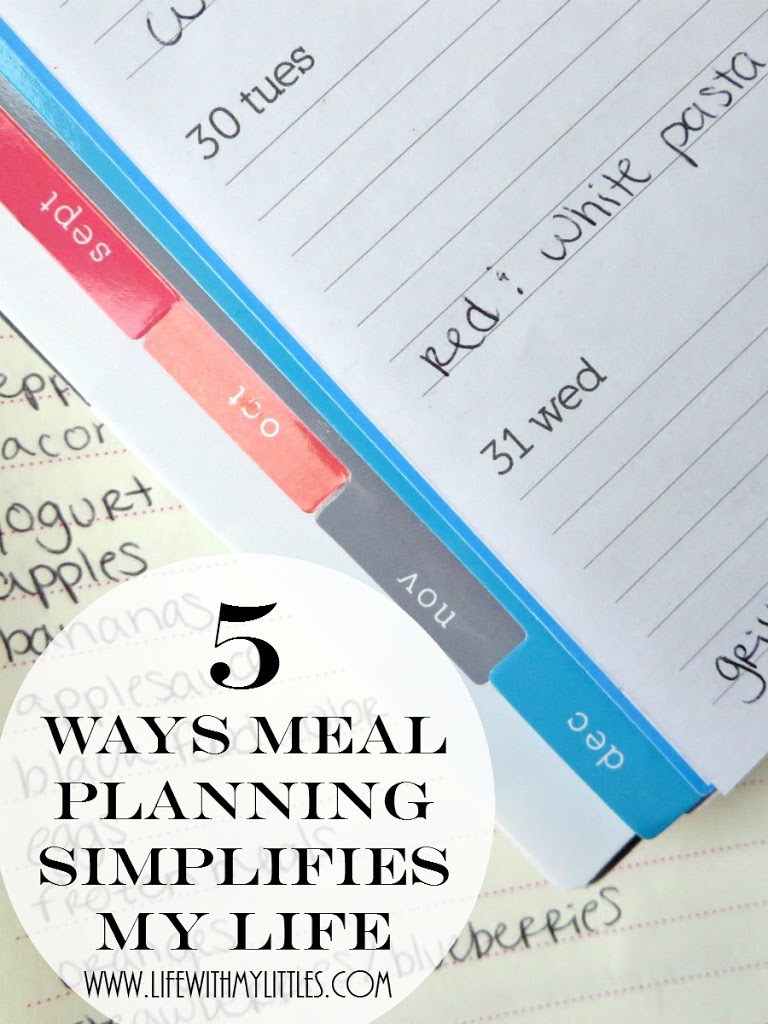 When the Mister and I were both in college, we ate boxed pasta or at a restaurant almost every night. Needless to say, it wasn't ideal. So when we moved for medical school and I wasn't in college anymore, I decided to try meal planning. It was one of the best decisions I have ever made! It has helped take the stress out of answering "what's for dinner tonight?" I want to share why meal planning has simplified my life, and hopefully inspire others to try it out!

1. Meal planning has simplified grocery shopping. Every Sunday night, I sit down and plan our menu for the week. I write down all the ingredients I need to buy, plus any other groceries we need for the week. Then on Mondays, I do my grocery shopping. It is amazing to have a list to follow and to know what I need to buy instead of wandering the aisles saying "I think we could have this for dinner" and throwing a ton of unhealthy boxed dinners into my cart. It always helps to have a plan at the store.
2. Meal planning has made dinner less stressful. Don't you hate not having any idea what to make for dinner 30 minutes before it's time to eat? Meal planning helps me to know what we are having for dinner every night. I know how long it will take me to cook, and I know that I have all my ingredients. It's so much easier to be prepared because I'm not trying to find something in the back of my cupboards to serve my family. Then I can feel good about what I serve my family, and I can actually enjoy preparing and serving dinner. So much less stressful!
3. Meal planning has given me a chance to try new recipes. In the beginning, I didn't have very many recipes in my arsenal. So I really got to experiment and try a bunch of new recipes from cookbooks and Pinterest. Of course some were not our favorites, but the top five meals my husband and I love to have over and over would never have been discovered if I hadn't tried new recipes! And if I wasn't thinking ahead and making a menu each week, I wouldn't have the chance to pick new recipes to try. So thank you, meal planning!

4. Meal planning has helped me cultivate my cooking skills. I never would have discovered that I love cooking if I hadn't started meal planning. Meal planning has helped me develop cooking as a talent, and I am so grateful for that! Sure, you might not be super good at the beginning, and it takes time to learn, but that is what recipes are for! Being able to cook has definitely helped make dinner easier, and my husband is sure happy about it!
5. Meal planning has helped us eat healthier. When you are planning out your dinners, you can choose healthier options. You can choose to add veggies and fruits, and then actually buy them when you go to the store! If you aren't planning your meals, you usually end up just picking something to make for dinner because it either sounds good, or it is fast and comes from a box. But most of the time, cravings and boxed foods are not the healthy option. Making a plan will help you eat healthier and allows you to plan out having fruits and veggies with meals. And who doesn't want to be healthier?
This may seem dramatic, but meal planning has changed my life! It has made dinner so much easier, simpler, and healthier, plus we have found new recipes and I have found a talent! I hope all those reasons are helping convince you of the amazing benefits of meal planning! It really simplifies my life, and everyone in our family is happier as a result.
Have you tried meal planning? How has it helped you? Let me know in the comments!