These are great ideas on ways to involve your husband in your pregnancy. 10 fun things to do together when you're pregnant!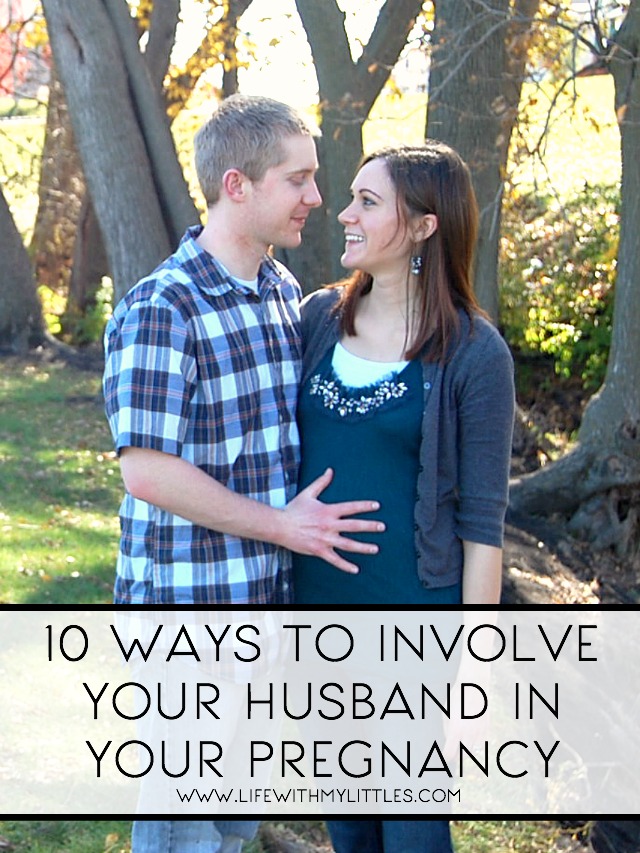 People always talk about how amazing pregnancy is for women and the incredible (and not so incredible) things women get to experience when they're pregnant. Well let me remind you that she did not get that way by herself, and she is not the only one waiting for a baby!
Your husband can also play a big role in your pregnancy. They may not have to pee in a cup every month at OB visits or get stretch marks all over their belly, but they definitely are a part of your pregnancy. A lot of people focus all on the pregnant woman and forget about the husband, but daddies want to be a part of the pregnancy, too!
I asked a few of my mama friends and today I am sharing ten fun ways to involve your husband in your pregnancy!
Ways to Involve Your Husband in Your Pregnancy
1. Let him come to appointments with you, or record the heartbeat if he isn't able to make it.
My husband has rarely been able to come to appointments (except for ultrasounds), but that is a great way to help him feel involved. Those appointments make the pregnancy feel a little more real, especially when you get to hear baby's heartbeat!
If he's not able to make it, record the heartbeat on your phone and play it back for him later. He'll appreciate it!
2. Let him know when the baby is moving so he can feel baby kick.
It might be a while before baby is big enough that you can feel him from the outside, but when you can, let your husband know so he can feel baby move, too! I still remember the first time my husband felt our first baby move! It's a special moment!
3. Take maternity pictures together.
I have seen some beautiful maternity pictures where couples have both been in the shot, and I love the idea of getting your husband involved in your maternity shoot. We took a few pictures together with out first baby, and I still love looking back on them!
4. Build things like the crib or swing together.
One of my favorite things to do with my husband when I'm pregnant is get things ready. The first time we put the crib together was so fun! And setting up the pack n' play, the bouncer, and the swing together was fun, too! Even setting up the double stroller (once we were pregnant with baby #2) was an adventure!
5. Register together.
If you thought registering for your wedding was fun, just wait until you register for your baby! Diapers, baby monitors, blankets, tiny little outfits. It's a blast. And depending on where you register, you'll probably get a few goodies, too!
6. Have him rub belly butter on your stretching belly.
One of my friends suggested this, and I think it's a great idea. Plus he might get to feel baby kick when he does it!
7. Ask him to massage any sore areas.
Another suggestion from my mama friends, and I love it! Especially towards the end of pregnancy when everything hurts!
8. Gift him a new dad kit.
When I was pregnant with our first I made my husband a new dad kit, and he loved it! It was full of little things to help him in his new role as a daddy!
9. Throw a gender reveal party together, or invite husbands to the baby shower.
Now that gender reveals are basically all the rage (yeah, I'm 80), a gender reveal party is a great way to celebrate your baby together! Or you can even invite husbands to your baby shower and let them do their own thing (grill burgers on the deck?) while the ladies hang out and talk about labor and breastfeeding. Plus that way he can open baby shower gifts with you!
10. Take classes together at the hospital.
Another great way to involve your husband in your pregnancy is to go take a baby basics class or childbirth class together at the hospital. We went to one when I was pregnant with our first and it was so helpful to learn all about car seats, bathing, diapering, and swaddling. If you haven't been around babies much, I highly recommend it!
There are lots of ways to involve your husband in your pregnancy, and I am a big advocate of making him feel like he's a part of your pregnancy, too. Like I said, you didn't get that way on your own, and he's excited to meet your little wee one just like you are! So try a few (or all!) of these things, and congratulations! Your baby will be here before you know it!