I'll be honest with you. I lie to my kids a lot. Not once or twice a week, but multiple times a day. Here are a few examples of the lies I tell my children.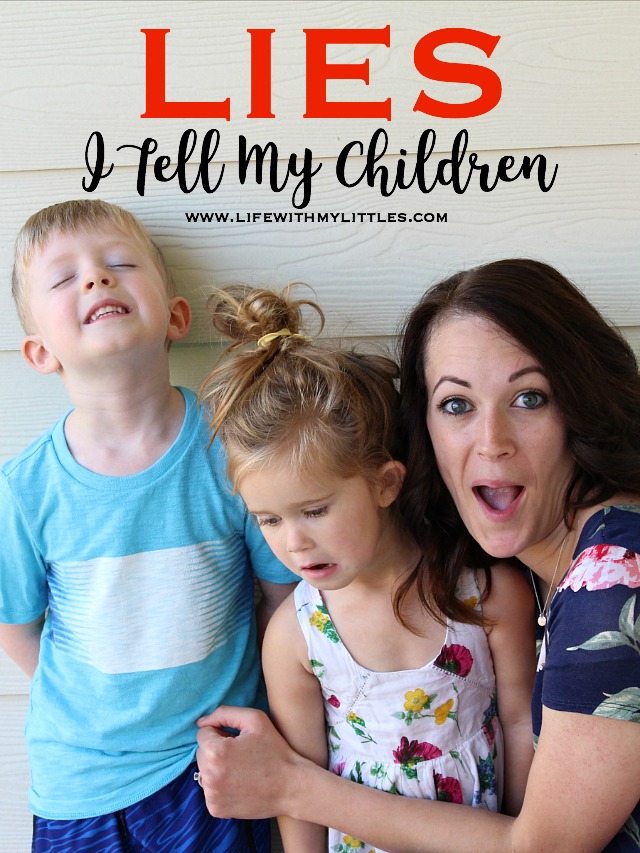 I'll be honest with you. I lie to my kids a lot. Not once or twice a week, but multiple times a day.
I just can't help it. Sometimes they are whiny and want things I don't want to get them and sometimes they are whiny and don't want things I am offering them. And yeah, sometimes they just drive me crazy. So I lie to them.
It's not like I'm lying to them about things that are going to hurt them in the long run. My lies are little and really, they benefit everyone involved. Here are a few examples of lies I tell my children so you can see what I mean:
1. It won't hurt. As in, that shot won't hurt. You and I both know it's probably going to hurt, but it's a lot better than my child getting the flu or chicken pox down the line.
2. It makes you strong/fast. As in, these peas will make you strong! That sandwich will make you fast! Please, just eat your food!
3. It's not open today. As in, sorry, the trampoline park isn't open today! What I really mean is that I'm not taking three kids under five to the trampoline park by myself during summer when school is out and there will be 100 other kids there. Just no.
4. It tastes like ___. Like, that pasta dish tastes like pizza in a bowl! It has the same basic ingredients, so am I really lying here?
5. It's Elsa/Lightning rice. We love quinoa, but my kids don't. So we usually get them to at least taste it by telling them it's Elsa rice or Lightning McQueen rice. Works like a charm.
6. The iPad doesn't work. To be fair, this one is basically true since our screen has a giant crack in it and pieces of glass are threatening to fall out. But before that happened, this was a lie I told quite often in order to prevent my son from watching weird YouTube videos of surprise eggs.
7. That show isn't on right now. As in, sorry, but we can't watch Doc McStuffins right now. Yes, we do have DirecTV and yes, I could easily go to the menu and turn it on, but I'm not going to sit through another song from Stuffy or Lamby.
8. We're almost there/done/our turn. This is a pretty common one. Driving in the car: we're almost there. At the DMV/doctor/mechanic: we're almost done. Waiting in line: it's almost our turn. I'm sure I'm not alone with this little gem of a lie.
9. Your food is almost ready. As in, we just ordered our food from the server so it will probably take 15 minutes and I don't want you nagging me the whole time so yes, your food is almost ready.
10. That's really cool. I love my kids and I love that they love to build and create things, but most of the time, I'm not impressed by their LEGO structures or their blanket forts. But I like to build their confidence instead of tearing it down, so I lie and tell them how cool their creations are.
11. That's a beautiful picture. Again, I love that my kids love drawing, but I am not impressed by scribbles. And instead of asking what it is, I just lie and tell them their pictures are beautiful.
The lies I tell my children aren't a big deal, and I still consider myself a good mom. But if my kids start asking if we are there yet on a 12 hour road trip two hours in, I'm going to lie to them and just say yes.