These 10 quiet activities for toddlers don't require any preparation or DIY, and you can easily stash them in your diaper bag! Great ideas for helping toddlers sit still!
This post contains affiliate links.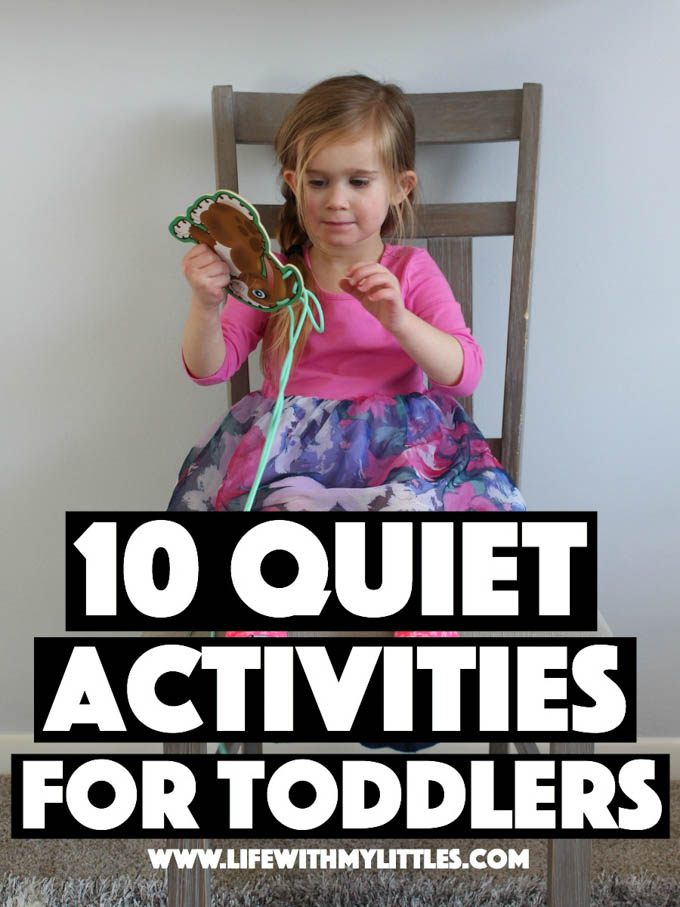 Toddlers are notorious for being rambunctious, wild, monsters, and if the thought of one ever sitting still seems laughable to you, you're not alone.
Trying to get your toddler to sit still and be quiet can be quite a task. And believe me, there are definitely some situations where you just need your toddler to sit down and hush!
Getting your toddler to sit basically means finding something to distract them long enough to keep them sitting down and quiet. Years of going to church with my kids has taught me a few quiet activities for toddlers that are cheap and easy and today I want to share them with you!
I'm not talking about things you have to prep yourself either. I'm talking about things you can buy that don't take any prep or DIYing on your part. Because sometimes toddlers suck the life out of you and you just don't want to be crafty. I get it. We all do.
These are also things they can play with at home, or that you can stash in a bag by the door and they can play with on-the-go. Because of course toddlers are always the worst when you have to go sit somewhere quietly.
Quiet Activities for Toddlers
Stickers and a notepad
So easy. Just be prepared to eventually end up with stickers all over your shoes.
Reusable sticker books
We got Melissa and Doug reusable sticker pads
for our kids and they LOVE them. Perfect for church.
They have crayons, a coloring book, and stickers. I always get them for planes and we have used them at church, too. Plus they're only $1. I've seen them at The Dollar Tree, Walmart, and Target.
If your toddler isn't super good at staying on the paper, this might be a good option! They really only color on the paper, and my kids thought they were super cool!
Magnets
Not like tiny little magnets your toddler will almost certainly swallow. I mean fun little wooden magnets that they can play with and move around on a magnetic board. Or, magnets they can build with
. They're good, too.
Lacing cards
These are easy to make yourself with a laminator and a hole punch, but this isn't a DIY post because sometimes Mama ain't got time for that. Little A got some farm lacing cards
for her birthday and we love them!
Board books
I say board books because I learned the hard way not to leave a toddler alone with books that had paper pages. Paper scraps for days.
These are great for toddlers to doodle on!
Blocks
LEGO DUPLOs
, Mega Bloks
, or even just basic wooden stacking blocks. Toddlers loooove these.
Shape Sorter
I know these are technically for babies, but my almost one-year-old can't even do his, so I think they're better for younger toddlers. We have a Fisher-Price shape sorter, but you can also find more complicated ones.
There you have it! Ten quiet activities for toddlers that don't require any DIY or preparation! Enjoy your quiet toddlers, mamas!