Tips for tired moms from a busy, tired mom of three. Tips to help moms get more energy when they are struggling to get through the day!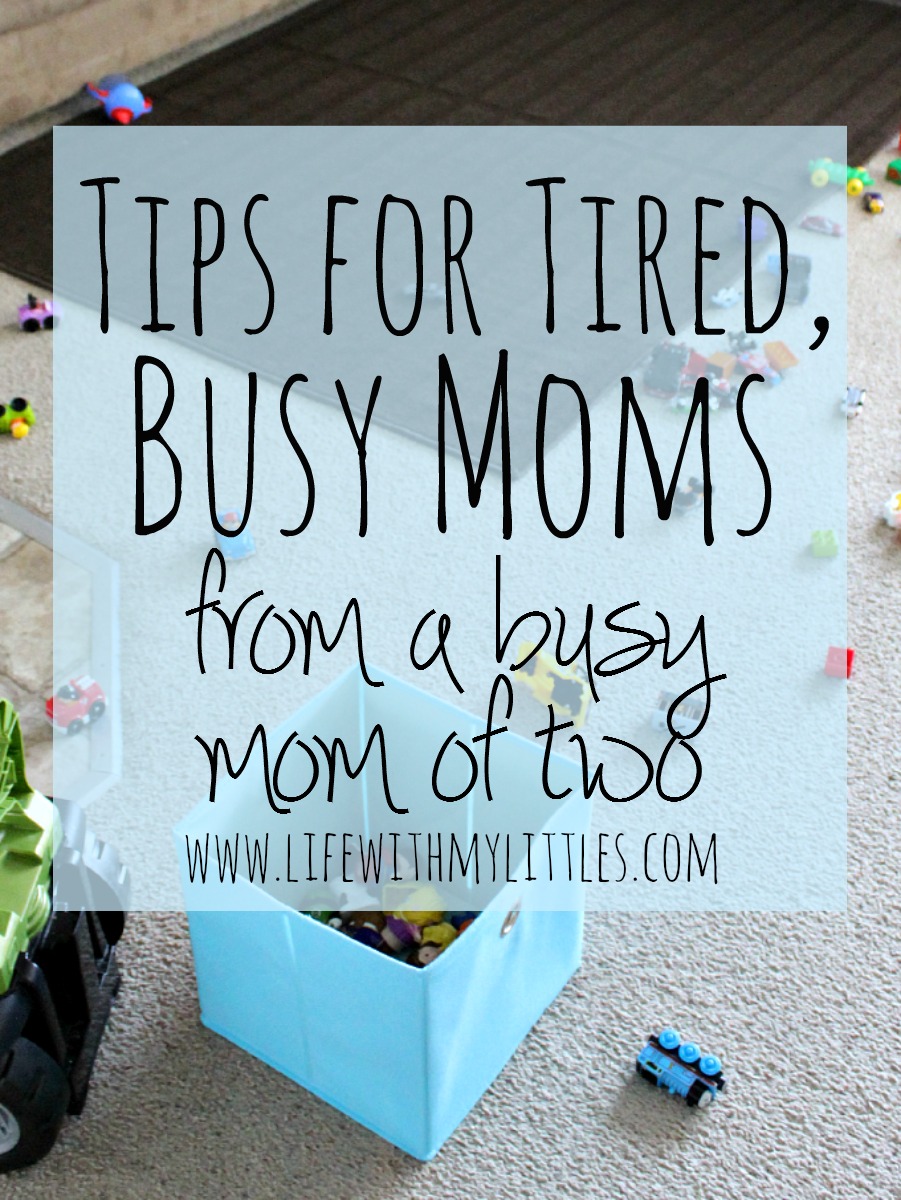 My husband would probably tell you that I am the queen of busy moms. We have a two-year-old son and an eight-month-old daughter that pretty much need constant attention. I rarely sit down, I am always doing something, and I love making and completing lists. So yes, I am busy.
I think a lot of moms are the same way. And being busy can definitely make you tired, especially in the afternoon! I don't know about you but when I put my kids down for their naps at 1:30 every day, I start to feel my eyes getting heavier and my body wanting to rest. But I'll be honest. Naps are not my thing, and I have too much to get done during that time anyway.
So what is a busy mom to do? How can you avoid that afternoon crash? Here are some tips for tired moms to get more energy when they are struggling to get through the day!
Tips for Tired Moms
Eat a high-protein breakfast
Skipping breakfast as a busy mom is not an option. You may be tempted to try and get things done while your kids are occupied with their food, but like the old saying goes, "Breakfast is the most important meal of the day."
Plus, if you don't eat breakfast, you will be more likely to snack on junk later. Protein will fill you up and give you more energy to start your day! I love having Greek yogurt and granola with protein, or sometimes I drink a protein shake! Add some fruit and you are all set! Goodbye, tired mama!
Eat healthier
If you are eating lots of junky sugary foods, duh you aren't going to feel super energized! One thing that has really helped me not to eat a lot of unhealthy foods is not to buy it in the first place! If you buy healthy foods, lots of fresh fruits and veggies, and very few snacks, you are a lot more likely to make better choices when cravings hit. And you are going to have a lot more energy when you are filling your tummy with healthy things!
Caffeine
Whether that's a Diet Dr Pepper (my go-to drink), a lukewarm coffee (do moms even get to drink hot coffee?), or an occasional energy drink, it's okay to reach for the caffeine to give you a pick-me-up. I don't think I'd make it through the afternoon without it!
Get enough sleep
Obviously you are going to be tired if you aren't getting enough sleep. It can be tempting to stay up late getting things done at night and then hit the snooze button (or even avoid setting an alarm) in the morning, but getting enough sleep is crucial to having enough energy for your busy mom day.
My husband and I try to go to bed around 10:30 every night, and I set the alarm for 6:20 every morning so I can wake up before the kids and get my day started on my terms. I've read that adults need seven hours of sleep, but my golden number is eight so that's what I aim for.
Take time for yourself
One of my favorite ways to re-energize during the day is to take some time for myself. My kids nap at the same time in the afternoon, and this has become my time. It helps so much to have time for me in the middle of the day. As much as I love my kids, having a break from them mid-day helps me have more patience and perseverance to get through the day! This may not give you more physical energy, but it will give you a boost of mental energy!
Spread out chores throughout the week
Rather than having one day to try and buy groceries, do the laundry, vacuum, and clean all the bathrooms, space them out. On Sundays I plan my menu, I grocery shop on Mondays, and I try and spread laundry and cleaning throughout the rest of the week. It makes a huge difference in how busy I feel, and instead of having a bunch of things to get done in one day, I can rest and do one thing a day.
Stay active
This can be in the form of exercise a few times a week, or even just going for a walk or playing with your kids at the park. It might seem counterproductive if you are already tired to exercise or be active, but I promise it is going to help.
Exercise creates energy in your body and even makes you want to move more. So if you are feeling tired, take the kids for a walk or go jog in the mornings (it is possible to run when you have kids at home!). You can even get a membership to a gym with childcare if you can afford it. It will help!
I hope that these tips help you recharge and re-energize throughout your day! How do you cope with being a tired mom with a lot to do? Are there any other ways you recharge and get your energy back to get through your day? Let me know! I would love more tips!